हिन्दी में पढ़ें
Date 'n' Sesame Bars
In my family everybody has a sweet tooth. To satisfy these urges, I keep looking for healthy options which have less fat and are still delicious. The date and sesame bar has natural sugar from honey and dates. Oat is a good source of fiber and sesame is very rich in iron, calcium, and other minerals so less guilt and more taste….Try these yummy bars and don't forget to share your valuable comments….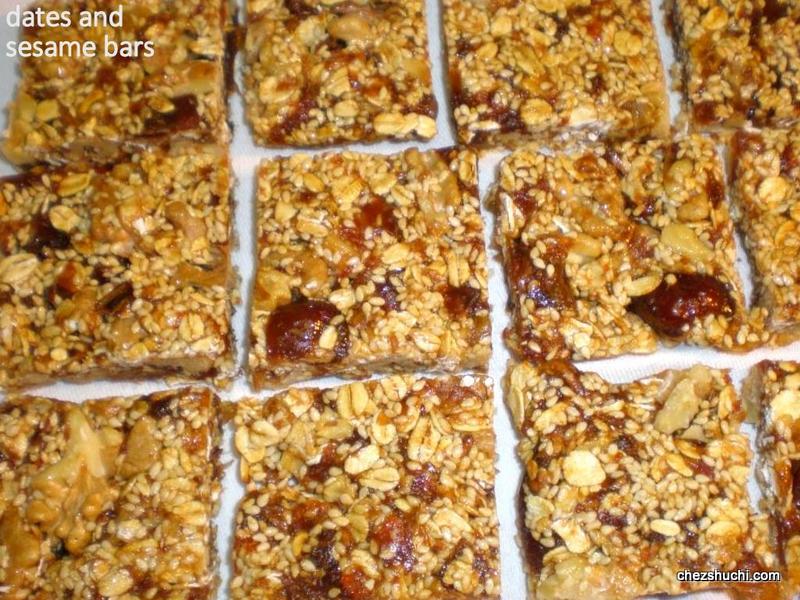 Ingredients
(Makes about 15-18 bars)
Walnuts ½ cups
Dates 1½ cups
Sesame ¼ cups
Rolled oats ¼ cups
Ghee/oil few a little bit to grease the tray
Method of preparation:
Grease the tray, plate or a thali with ghee, and keep aside.
Cut walnuts into small pieces.
Deseed the dates, and cut them into small pieces.
Heat a wok, dry roast the  walnuts for about two minutes on medium heat. Take them out and keep aside.
Dry roast the white sesame seeds on medium to low heat until aromatic (takes about 4 minutes). Be careful when you roast the sesame as it splutters. Set aside .
Dry roast rolled oats on medium heat until aromatic. Set aside.
Now in the same wok fry dates on medium heat. Dates will start melting in a couple of minutes. When dates melt, add roasted walnuts, sesame, and oats. Mix well and continuously stir for a couple of minutes.
Turn off the heat. Set the mixture on the greased tray.
Grease your fingers with ghee and flatten the mixture. You can also use spatula to flatten the mix.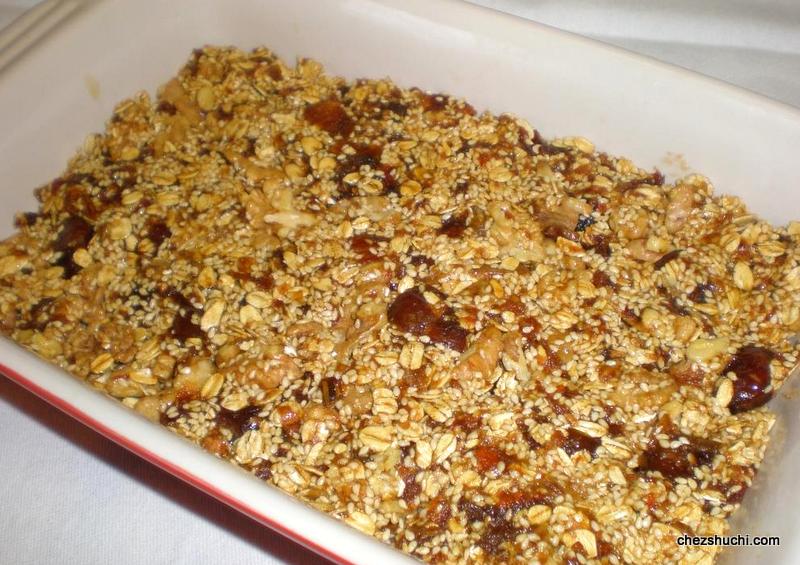 Bars mixture in the greased tray
Cut the bars in desired shape.
Highly nutritious and Delicious dates 'n' sesame bars are ready. You can store these bars in an airtight container for a couple of weeks.
Some Tips/ Suggestions:
You can also add some other nuts like almonds, pecans etc in this bar.
Along with dates, you can also add raisins, dried cranberry, or some other dried fruits.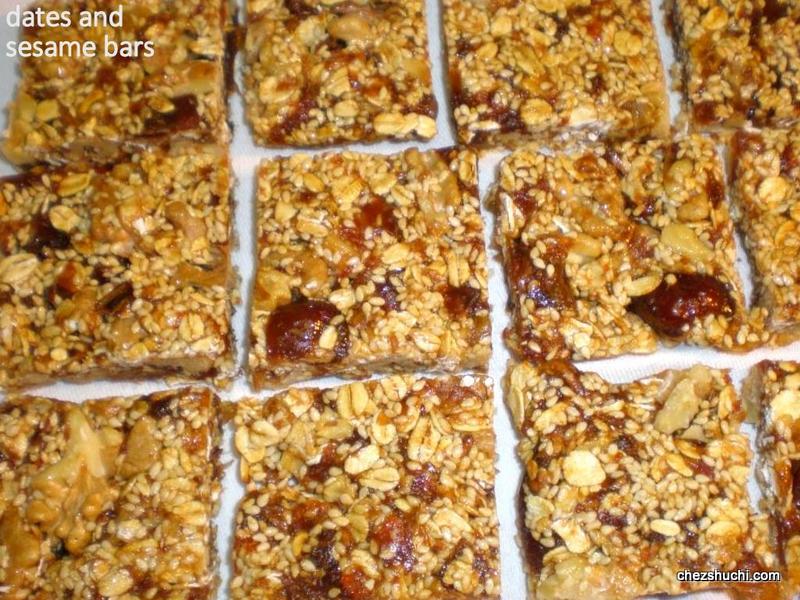 ---
Some other delicious sesame dishes: