Chili Paneer in Ginger Sauce
हिन्दी में पढ़ें
Chili paneer is one of the most famous Indo Chinese dishes and since it so popular in North India; in most of the restaurants chili paneer is in the menu under paneer dishes and even served with butter naan. On readers' special request I am posting the recipe of exotic chili paneer in ginger sauce. Chili paneer in ginger sauce can be served with veg noodles/ fried rice....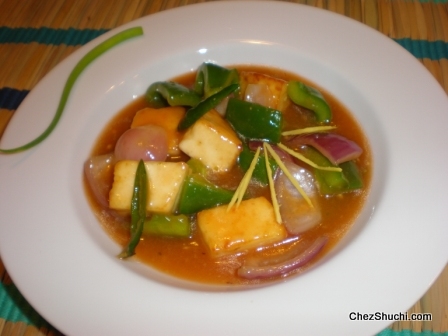 Ingredients

(serves 4)
Indian cottage cheese (Paneer ) 150 gms
All purpose flour 1 tbsp
Corn starch 1 tbsp
Onion 1 medium
Bell pepper (capsicum) 1 big/ 1½ cup pieces
Oil to deep fry
For Ginger Sauce

Ginger-chili paste 1½ tbsp
Green chilies 2-4
Soya sauce 1 tbsp
White vinegar 1½ tsp
Corn starch 1½ tbsp
Salt ¾ tsp
White/ black pepper to taste
Sugar ½ tsp (optional)
Tomato Ketchup 2 tbsp ( optional)
Water about 1½ cups
Oil 2 tbsp
Ginger juliennes 1 tsp to serve
Method of preparation
Cut paneer into one inch cubes.
Peel off, and wash the onion. Now cut the onion into one inch square pieces, as shown in the picture.
Remove the stem, wash, and split the green chilies.
Wash the bell pepper (capsicum), cut into halves, remove the seeds and then cut the bell pepper  into squares like onion.
paneer cubes diced onions and bell pepper
Mix all purpose flour and corn starch together.
In a wok heat oil; roll the paneer pieces in the corn starch and flour mixture and deep fry on medium heat until paneer is reddish brown. It takes about 5-6 minutes to fry each round of paneer.  Drain onto kitchen paper.
paneer frying paneer frying after 3 mins
Now remove the extra oil from the same wok and leave one tbsp oil. Add onions and stir fry for a minute. Now add bell pepper (capsicum) and fry for a couple of minutes. Take out the sauteed veggies and keep aside.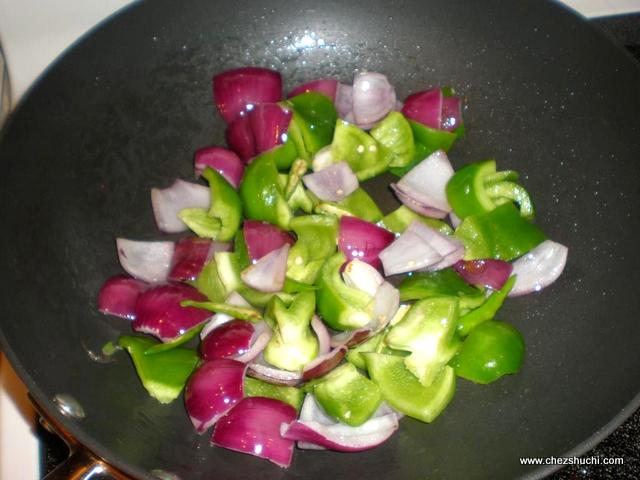 onion and bell pepper frying
For Ginger Sauce :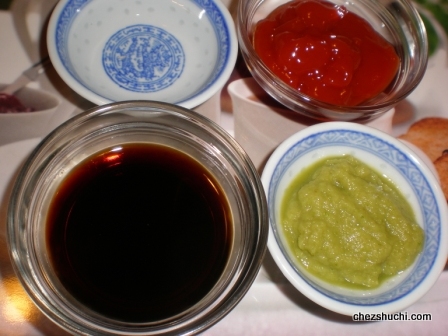 ingredients for ginger sauce
Mix corn starch in 1/2 cup water. Mix it well. Keep aside.
In the wok heat about 2 tbsp oil. Fry ginger-chili paste on medium heat for about 30 seconds.
ginger chili paste
Now add slitted green chilies. Fry for about 15 seconds.
Add soya sauce, tomato sauce, white vinegar, salt, and pepper. Mix well and add corn starch mixed water, add an extra cup of water, keep stirring. Sauce takes about 2 minutes to get ready.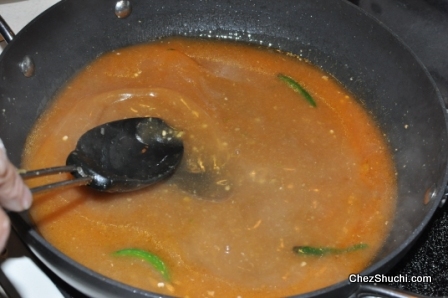 Now add fried paneer pieces, bell pepper, and onion pieces. Mix well and cook for a couple of minutes. Turn off the heat.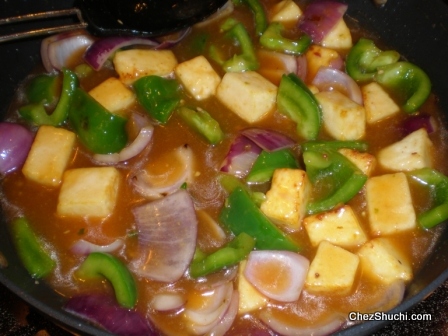 Delicious Chili paneer in Ginger Sauce is ready to serve. Garnish with ginger juliennes at the time of serving...Serve with Pineaaple Chow Mein/ Fried Rice.
If you eat garlic, add in garlic with ginger and chili to make the paste.
Increase the amount of chili as per taste.
Instead of water use vegetable stock if you have it. The sauce tastes flavorful when made with vegetable stock instead of plain water..
For deep frying, I avoid filling the skillet with oil as repeated use of fried oil is unhealthy.
Some Other Paneer Preparations
---