Aloo ke Pakore
(Potato Fritters)
हिन्दी में पढ़ें
This is a very popular deep fried snack. I like to make pakoras for big parties, because it is easy to serve and everybody loves pakoras. This is a very yummy preparation for aloo pakora.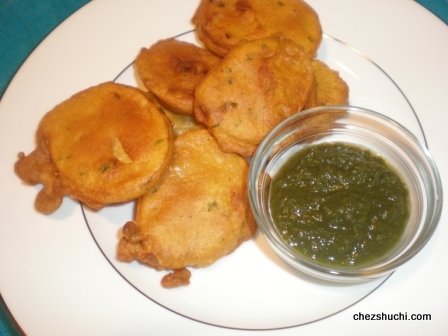 Potatoes 4 medium
Besan (Gram Flour)   1 ½ cup
Green chilies 3-4
Chopped coriander leaves 2 tbsp
Chaat masala   1tsp
Red chili powder  ½ tsp
Salt 1½ tsp or to taste
Oil to deep fry

To serve:
Method of preparation
Remove the stem, wash and finely chop the green chilies.
Peel off the potatoes, wash and cut them into circle shape pieces -like chips.
In a bowl take besan, chopped green chilies, chopped coriander leaves, salt, red chili powder and chaat masala. Mix well . Add very little water at a time to get the perfect batter.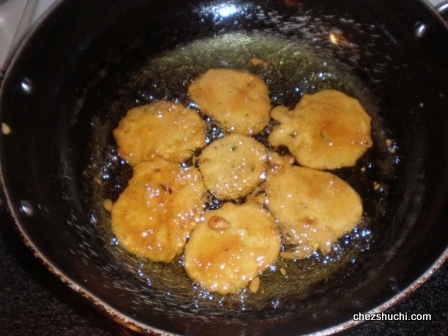 view of pakore in the oil
In a wok heat oil on medium heat. Dip the slice of potato in the beasan batter and pour them onto the hot oil. Pour 7-8 pakoras in the same way. Deep fry the pakoras on medium to high heat until redish brown . (takes about 8-9 minutes). Drain out the pakodas on kitchen paper.
Repeat the process with the remaining potato & batter.
Serve hot with coriander chutney and meethi chutney.
Some other Snacks and Starters
---