Ragda Patties
हिन्दी में पढ़ें
Ragda patties is a very popular street food from West India. It is especially popular in Mumbai and Gujarat. Ragda is made with white peas, also known as vatana or matar. To make ragda, cooked white peas are seasoned with mustard seeds and curry leaves. Tamarind paste and jaggery enhance the flavor of ragda.
Patties are made with boiled and mashed potatoes. Cooked patties are served with ragda and hot and tangy sweet and tamarind chutneys. Ragda patties is a delectable, mouthwatering, tangy street food that is a perfect combo for your dinner or any party. Try delicious and rich-in-protein ragda patties and please do share your valuable comments. Happy cooking, Shuchi.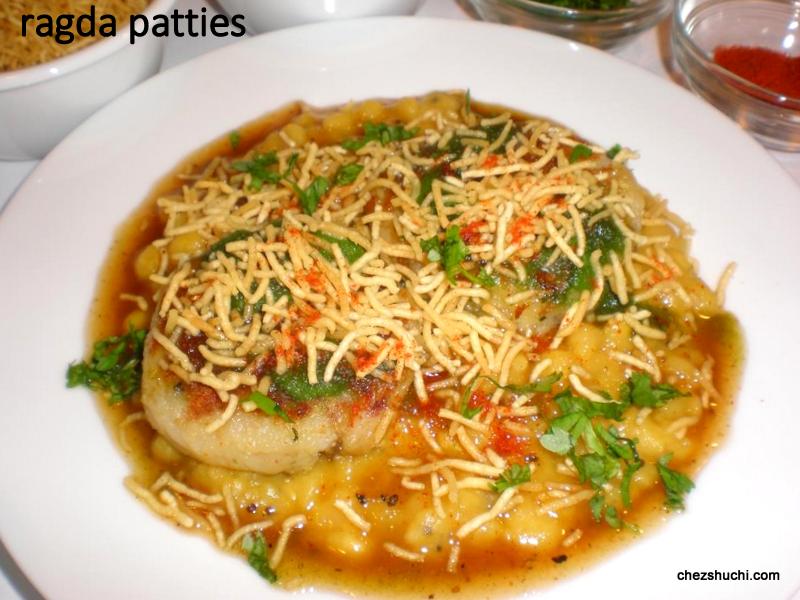 Preparation Time: 7 minutes
cooking time: 20 minutes
Approximately 400 calories in each serving
Ingredients for Ragda (serves 4)
White peas 1 cup
Salt 1 tsp
Oil 1½ tsp
Mustard seeds 1 tsp
Asafoetida a pinch
Curry leaves 6-8
Green chilies, finely chopped 1
Grated ginger 1 tsp
Jaggery 1 tsp
Red chili powder ¼ tsp
Tamarind paste 2 tsp
Ingredients for Patties (makes 8 patties)
Boiled potatoes 5 medium
Salt ¾ tsp
Green chili 1-2
Chopped coriander leaves 1 tbsp
Ghee/ oil 2 tbsp
Bread 1 piece
Ingredients to serve
Method of preparation for Ragda
Following picture shows white peas.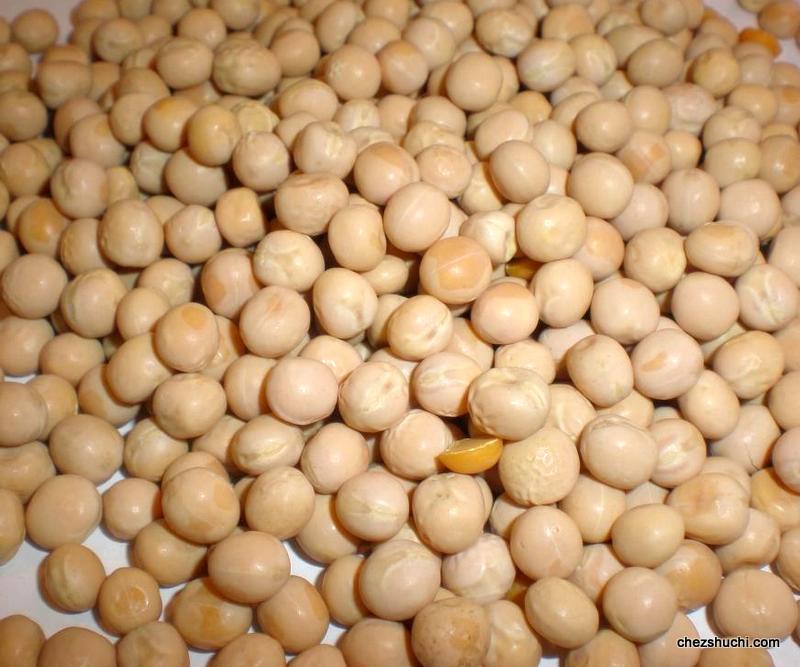 white peas
Clean, wash and soak the white peas overnight in about 3 cups of water.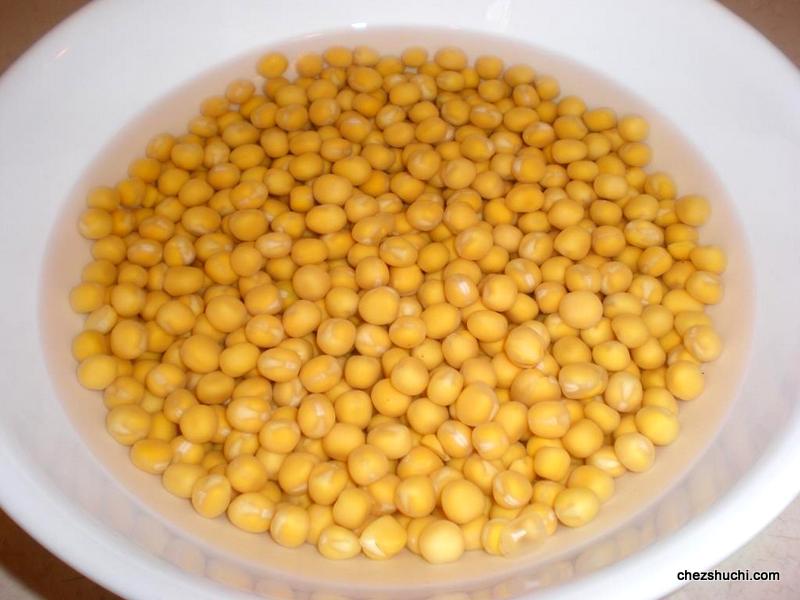 soaked white peas
Boil the white peas with salt until they are tender. The best way is to take a couple of whistles in medium-low heat in the pressure cooker.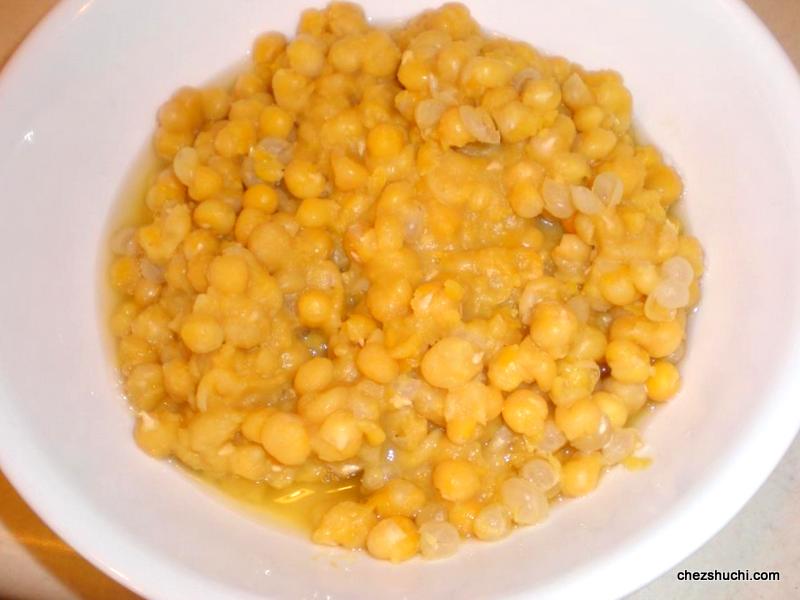 cooked white peas
In a pan heat oil,  add mustard seeds. When seeds stop crackling add a pinch of asafoetida, and curry leaves. Add boiled white peas, mix well and add red chili powder, jaggery and tamarind paste. if the mixture is too thick, add a little more water. Cook for 4-5 minutes.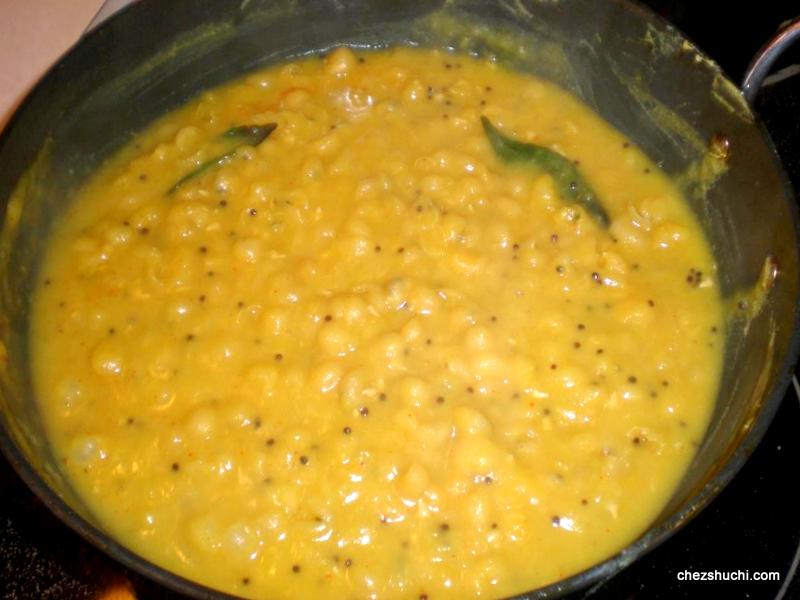 Ragda is ready
Method of preparation for Patties
Peel off and mash the boiled potatoes thoroughly.
Remove the stem, wash and finely chop the green chilies.
Add salt, chopped green chilies, chopped coriander leaves, and bread in the boiled potatoes and mix well .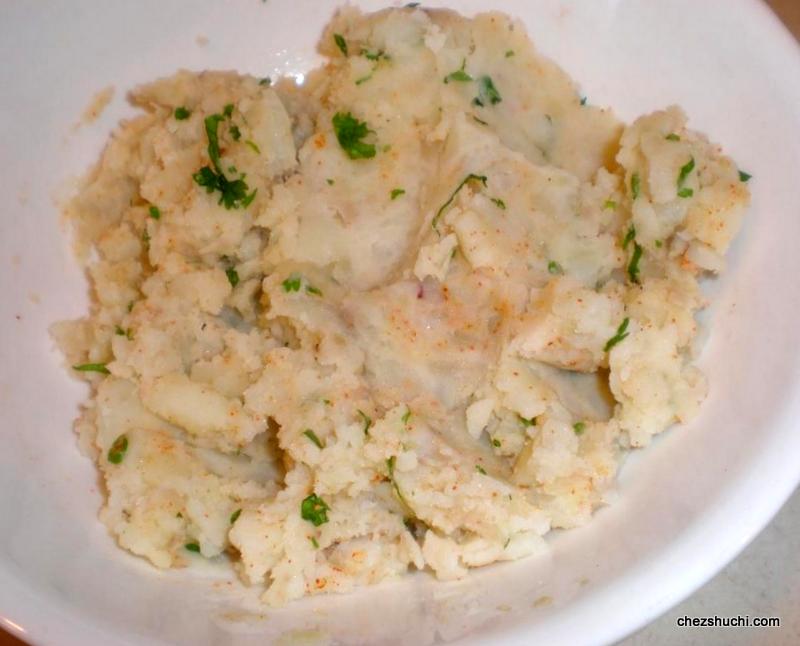 mashed potatoes with other ingredients
Now divide the potato mixture in 8 portions and make round flat patties.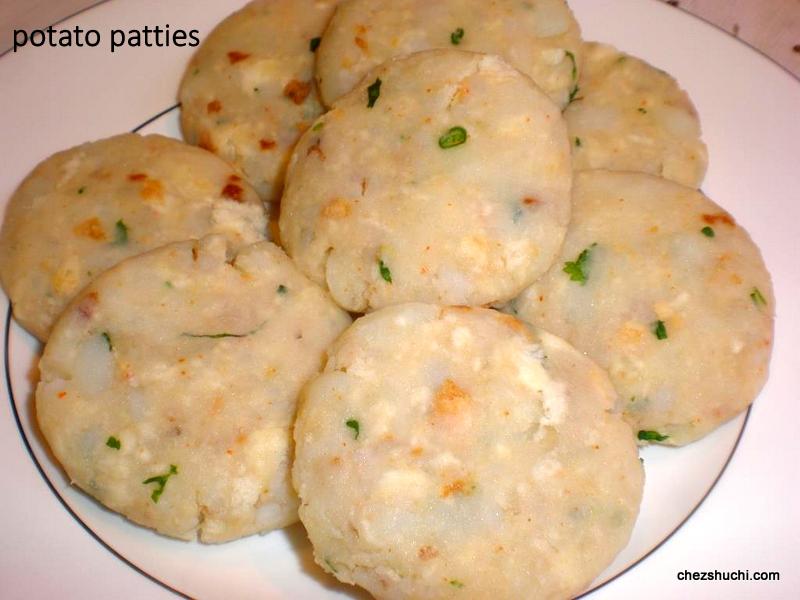 Potato patties
Heat flat griddle on medium heat. Pour some oil/ ghee and fry the patties from both the sides till they are reddish brown.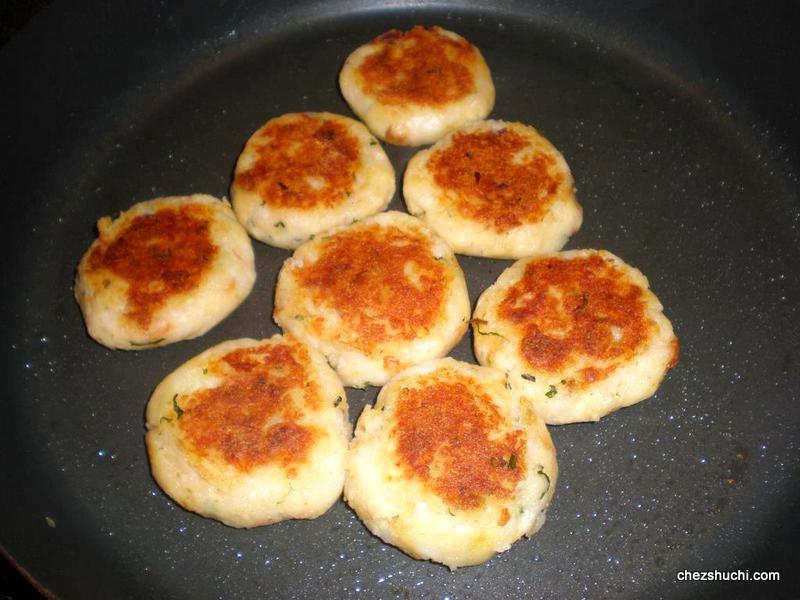 Potato patties cooking
Serving suggestion
In a plate, take about half a cup of ragda. Place two patties side by side.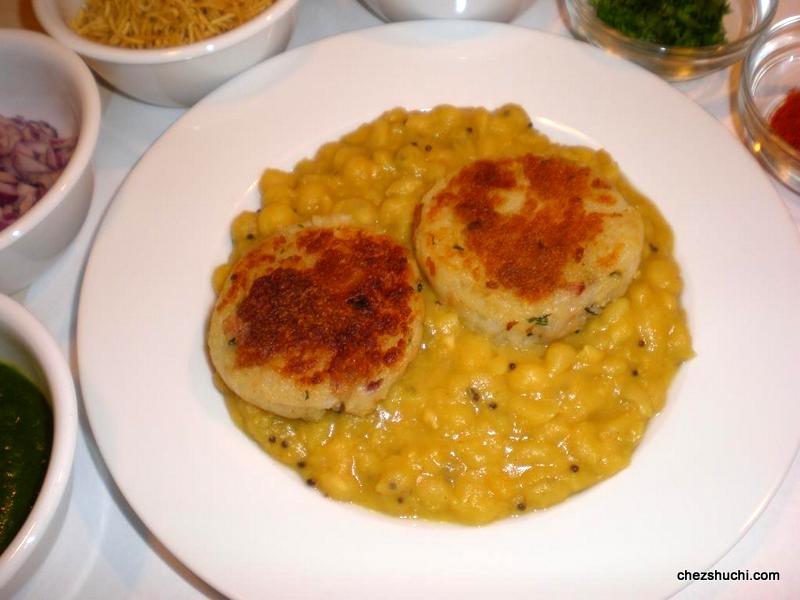 ragda set on the plate and patties on top of the ragda
On top of the patties pour 1 table spoon Tamarind chutney (meethi chutney) and about 2 tea spoon green chutney.
Sprinkle a pinch of red chili powder and and a little bit of chopped coriander leaves. Garnish with some crispies (sev, papri, or aloo lachcha)
Delicious and mouthwatering ragda patties are ready to serve. Serve immediately.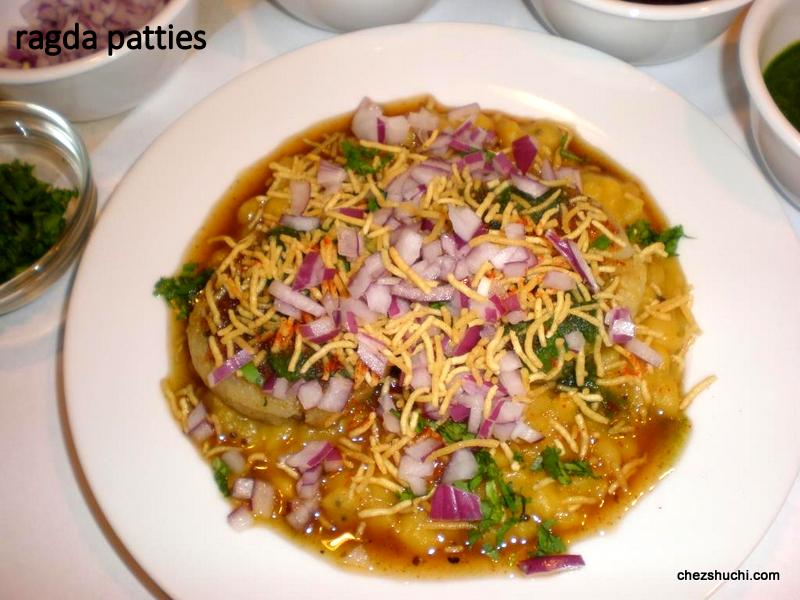 Some Tips/ Suggestions:
Curry leaves add more flavor to ragda.
I have added whole wheat bread in potato patties to enhance the flavor and make it healthier.
You can also add chopped onions on top of the ragda patties as per taste.
---