Masala Chai
हिन्दी में पढ़ें
Chai (Indian tea) is Chai! This is an all time favorite, and I think it is made a minimum of two times a day in most Indian families in North India. Chai is one of the most famous Indian drinks, almost all my western friends not only know chai but also, call it ... chai.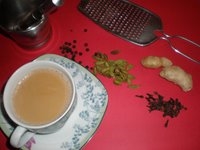 Ingredients

(makes 4)
Water    3 cups
Milk        1 ½ cups
Grated ginger 1½ tsp
Sugar    4 tsp
Cloves     2-4
Black pepper      4
Green cardamoms       2-3
Regular tea  3 tsp or 4 tea bags
Method of preparation
Grind cloves and black pepper in the mortar.
Grind green cardamoms with the outer skin in the mortar and keep aside.
Boil water with grated ginger, sugar, ground cloves and black pepper.
After around two minutes of boiling, add regular English tea and boil for 30 seconds.
Add milk and powdered/ ground cardamoms bring to boil once more.
Strain through strainer.
Hot Chai is ready!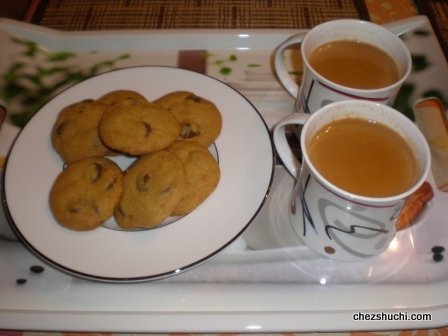 Chai can be serve any time!
---