Khatta Meetha Pana
(A sweet and sour raw mango drink )
हिन्दी में पढ़ें
Sweet and sour, raw mango drink is a special coolant made in summers in India when raw mangoes are in abundance. This mango pana is mildly flavored with mint powder, roasted cumin powder and black pepper. I have also added some brown sugar. It is an ideal drink for summer time. Raw mango is a good source of Vitamin C and Vitamin A. Vitamin C content is more in raw mango as compared to that in a ripe mango. You can serve this pana as a drink or you can serve it as an accompaniment with the meal. It actually goes very well with dal-chawal (lentils and rice). Try this mango pana recipe and lease do share your comments. Happy cooking, Shuchi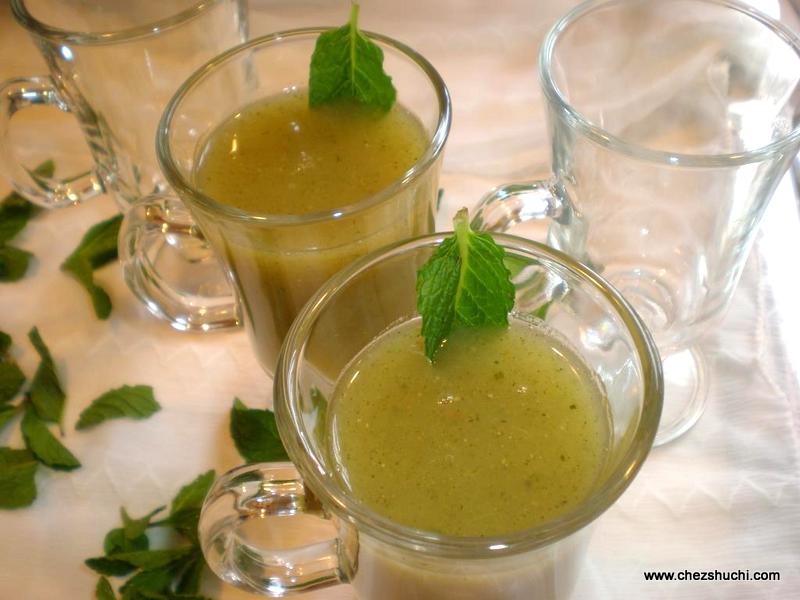 Ingredients
(Makes 4 servings)
Method of preparation:
Wash mango thoroughly. Remove the chip and peel the mango. Cut the mango.
Add one cup water and boil the mango pieces with the seed until it becomes tender or take one whistle in the pressure cooker.
Let it cool a bit. Squeeze the mango seed to take the pulp out. Discard the seed. Mash the boiled mango pieces thoroughly or blend the mango pieces in the blender.
Add dry mint powder, roasted and ground cumin, black pepper, black salt, white salt and sugar in the mango pulp . Add about 1½ cups of water, and mix well again.
Taste and adjust the seasoning as per taste.
Sweet and Sour mango pana is ready.
Keep in the refrigerator for an hour to chill the pana.
Serve cool khatta meetha mango pana in the hot afternoon of summers.
You can serve this pana as a drink or you can serve it as an accompaniment with the meal. It actually goes very well with dal-chawal (lentils and rice).
You can also add some ice cubes at the time of serving.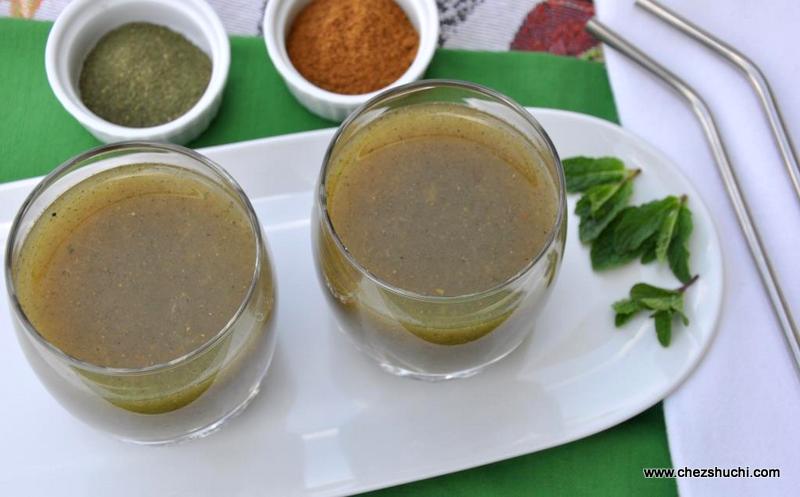 Some Tips/ Suggestions:
Adjust the amount of sugar as per taste. I have used brown sugar to make this dring healthier.
Sometime the mango we find in western world are not as sour as Indian raw mangoes(Cary), in that case add 2 tea spoon of lemon juice to get the delicious pana.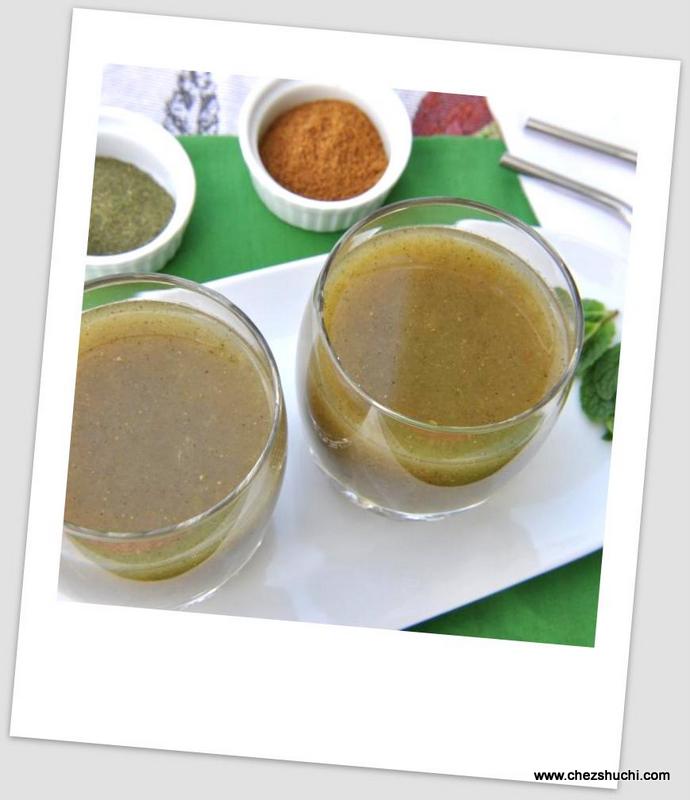 ---