Homemade Mint Powder
हिन्दी में पढ़ें
Mint is an exotic, excellent aromatic herb; it contains Vitamin A and C and is also rich in a number of minerals. Mint leaves are a good coolant and are known for their medicinal values. They are also considered as a good digestive. Mint has an important place in Indian cuisine.
Mint is an exclusive perennial herb which means that it comes back year after year. It can be easily grown in a pot or in ground.
Mint leaves are used to make chutneys, drinks and other coolants. They are also used in parathas, pulavs, raitas etc. Since I live in a cold country where all plants are gone after the frost, I freeze my herbs and I also dry them and store them for winter. It is really easy to make mint powder at home; here is the recipe! Please do share your comments about the recipe. With best wishes, Shuchi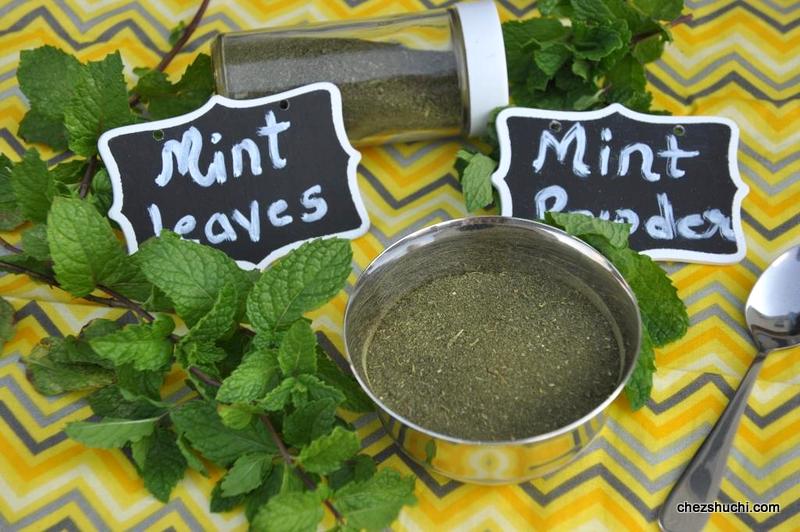 Ingredients
Mint leaves   
Clean cloth to spread the leaves 
How to Sun Dry Mint
Remove the thick stem and wash the mint leaves thoroughly. Leave the mint leaves on the sieve to drain the water.
Wipe the extra water from the mint leaves with a clean cloth. On a clean cloth or on a kitchen paper spread the leaves to dry up. Keep it in partial shade or inside the house.
The drying time depends on the quantity of the mint leaves. For 1 bouquet of mint leaves, it takes about a day to dry. If the amount is more it will take longer to dry the leaves.
Avoid drying mint leves under the sun.
When leaves are completely dried, grind them in the spice grinder to make smooth mint powder. In case if you do not have spice grinder, crush the leaves thoroughly with the fingers.
Mint powder is ready. Store mint powder in an airtight container.
One can store mint powder for months.
Mint powder is a key ingredient for Raita and other yogurt preparations.
How to Dry Mint leaves in the microwave
You can dry mint leaves in the microwave also. In order to dry mint in the microwave make sure that there is no moisture on top of leaves. if there is any moisture left in the leaves then instead of getting dry, they will get cooked! To dry leaves in the microwave- take a microwave safe plate. Put a kitchen paper on top of the plate. Now spread a layer of leaves. Cover it with another kitchen paper. Put it in the microwave for 30 seconds. Remove the plate from microwave. Remove the top kitchen paper and let the steam go. Cover mint leaves with kitchen paper and put it back for 30 seconds. Check the leaves. If needed repeat the process. It takes about 2 minutes to dry the leaves. Store dried mint leaves in an airtight container. You can store the whole leaves or you can crush the leaves or make mint powder in the spice grinder.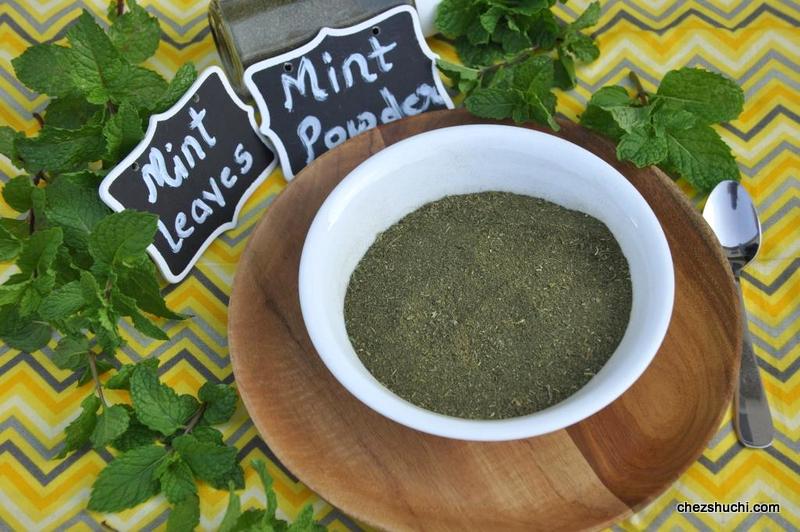 Some Tips/ Suggestions:
You can also freeze mint leaves for later use. Please read more about freezing mint leaves.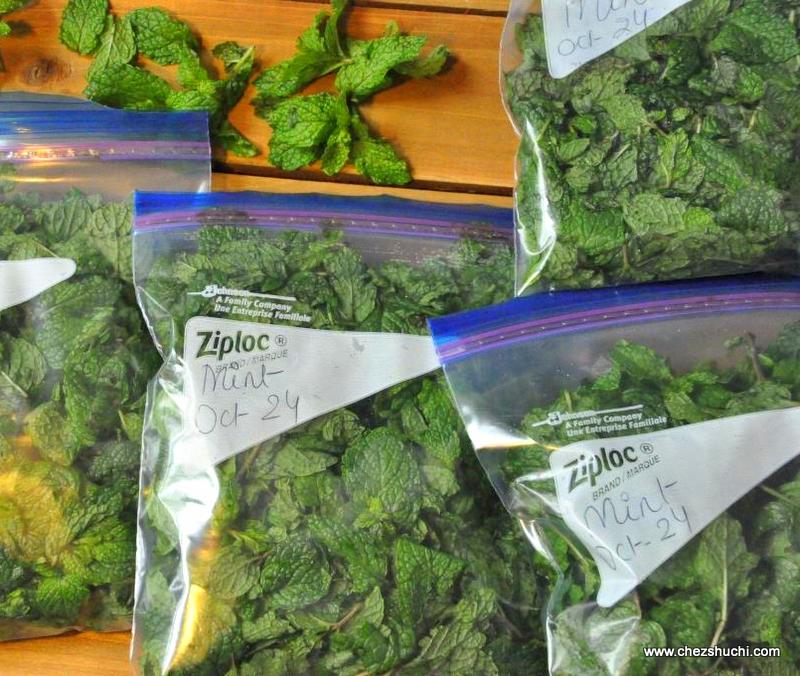 I love gardening and mint is an integral part of my kitchen garden. Believe me, it is really easy to grow mint at home. You can start from seeds by sowing the mint seeds in mild weather or you can just plant some. Mint is a perennial, so just plant it once and it comes back every year by itself. Note that mint usually regrows easily when you have planted it in the ground.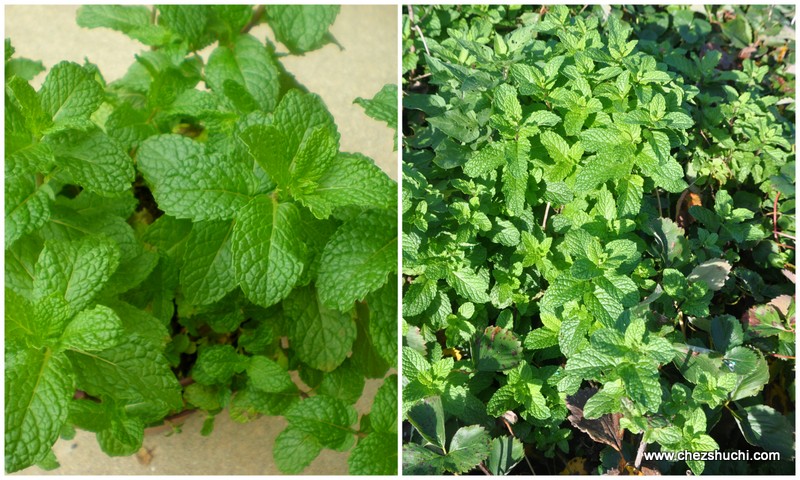 Some Mint/ pudina recipes
---