Zafrani Moong Dal Burfi
हिन्दी में पढ़ें
Zafraan is the Urdu word for saffron (kesar). Barfi or Burfi is a very famous Indian dessert. These are square or diamond shape semi solid desserts..There is a huge range of barfi in India. This is a quick recipe for Zafarani moongdal barfi.….. Try this exotic dish and let me know your valuable comments….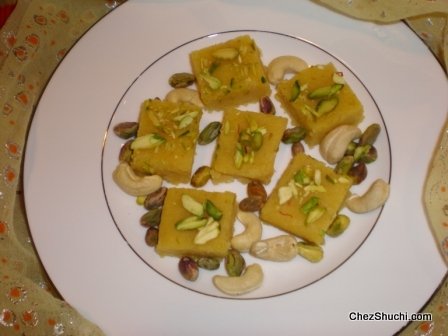 Ingredients

(makes 20 22 pieces)


soaking time- 3-4 hours
Preparation time - 5 min
Cooking time- 17-28 min
Method of preparation
Clean and wash the moong dal. Soak the lentils in 2 cups of water for about 4 hours.
Soak saffron threads in one tablespoon lukewarm milk. keep aside.
Grind the soaked lentils in the grinder with a little water to a coarse paste.
Grease a small tray or back of the plate or thali. Keep aside.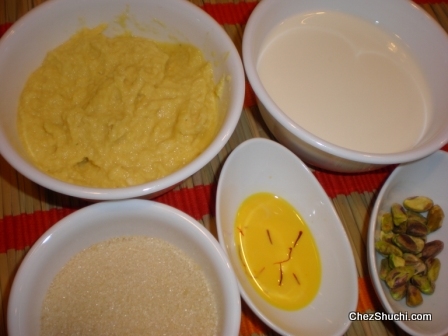 Heat the ghee in a non stick wok. Add moong dal paste  and fry on high heat for two minutes. I have used a non stick wok because lentil paste is sticky - so if you use an iron wok (kadhai) the lentil paste will be difficult to fry and you will have to add more ghee.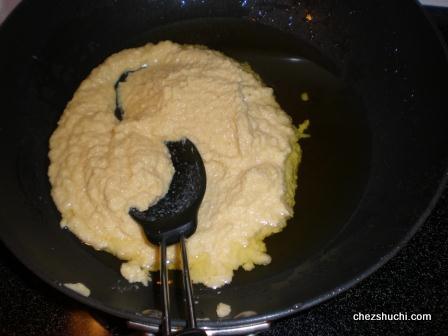 First look of lentils after adding in ghee
Reduce the heat and fry the moong dal paste on medium heat until it is crumbling . Stir continuously. It takes around 10-12 minutes to fry the moongdal. We do not over fry the dal like moongdal halwa for this recipe.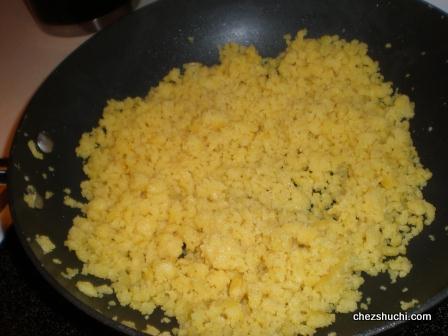 lentil paste after 10 minutes of frying
Now take the fried lentils out in a bowl.
Heat milk in the same wok , add sugar. Take a boil. When sugar is completely dissolved in the milk, add the fried lentils. Mix well and keep stirring.
Now add saffron milk and mix well.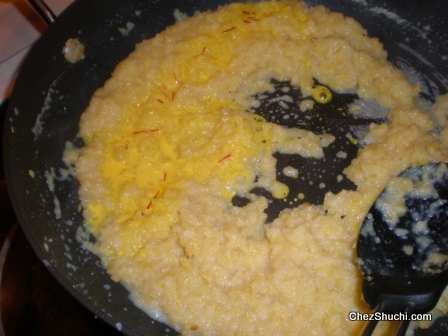 lentil paste after adding saffron milk
Cook until the dal has absorbed the milk. It takes 4-5 minutes to cook the dal in the milk.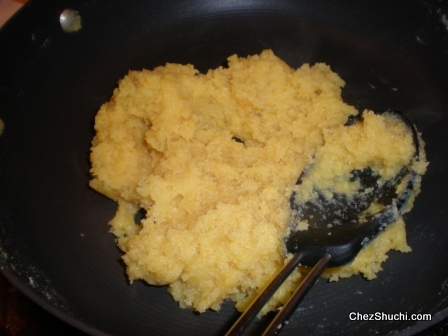 Dal has absorbed all the milk
Spread out the lentil mixture on the greased tray. Let it cool down for about 15-20 minutes.
Garnish with slivered pistachios.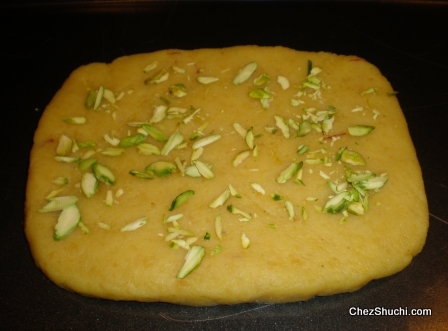 Barfi after spreading on the the tray
Cut square shape pieces. There isn't any hard and fast rule for the shape and size of the barfi/burfi.
Delicious Zafrani moongdal barfi is ready to serve.
Some Tips/ Suggestions:
Your cooking time may vary from the time mentioned above as I work on Electric cooking range, which is slower than gas stove.
You can also use khoya/ mawa in this Burfi , in that case cut the amount of milk.
---