Veg Manchurian
हिन्दी में पढ़ें
Vegetable Manchurian is an Indo Chinese dish. This dish can be served with rice, or with noodles as per taste. The fried Manchurian balls can also be served as an appetizer. So enjoy this delicious Chinese preparation………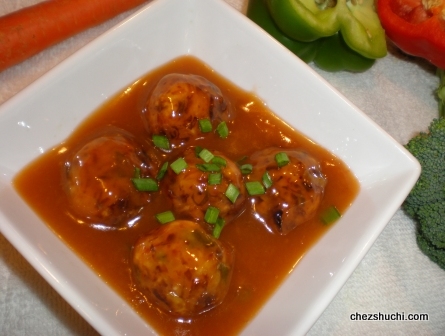 Ingredients

(serves 4)
For Manchurian
(makes 16 balls)
Cabbage, finely shredded 1 cup

Carrots finely shredded 1 cup
Bell pepper (capscium) finely chopped ¼ cup
Onion finely chopped ½ cups
Ginger 1 inch piece
Green chilies 2

All purpose flour (maida) 4 tbsp

Corn flour 2 tbsp

Salt ¾ tsp/ to taste

Oil to deep fry
For Sauce

Ginger-chili paste 1 tbsp
Soya sauce 1 tbsp
White vinegar 1 tsp
Corn starch 1½ tbsp
Salt ½ tsp
White/ black pepper to taste
Oil 2 tbsp
Tomato Ketchup 1 tbsp ( optional)
Water about 1½ cups
Method of preparation
All the vegetables should be cut into very small pieces. I have shown a picture below for your convinience.
Wash and peel off the ginger and either grate it or finely chop it. Remove the thick stem of the green chilies, wash them and finely chop them.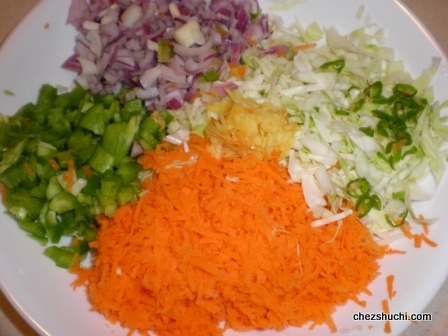 finely chopped/ shredded veggies for veg manchurian
Now in a mixing bowl take all the chopped veggies, ginger, chilies, all purpose flour, corn starch, and salt. Mix all the ingredients well.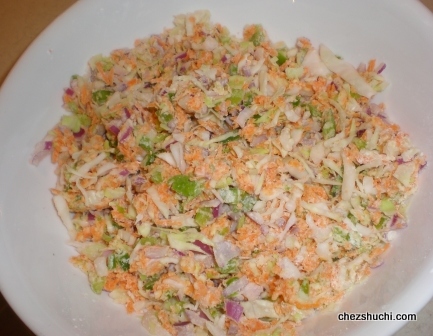 all the ingredients of the manchurian together
Divide the mixture into 16 portions and make balls or any desired shape. If you are having trouble in binding the balls add a little more corn starch.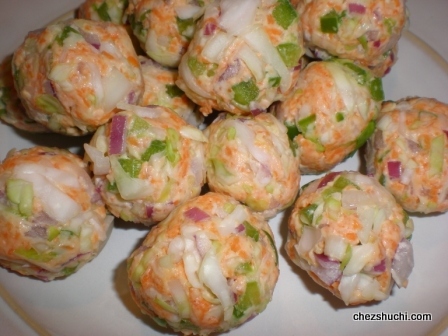 veg manchurian balls are ready for frying
Heat oil in a wok/pan, deep fry the veg manchurian balls on medium heat until golden brown. It takes about 3-4 minutes to deep fry the manchurian balls .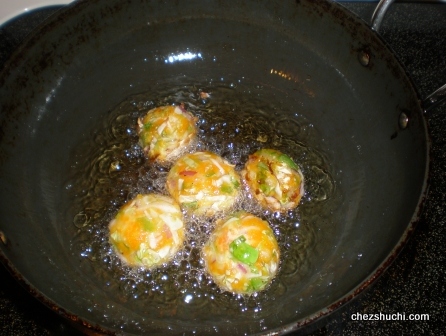 veg manchurian balls are being fried
Take the fried balls out onto the kitchen towel.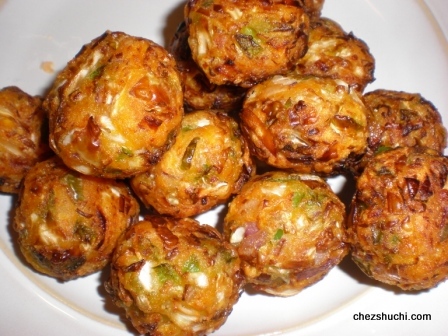 fried manchurian
For Sauce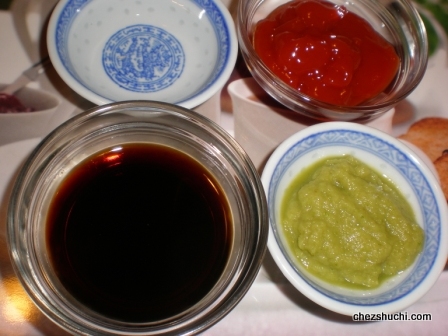 ingredients for manchurian sauce
Mix corn starch in 1/2 cup water. Mix it well. Keep aside.
Heat the wok, add oil. Fry ginger-chili paste on medium heat for 30 seconds.
ginger chili paste
Add all other ingredients and an extra cup of water, keep stirring. Sauce takes about 2 minutes to get ready.
Serving Suggestions
In a serving dish set the fried Manchurian balls. Pour the hot sauce on the balls and serve with rice or noodles.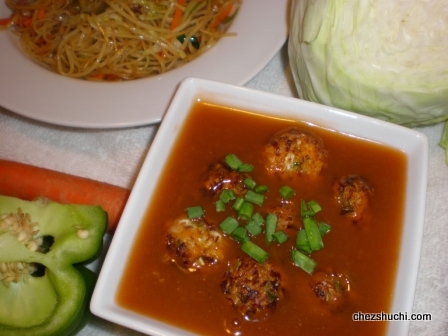 veg manchurian with chow mein
Some Suggestions/ Tips
The sauce will be brown in color if you will not add tomato ketchup. This sauce is red in color beacause I have also added tomato ketchup.
If you eat garlic, add in garlic with ginger and chili to make the paste.
Increase the amount of chili as per taste.
---