इस पन्ने को हिन्दी में पढ़ें
Growing Tomatoes at home !!
Dear Readers,
Tomatoes are one of the easiest vegetables to grow at home, in ground or in containers. Tomatoes come in a wide range of sizes, shapes and colors. For several years we have been growing tomatoes in our kitchen garden. Tomatoes are rich in vitamin A and C, and are also rich in minerals. Tomatoes are used in salads, soups, curries, beans, launji, chutney, lentils, rice dishes etc.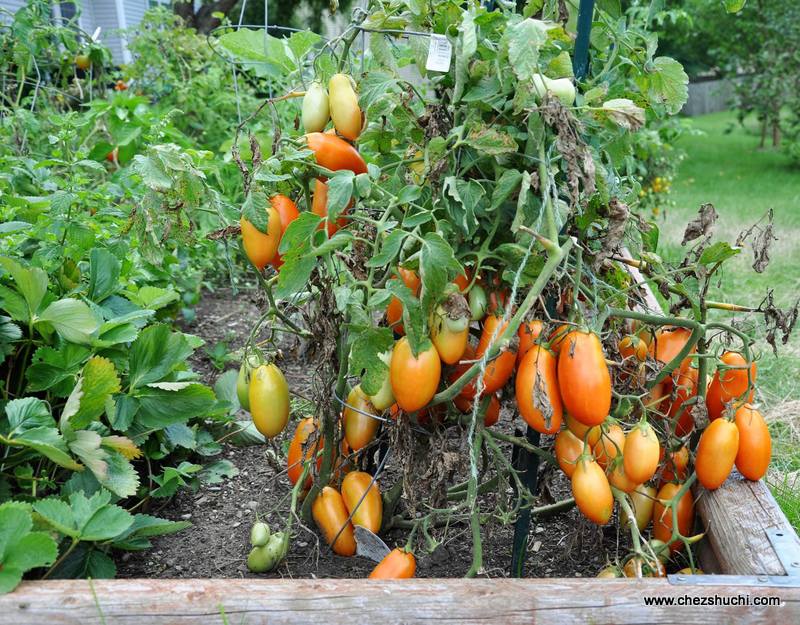 Roma tomato plant from our kitchen garden 2015
We grow 3 or 4 different varieties of tomatoes every year. I use Roma tomatoes for Italian cuisine. For Indian cuisine I like heirloom tomatoes, they are sour and have more juice in it. Cherry tomatoes are ideal for salads.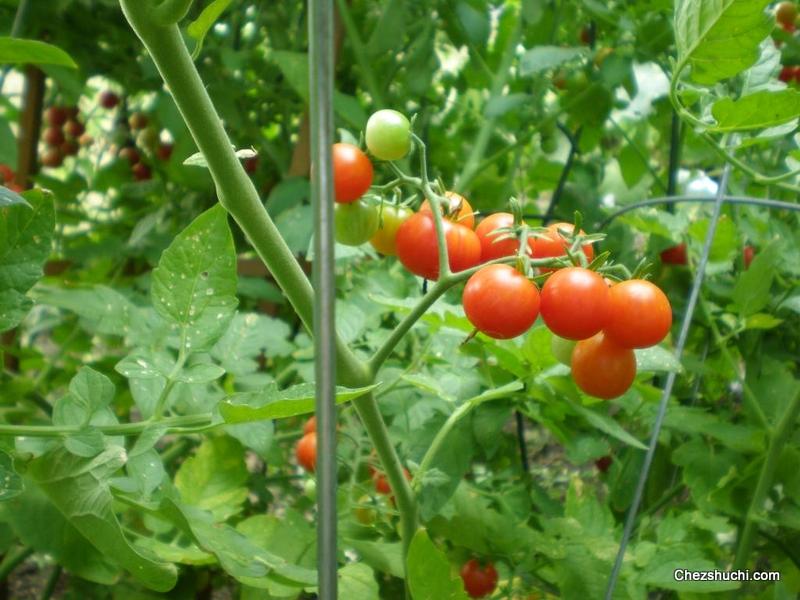 Cherry tomatoes from our kitchen garden 2012
Last year we had grown 6 different varieties of tomatoes.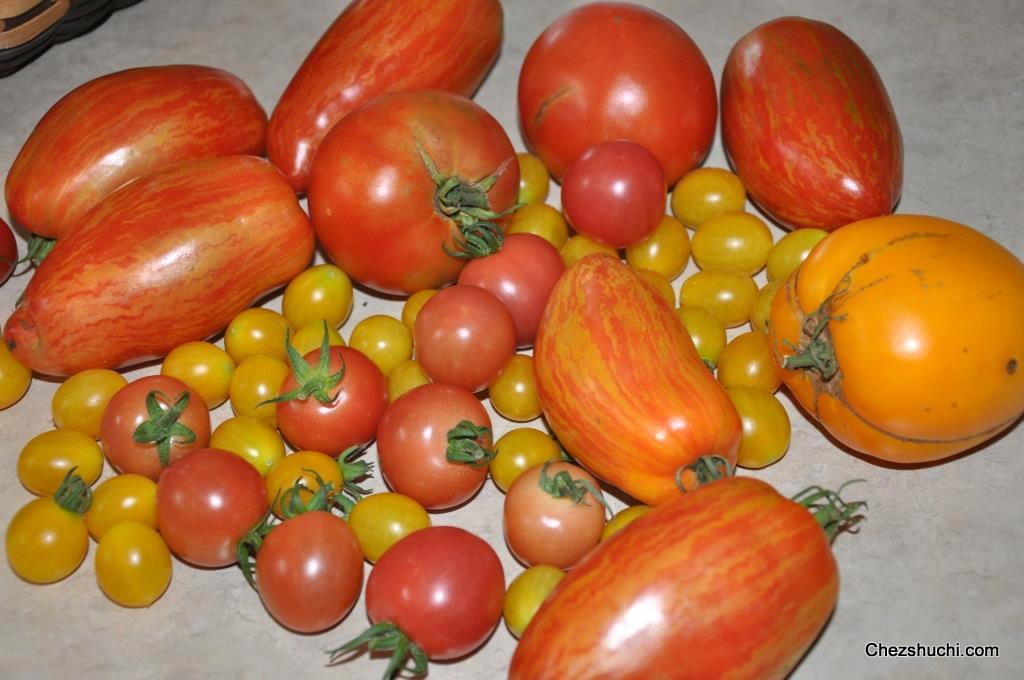 6 different varieties of tomatoes from our kitchen garden 2014
Bright yellow tomatoes from our kitchen garden 2014.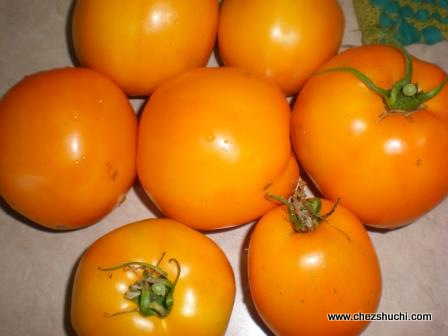 yellow tomato from our kitchen garden 2014.
This year at the beginning of spring, April-May 2015 I noticed some small tomato plants in our kitchen garden. I was a bit surprised because tomatoes are annual plants and they do not survive the first frost. In fact, last year we had extreme cold winters with multiple polar vortex occurences and temperatures well below -30F. In such brutal conditions it is a miracle that these tomato seeds survived in the ground. In the spring these plants started growing wildly. At this point I did not have any idea what variety these tomato plants were. I decided to donate some plant to friends, and also had to throw away some plants as they were too many of them! By the beginning of summer these plants were huge and in the middle of summer they started producing tomatoes. They were two different varieties of tomatoes which were abundant in the garden; red and yellow cherry. I used these tiny tomatoes in many dishes and also started distributing them to friends and neighbors.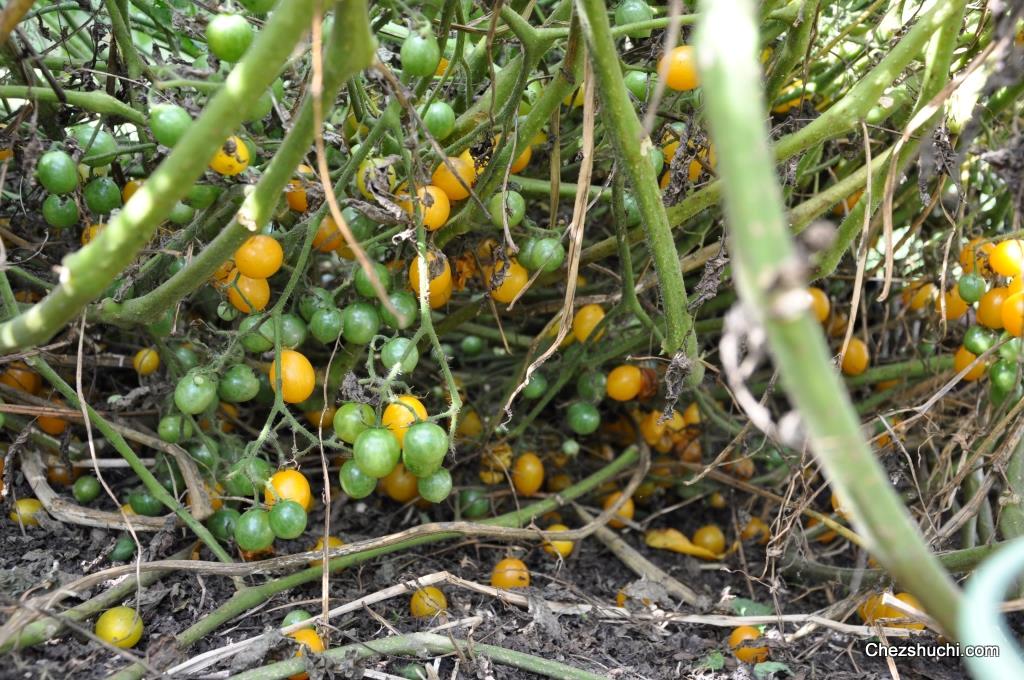 tomatoes from our kitchen garden 2015
We kept picking the tomatoes, used them, stored them, and distributed them but there were still a lot of them!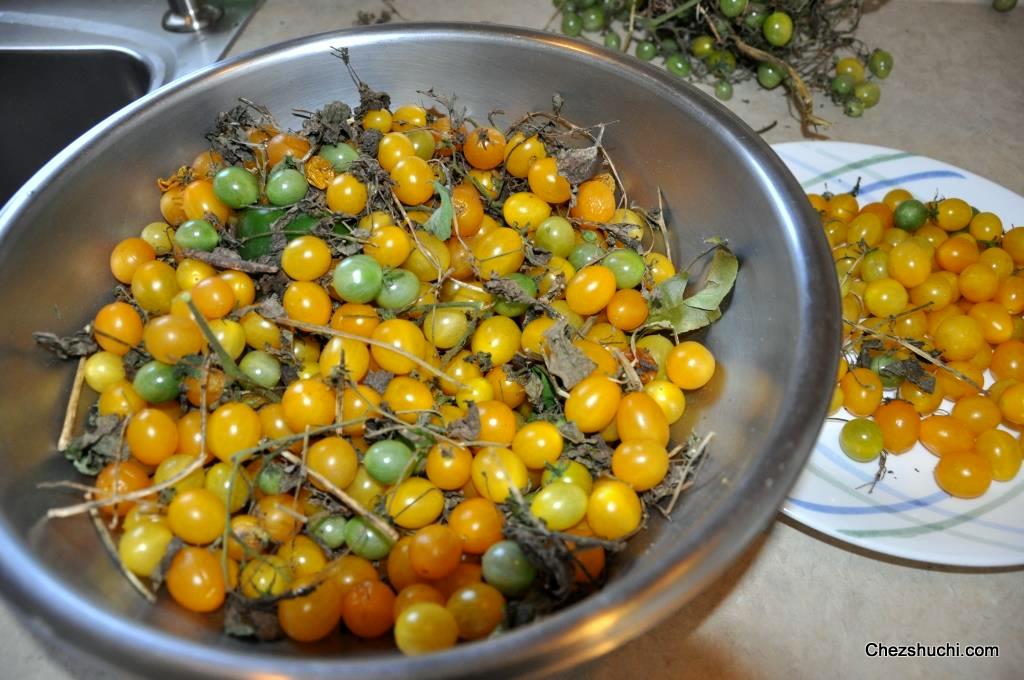 yellow small tomatoes from our kitchen garden 2015
October 16th was the date for the first frost of the season. I wanted to pick as many tomatoes as possible so that they do not go waste. I got tired of picking. Kids were extremely busy with homework and my back was killing me because of harvesting.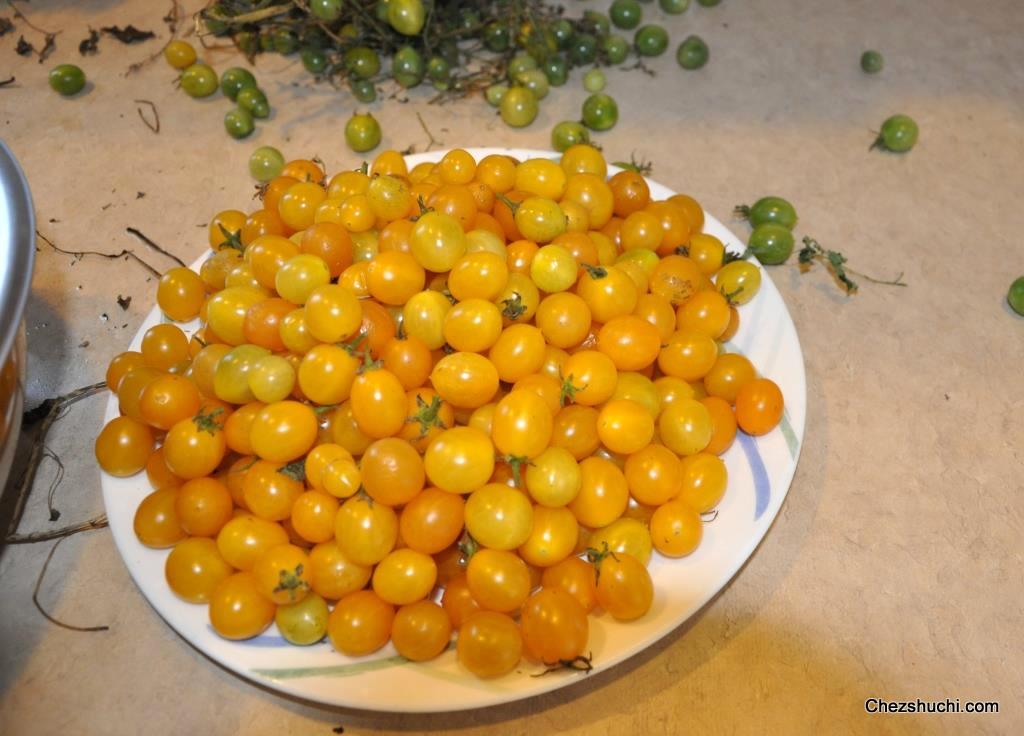 yellow small tomatoes from our kitchen garden 2015
I checked the weather forecast for next 15 days and realized that after this frost, weather will be nice for a few weeks before the real winter starts. I decided to take a chance and covered all the plants so that they survive the first frost and I have more time for harvesting. I did it! By a sheer stroke of good luck the tomato plants survived the first frost.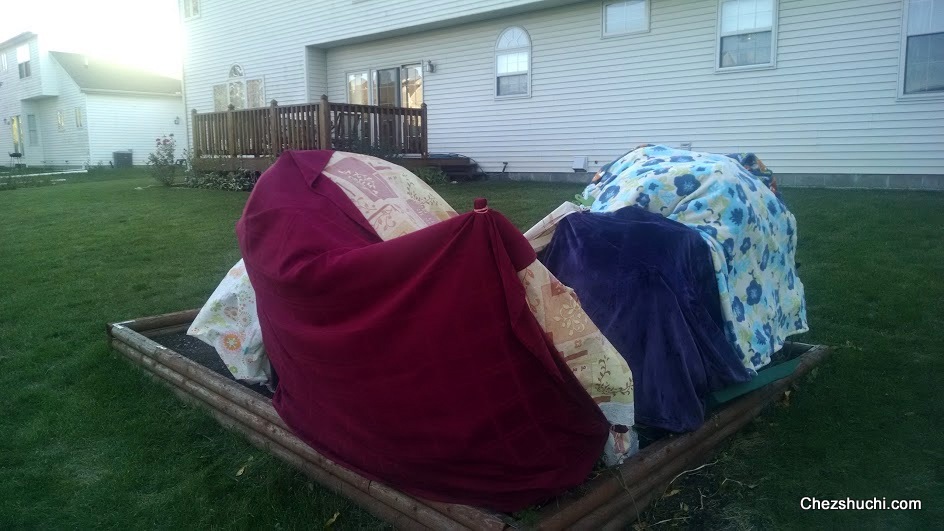 tomato plants are covered with blankets in our kitchen garden 2015
Now we are back to picking up these tiny little tomatoes, cleaning them, and sorting them. In order to store these I either make onion tomato masala, and freeze the tomatoes for using them later. This masala is ready to use and saves cooking time. Since these tomatoes are yellow, the masala color is not red but tastes awesome.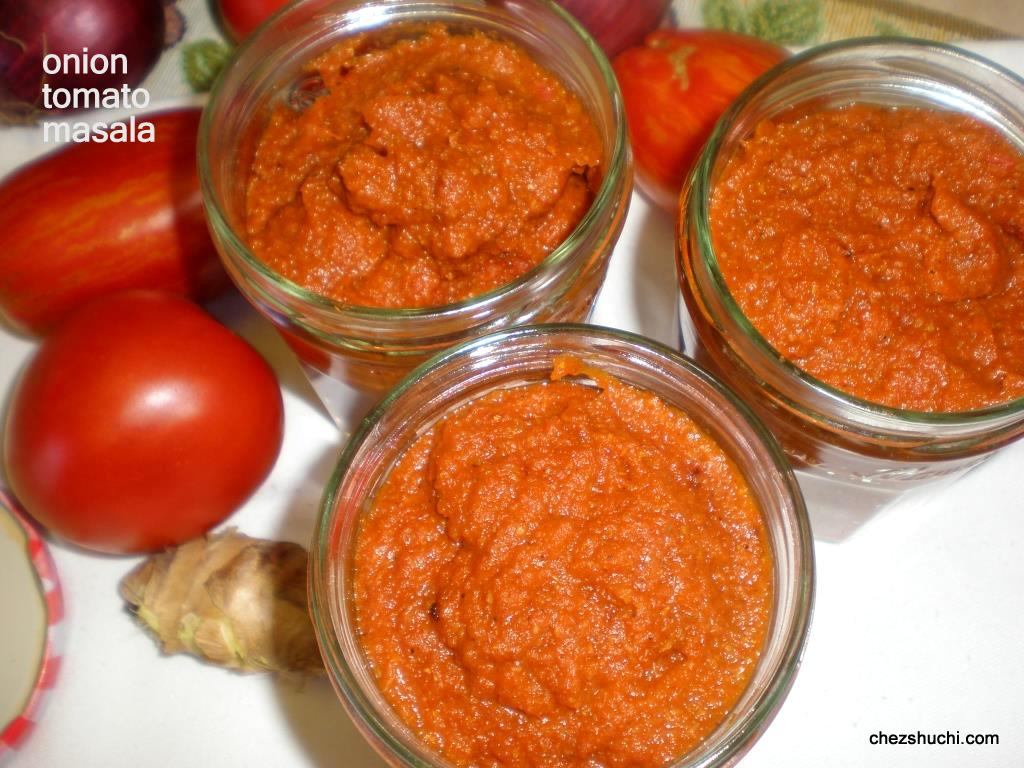 I have also cleaned these tomatoes and frozen them in the small ziplock bags which can be used as needed.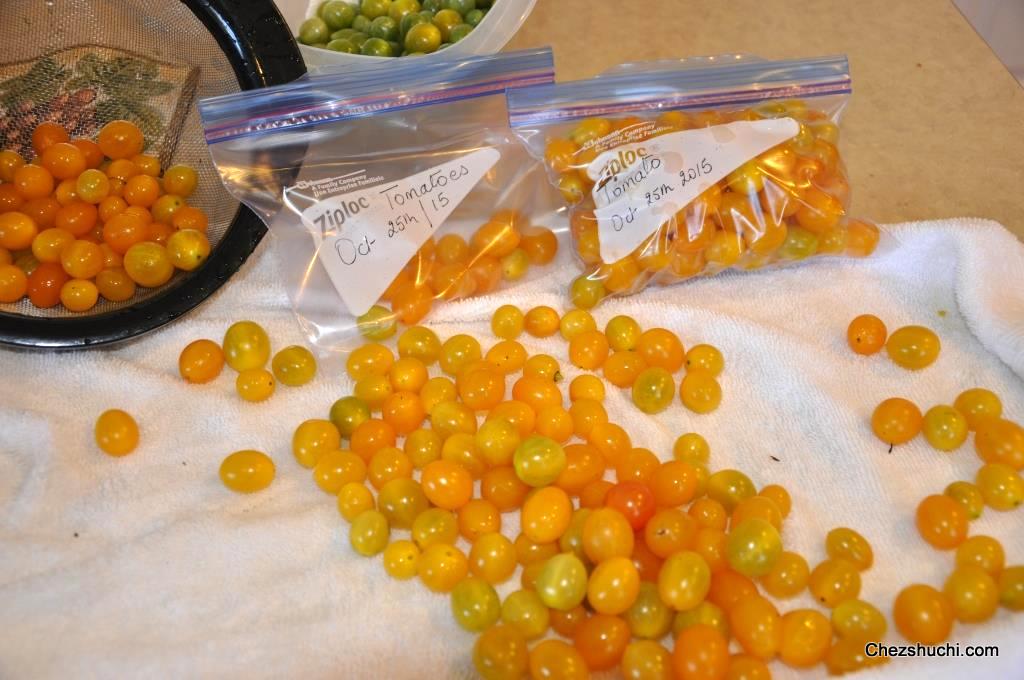 tomatoes after sorting out and cleaning.
On the Ziplock bags, I write down the date of packing; this helps me to use them in order. When I have to use these tomatoes, I take out the amount I need and microwave it for 30 seconds. Then I add them as is in poha, pav bhaji, dal, sabji, or anything that calls for tomatoes. However, frozen tomatoes can't be used for salads as they become mushy after defrosting. Other than salads, these tomatoes can be used in pretty much anything.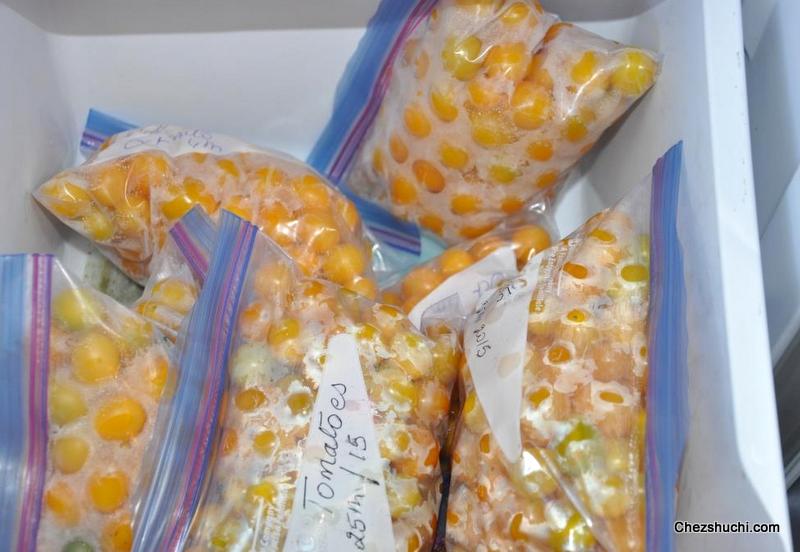 tomatoes stored in small ziplock bags and stored in the freezer.
This article is about taking care of tomatoes grown in aboundance by chance.
Read about Tomato Delicacies here.
Enjoy Gardening,
Shuchi