Thandai
हिन्दी में पढ़ें
Thandai is a very traditional milk based Indian drink. It is made with select spices grinded with rose petals and almonds. In North India this special drink is made for Holi (the festival of colors). My Gujarati and Rajasthani friends have told me that it is also made for the Maha-Shivratri festival as an offering to Lord Shiva. For both these festivals, Thandai is also sometimes mixed with "Bhanng" (an intoxicant herb) - however here we are detailing the plain Thandai for the auspicious festival of Shivratri!!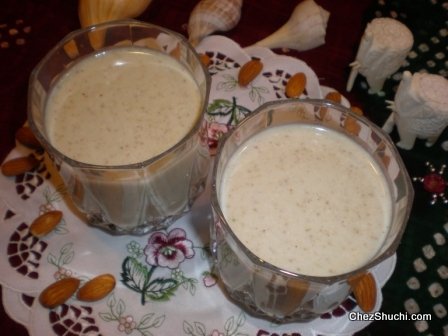 Ingredients

(serves 4)
Milk       1 lt

Sugar    4-5 tbsp

Almonds  1/3 cup / 50 gms
Poppy seeds 1

½

tbsp
Green cardamoms  6 pods

Fennel Seeds (Saunf) 1

½

tbsp
White peppercorns   ¼ tsp / 15-20 peppers
Dry rose petals 1

½

tbsp
Method of preparation
Remove the skin of the green cardamoms. Do not throw the skin of the cardamoms. It can be used for masala tea.
Dry roast poppy seeds for a minute.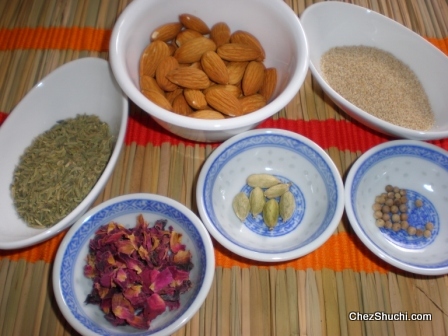 Ingredients for thandai powder
In the grinder take almonds, fennel seeds, poppy seeds, white peppercorns, cardamom seeds, and rose petals and make a fine powder.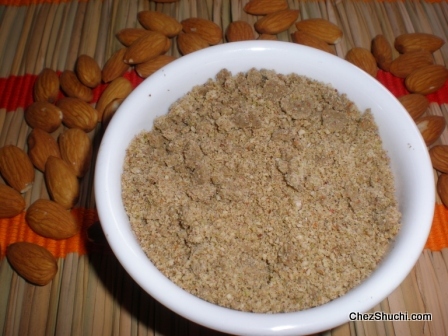 Thandi powder
In a bowl take about 1 cup lukewarm milk. Soak the thandai powder, and sugar in the milk for about half an hour to an hour.
Now in a jug take the remaining 3 cups of cold milk and add the milk soaked thandai mixture. Mix well.
Now sieve the thandai milk to remove the fibres of fennel seeds.
Thandai is ready to serve.
Thandai is ready. You can also pour some ice cubes at the time of serving.
If you want you can also add saffron threads in thandai powder. You can also add meeng (muskmelom seeds ) in this mixture.
The powder can be made in advance and stored in a cool place for a long time.
If you live outside India, you can find all these ingredients easily in the Indian stores as well as organic stores of your city.
---