हिन्दी में पढ़ें
Sweet n Sour Tofu
Sweet and sour tofu is a stir fried dish. Stir fried food takes very little time to cook although preparation takes a while. Here we are making an authentic Chinese dish of Tofu. If you do not like tofu replace it with paneer. I have used colorful vegetables to make this dish attractive. This stir fried tofu goes well with rice. Try out this sweet and sour tofu and please do share your comments….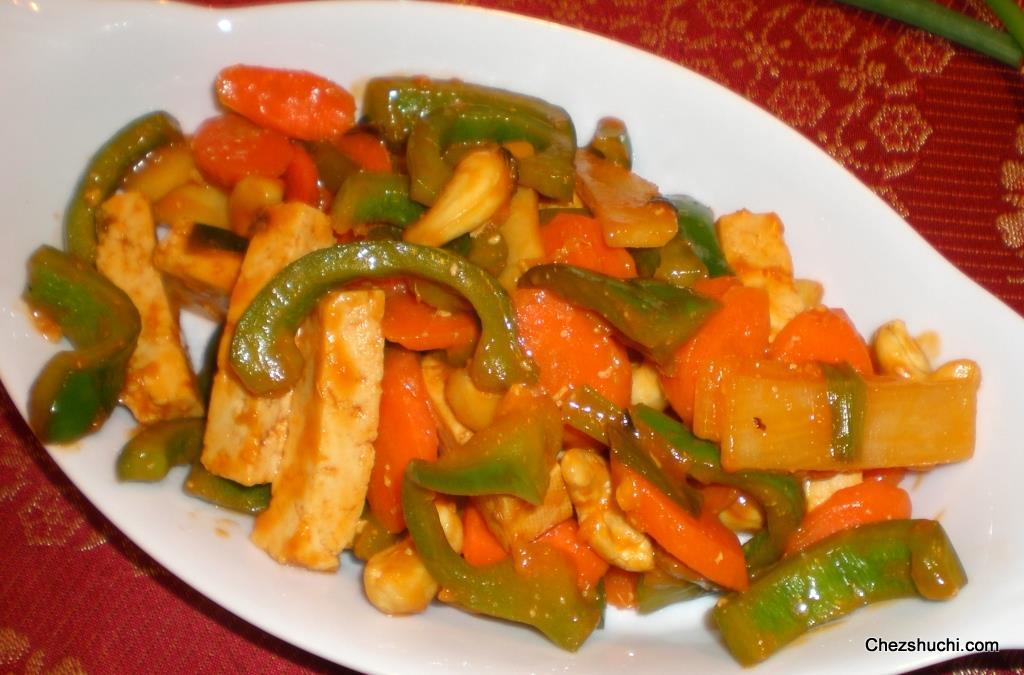 Ingredients (Serves 4)
Tofu 200 gms
Green bell pepper 1
Carrots 2 medium
Bamboo shoots ½ cups
Cashew nuts ¼ cups
Green onions 3
Oil 1 ½ tbsp
Salt ½ tsp
For Marinade
Lemon juice 1½ tbsp
Tomato Ketchup 2 tbsp
Dark soys sauce 1 tbsp
Honey 1½ tbsp
Grated ginger 1½ tsp
Red chili flakes ½ tsp
Salt a hint
Method of preparation:
Cut the tofu into long finger shape pieces. Place in adeep plate.
In a bowl combine all the ingredients of marinade and mix well.
Pour the marinade over the tofu pieces and refrigerate for at least 30 minutes. The longer tofu is marinated will taste better.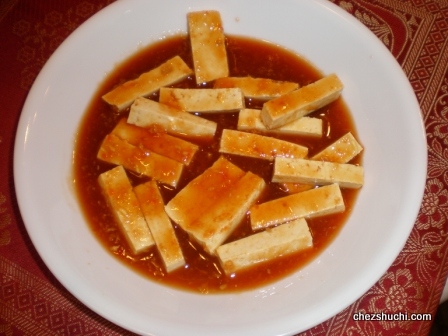 Wash the green bell pepper (capsicum), cut into halves. Remove the seeds and the stem. Now cut pepper into long pieces.
Cut the green onions into about an inch and half pieces.
Scrap, wash and slice the carrots.
Wash the bamboo shoots properly. Heat a wok, add oil. Now add carrots, and bell pepper, fry for a minute. Add in bamboo shoots, green onions, and cashew nuts. Add a little bit of salt. Stir fry for a minute on high heat.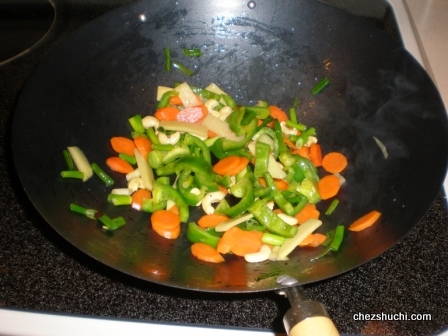 Add in tofu and remaining marinade sauce. Stir fry well until all the ingredients are well combined and coated well with the sauce. Taste and adjust salt and pepper.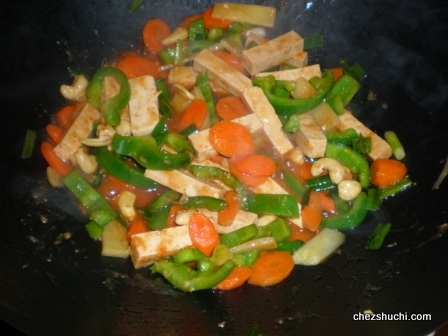 after adding marinated tofu
Deliciuous and healthy sweet and sour stir fried tofu is ready to serve. Serve with plain rice or fried rice.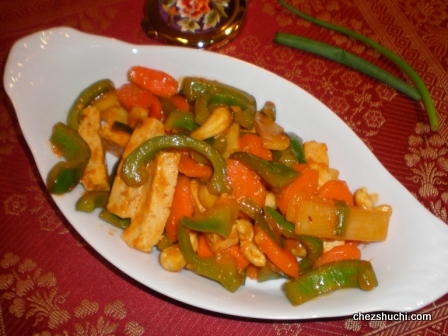 Some Tips/ Suggestions:
The mushrooms, baby corns, water chestnuts etc are some other options which can also be used for this recipe.
To make this dish vegan replace honey with brown sugar.
You can also use paneer instead of Tofu.
Feel free to add more chili powder and green chilies if you like spicy food.
I do not use garlic in my kitchen but you can also add garlic in this preparation if you wish.
---