Stuffed Chili
(Bharvan Mirch)
हिन्दी में पढ़ें
This delicious chili dish is like an instant pickle. I have used home grown Serrano peppers for this dish but if you do not find this particular variety use any big green chilies. In India you get bigger green chilies for pickle which is perfect for this dish. Try it out and do not forget to share your thoughts……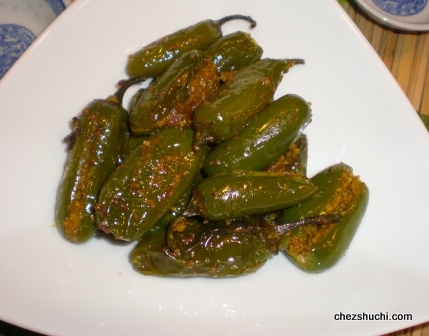 Ingredients

(makes about 24 stuffed chilies)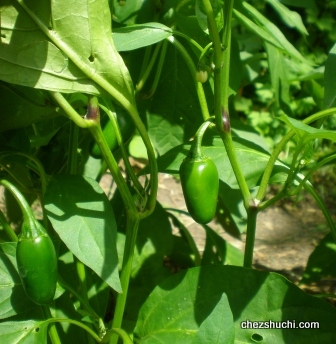 Home grown Serrano peppers
Green chilies 250 gms
Grounded Fennel 2 tbsp
Turmeric powder 1 tsp
Red chili powder ¾ tsp
Coriander Powder 1 ½ tbsp
Salt ¾  tsp
Amchoor powder  1 ½ tsp
Asafoetida ¼ tsp
Oil 1 ½ tbspp
Method of preparation
Wash the peppers. Pat them dry on the kitchen paper/ towel.
Cut a slit vertically in the middle of chili without cutting it into two parts. Remove the seeds and white rib from the chili. Repeat for all the chilies.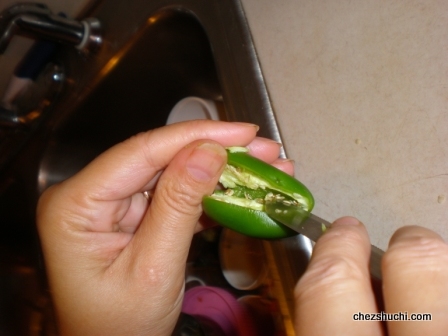 In a bowl take all the spices, and about 2-3 tsp water. Mix well. If the mixture is too dry, add a little more water or oil.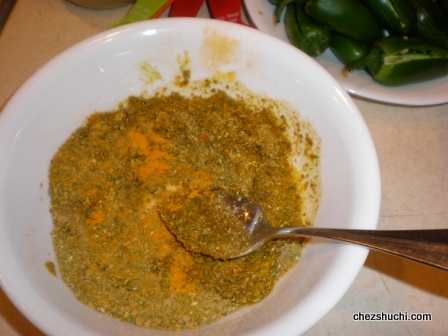 Open the slit of the chili and fill the above mixture. Repeat with all the chilies.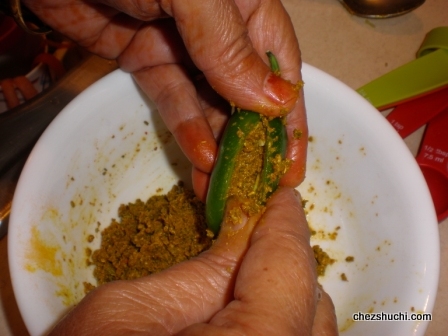 The following picture shows stuffed chilies that are ready to cook.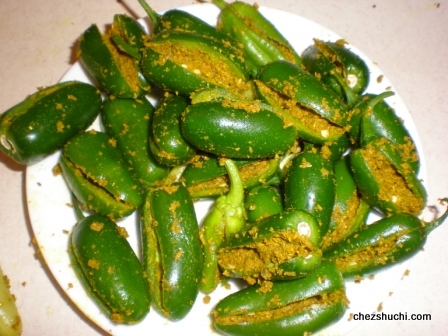 In a wok heat oil, and put all the chilies. Fry for a minute. Now reduce the heat and cook them until the chilies get tender ( takes about 7-8 minutes).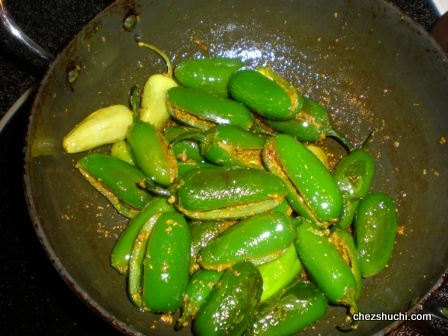 Delicious stuffed chilies are ready to serve. These chilies can be served with any meal and also with any combinations like plain paratha, dal-chawal etc..
Tips
These chilies can be kept for a couple of weeks in the refrigerator.
If you love hot food, add the chili seeds in the stuffing masala.
Some Other Dry Vegetables Recipes
Some more Chutneys and Pickles
---