Stuffed Bell Pepper
(भरवाँ शिमला मिर्च)
हिन्दी में पढ़ें
Shimla Mirch or Bell pepper is commonly known as capsicum in India. Bell peppers are rich in vitamins, minerals, dietary fibres, and beta carotene. This stuffed bell pepper recipe has been adapted from cookery expert Neeta Mehta's recipe with some variations. Try it out and please do not forget to share your thoughts……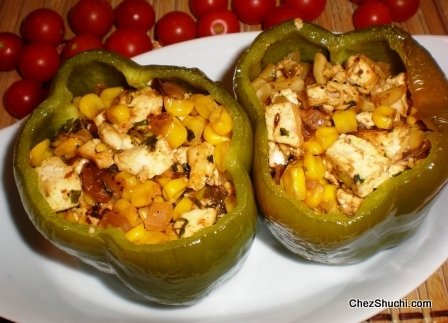 Ingredients

Bell Pepper/ capscium 4 medium
Onoin 1 small
Green chili 1
Paneer 1 cup/ 150gms
Corn kernels 1 cup
Cashew nuts 1 tbsp
Raisins ½ tbsp
Cumin seeds ½ tsp
Red chili powder

¼

tsp
Garam masala½ tsp
Salt ¾  tsp
Lemon juice 1½ tsp
Chopped coriander leaves 2 tbsp
Oil 1 tbsp+ ½tbsp
Method of preparation
Preheat oven at 350°F/ 180°C.
Wash the peppers. Pat them dry on the kitchen paper/ towel.
Cut the tops off the pepper and keep aside. Remove the seeds and white rib from the peppers and discard them.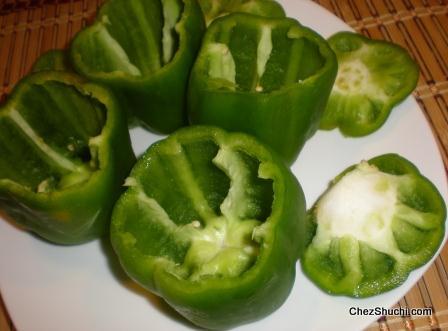 Peel, wash and finely chop the onions. Remove the stem, wash and finely chop the green chili.
Cut the paneer into small pieces.
Wash the sweet corn kernels and keep aside.
Cut the cashews into small pieces.
In the skillet heat 1 tbsp oil. Add cumin seeds, fry for a few seconds or until cumin is red. Add chopped onions. Fry until onions are golden red. Add cashews and fry for a minute.
Add chopped green chilies, corn, salt, red chili powder, and garam masala. Mix well, and fry for a couple of minutes.
Add paneer pieces and raisins. Mix well and fry for a minute. Turn off the heat.
Add lemon juice and chopped coriander leaves.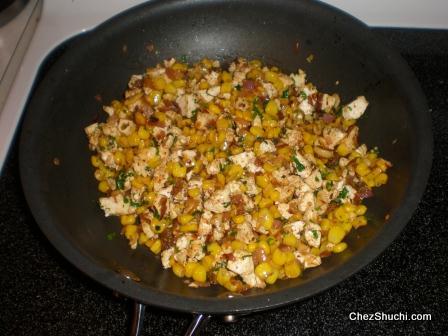 Fill the pepper with the above mixture. Repeat with all the peppers.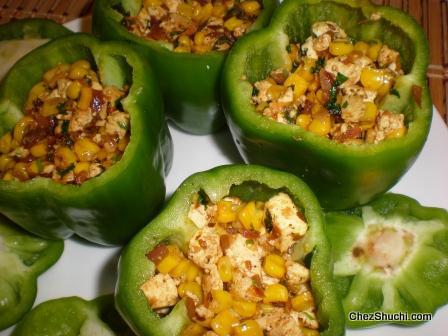 Brush a little oil from all the sides of the pepper. Cover the lid of the pepper and arrange them on the cookie tray.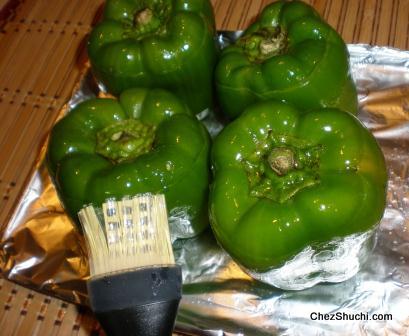 Bake the stuffed bell pepper for 10 minutes. Turn the sides of the pepper and bake them until you see some red spots. Takes another 10 minutes.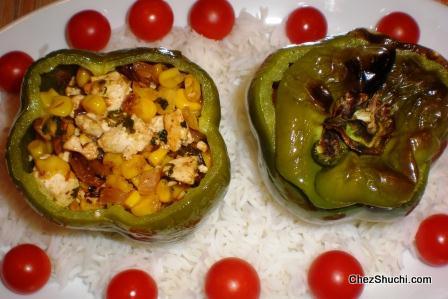 Delicious stuffed bell pepper is ready to serve. These stuffed peppers go very well with paratha, dal-chawal etc. ....
Some Tips/ Suggestions:
You can also barbeque these stuffed bell peppers on the skewers. They can also be made in tandoor oven. In case if you do not have any of these you can also cook stuffed bell pepper/capscium in a wok.
Some Other Dry Vegetables Recipes
---