Shahi Paneer
हिन्दी में पढ़ें
Shahi Paneer (royal dish of Indian cottage cheese) is one of the most famous paneer preparations. Like other "Royal" dishes, this rich dish has a base of cashew nuts, cream, and saffron. These ingredients are expensive and I think that is the reason the dishes made with these ingredients used to be out of reach of general people and were considered royal. So, why not try the royal romance of Paneer…..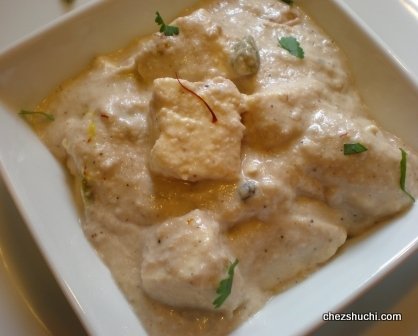 Ingredients

(makes 4)
paneer   300 gms
Onion 1 large
Green chilies 2
Ginger 1 inch piece
Bay leaves 2
Cloves 4
Black/white peppercorn 8
Green cardamoms 4
Cinnamon 2 pieces (¼ inch wide an inch long)
Salt 1 tsp/ to taste
Cashew nuts 1/3 cups
Fresh yogurt 2 tbsp
Fresh Cream 1/3 cups
Garam masala½ tsp
Oil/ Ghee/Butter 2-3 tbsp
Saffron (Amazon link for Organic Saffron) 10-12 threads
Water about 1 cups
Method of preparation
Peel off onion, wash and cut the onions in an inch long pieces.
Boil the onion in a little water for 3-4 minutes.
Drain the onions and let them cool down. Now make a fine paste of onion with ginger in the blender.
Remove the stem of the green chilies, wash, and slit them.
onion paste cashew paste, yogurt (dahi) and fresh cream
Soak cashew nuts in a cup of warm water for 20 minutes. Make a fine paste of cashew nuts in the blender.
Cut paneer into one inch cubes. Keep aside.
Heat butter/ghee/ oil in a wok. Add all the wholesome garam masala (bay leaves, cloves, green cardamoms, black peppercorns, and cinnamon) in the ghee and fry on low heat for a minute. Add slitted green chilies and fry for another minute.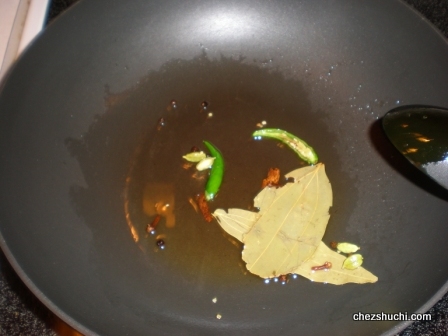 Add onion-ginger paste and fry on medium-low heat. Fry until onion leave the sides of wok but does not change the color. It takes about 5 minutes to fry the onions.
Now add fresh yogurt and fry for 2-4 minutes or till it leaves the sides of the pan.
Now add cashewnut paste. If the paste is thick add ½ - 1 cup of water, and fry for about 4-5 minutes.
onion frying after adding yogurt (dahi)
Now stir in Cream and cook well for 2-3 minutes.
Now it is time to add saffron, garam masala powder, and salt. Mix well. Cook for few more seconds. Add in Paneer cubes and mix well with care, so that paneer pieces do not get mashed up.

after adding garam masala and saffron shahi paneer is almost ready
Delicious Shahi paneer is ready. Serve this paneer delicacy with Rotis/poori/ butter naan or with any Indian breads of your taste.
Some Tips/ Suggestions
Instead of cream, you can also use khoya/Mava.
If you like, a little bit of ground white pepper can also be added in this preparation. Some people like to add little bit of sugar also.
Make sure that yogurt (dahi) is fresh and it is not chilled. Chilled yogurt may get curdled in the hot frying onion ...
Some Other Paneer Preparations
---