Pizza Sauce
हिन्दी में पढ़ें
Pizza sauce are easily available in most of the grocery stores, but nothing can beat freshly made pizza sauce...Making fresh pizza sauce at home is very easy. Here we are with an easy to follow recipe for pizza sauce......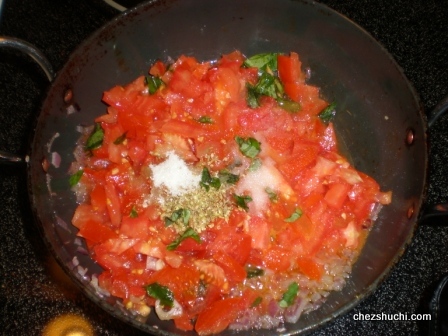 Ingredients

(makes about 1½ -2 cup sauce)
Red tomatoes 4 medium (500 gms)
Onion 1 small
Basil leaves 10-15
Oregano 1 tsp
Sugar 1 tsp
Salt

¾

tsp/ to taste
Black pepper, Freshly ground to taste
Olive oil 2 tbsp
Method of preparation
Peel, wash and finely chop the onions.
Wash and finely chop the tomatoes.
Wash and tear the basil leaves. If you do not find fresh basil leaves, use dried ones.
Heat olive oil in a pan/ wok. Add chopped onions. Sauté for about 2-3 minutes or until onions are tender and pink.
ingredients for pizza sauce" onion frying
Mix all the spices , chopped tomatoes and other ingredients in the sautéed onions. Mix well and let it cook on medium to low heat for about 20 minutes or until the sauce is thickened and smooth.
other ingredients in the fried onion" sauce is reday
Tips/ Suggestions
Please see the recipe of thin crust pizza for the uses of pizza sauce
Add minced garlic if you like to. Adjust the amount of salt, pepper, and oregano to taste.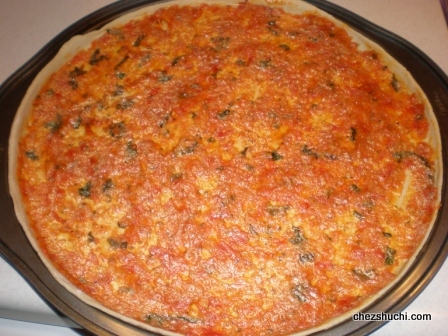 A layer of tomato sauce applied on the rolled pizza base
---