Paneer Pasanda
हिन्दी में पढ़ें
Paneer pasanda is a rich paneer delicacy - This has paneer sandwiches filled with mashed panner filling. These paneer sandwiches are deep fried and served in rich curry. I am posting this recipe on request of one of my readers…..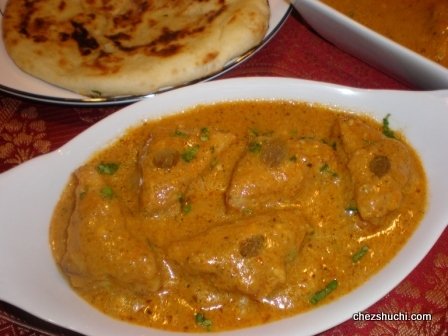 Ingredients

(serves 4)
Indian cottage cheese (Paneer ) 200 gms

Paneer 50 gms mashed

Raisins 2 tsp

Finely chopped Cashew nuts 1 tbsp


Green chilie 1


Salt ¼ tsp
Chaat masala ¼ tsp
Chopped coriander leaves 1 tsp
Oil to deep fry
All purpose flour 2tbsp
Water 3-4 tbsp
Salt 2 pinches
For curry
Onion 1 medium (150gms)
Green chilies 1-2
Ginger 1½ inch piece
Tomatos puree ¾ cups
Cashew nuts¼ cup
Coriander powder 2 ½ tsp
Red chili powder ½ tsp
Kasoori methi ½ tsp
Turmeric  powder two pinches
Garam masala 1 tsp
Butter/ ghee 2-3 tbsp
Water 1 cup
Fresh cream ½
cupGreen coriander leaves, chopped 1 tbsp
Method of preparation to make the sandwiches
Keep about 50 gms paneer aside. This is for the filling.
Cut paneer into one and a half inche squares. The paneer pieces should not be more than than a quarter inch thick.
Now cut each square into two triangles as shown in the following pictures.
Remove the stem, wash and finely chop the green chilies.
Now in the mashed paneer add salt, green chilies, chopped coriander leaves, raisins, finely chopped cashew nuts, and chaat masala. Mix them well.
paneer squares cut into 2 triangles filling for paneer pasanda
Now keep about 2 tsp filling eavenly on one of the paneer triangles and cover with the other paneer triangle. Press gently . Repeat with all the paneer pieces.
after keeping the paneer filling after closing the paneer sandwich
Take all purpose flour, salt, and chopped coriander leaves in a bowl. Add a little water at a time to make semi liquid batter.
Heat oil in a wok on medium heat; dip the paneer sandwiches in the flour paste and deep fry on medium heat until paneer is reddish brown. It takes about 5-6 minutes to fry each round of paneer.  Drain onto kitchen paper.
paneer sandwisches are being fried fried stuffed paneer sandwich
Method of preparation for curry
Peel off onion, remove the skin of ginger, remove the stem of the green chilies and wash them. Roughly chop the green chilies, onion and ginger and make a fine paste in the blender.
Soak cashew nuts in half a cup of warm water for 20 minutes. When cashew nuts are soft make a fine paste of cashew nuts in the blender.
Heat butter/ghee in a pan, and fry onion-ginger paste on medium heat until it leaves the sides of the pan.(takes 10-12 minutes)
Add red chilly powder, turmeric powder, coriander powder, garam masala, and kasoori methi. Fry the spices for 2 minutes.
Now add cashew nut paste and fry for 2-3 minutes on medium heat.
Now add tomato puree and fry again until it leaves the sides of the pan.(takes 3-5 minutes)
Add fresh cream. Cook for a minutes.

fried onion and masala fried onion, cashew paste and masala
Now add 1 cup of water and salt . Boil the curry for 5 minutes.
Now add fried paneer sandwiches and cook for a couple of minutes.
Paneer-Pasanda is ready. Garnish with chopped coriander leaves.
Delicious paneer pasanda is ready to serve. Serve with your favorite Indian bread.
If you eat garlic, add in garlic first , before frying the onions.
For deep frying, I avoid filling the skillet with oil as repeated use of fried oil is unhealthy.
If you do not like the smell of onions, soak the cut onions in warm water for 5 minutes before making the paste. Then Onions will not smell in curry.
Insted of cashew paste you can also use fresh cream to give a mild flavor to the curry.
---