हिन्दी में पढ़ें
Paneer Pesto
Pesto is a very popular Italian sauce made with fresh basil, pine-nuts, garlic, parmesan cheese and olive oil. Many of my readers, who don't wish to use cheese in their cooking, have been asking for a substitute pesto recipe. Here is a paneer based pesto sauce recipe. Those who want to make a vegan pesto, can replace paneer with tofu. Pesto is traditionally prepared in a mortar and pestle; I have made pesto in a electric blender. Try this delicious fusion recipe of paneer and pesto and please do share your comments.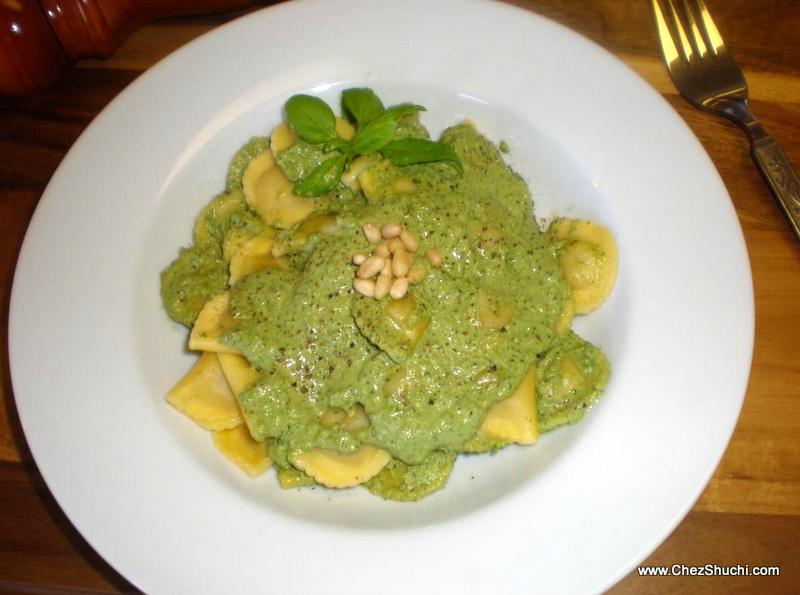 Ingredients (Serves 4
For paneer pesto sauce
Fresh Basil Leaves 1 cup, packed
Pine nuts 3 tbsp
Paneer, grated 3 tbsp
Garlic 2 clove (Traditional Italian recipe calls for 2 garlic clove. Please add garlic as per taste)
Salt to taste
Black pepper, freshly ground to taste
Oregano a hint
Olive oil 2 tbsp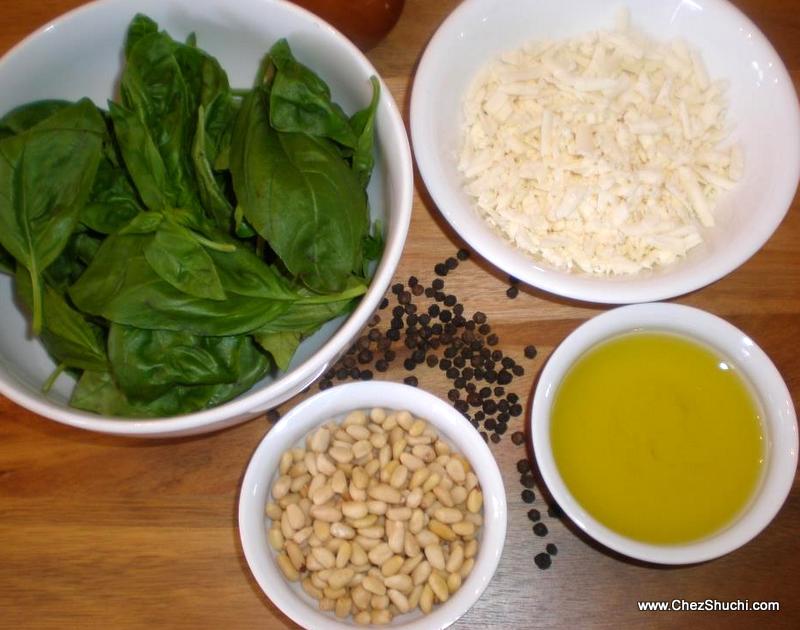 ingredients for paneer pesto sauce
For Pasta
Pasta 250gms/ about ½ pound
Water about 8 cups to boil the pasta
Salt 2 tsp
Method of preparation for Pesto sauce:
Wash and pat dry basil leaves.
In the blender take basil leaves, pine nuts, and garlic (if using). Blend until coarse. Add grated paneer and blend again.
Now add olive oil little by little to the sauce while motor is running. Use about 2 tbsp olive oil.
Add seasoning as per taste.
Transfer the sauce in a glass container. Paneer pesto is ready to use.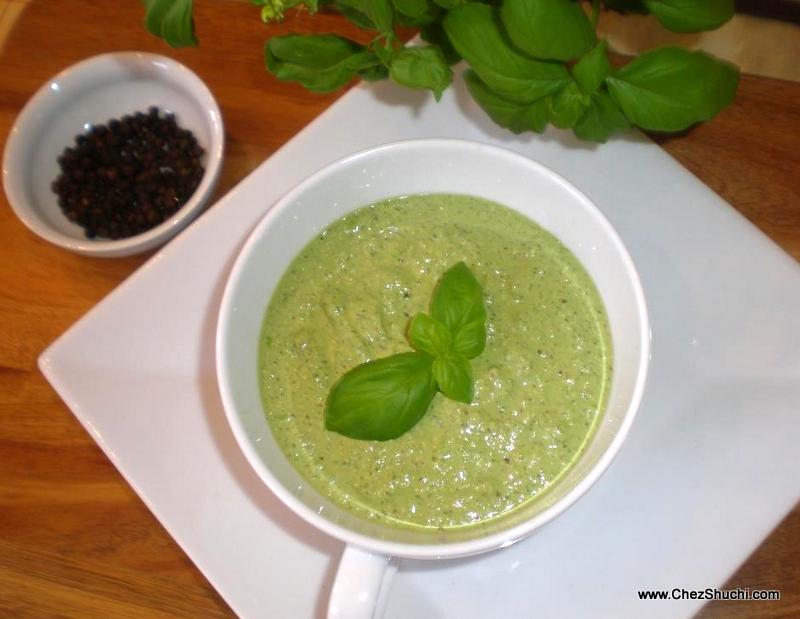 Method of preparation for Pasta with Panner Pesto:
Boil water in a big sauce pan. Add 2 tsp salt and pasta of your choice. I have used Mezzaluna pasta. Mezzaluna pasta is a type of filled pasta that is made in a half moon shape.
Boil until pasta are soft but firm. The cooking time is different for different variety of pastas. Read the instructions written on pasta packet for better idea. Drain lightly, pasta should remain soft.
Serving Suggestion:
In a serving dish, set warm pasta. Cover it with enough paneer pesto sauce. Sprinkle some seasoning as per taste.
Delicious pasta in paneer pesto is ready to serve.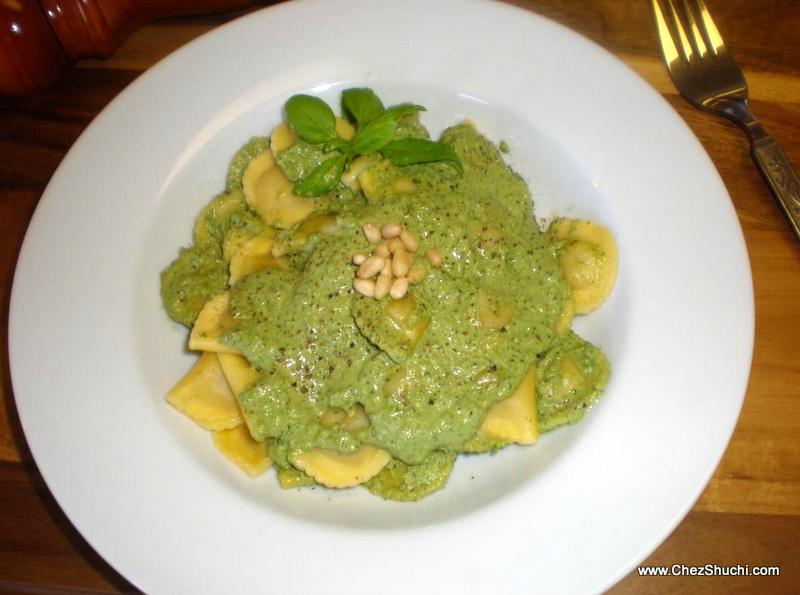 About Basil:
Basil is a fragrant herb important for Italian cooking. Basil belongs to the same family like Tulsi. Do not get confused with Tulsi (the holy Indian herb - also known as holy basil). You can easily grow basil at home. You can also use holy basil, it is a bit stronger but has nice aroma.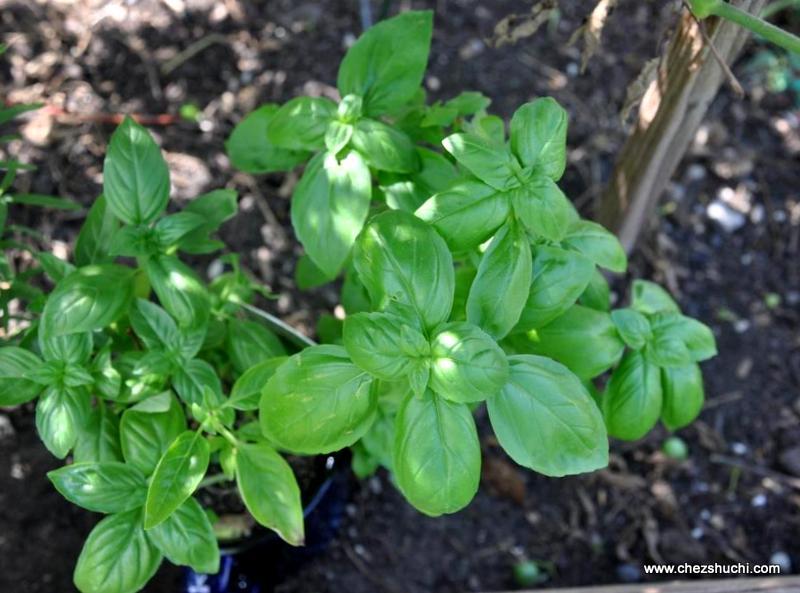 Some Tips/ Suggestions:
In order to make vegan pesto sauce replace paneer with tofu.
I have added a dried mixture of Italian herbs and spice (oregano, thyme, crushed red pepper) to enhance the flavor of this sauce.
You can use remaining sauce (if any left) for bread pizza, Pizza, or even sandwiches.