Paneer Jalfrezi
Jalfrezi is a dry preparation made with onion, bell peppers (capscium), tomatoes and spices. Paneer Jalfrezi is a delicious as well as nutritious dish. It is a stir fry delicacy, made with little oil/ghee.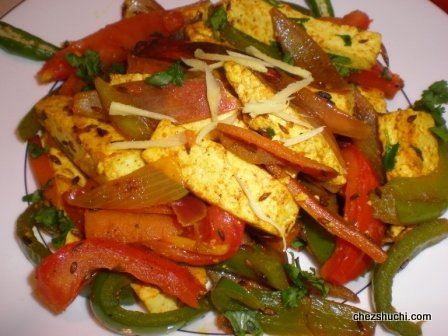 Ingredients

(makes 4)
paneer   250 gms
Green bell pepper 1 
Onion 1 medium
Tomato 1 medium
Carrot 1
Green chili 1
Ginger    1½ " piece
Cumin seeds 1 tsp
Dry red chili 1
Salt 1 ½ tsp or to taste
Red chili powder  ¼ tsp
Garam masala ¼ tsp
Turmeric powder ¼ tsp
Lemon juice 1 tsp
White vinegar 1 tsp
Chopped coriander leaves 1 tbsp

Oil/ pure ghee    1½  tbsp
Method of preparation
Peel off, wash and cut onions in length of about ½ inch wide pieces. Remove the skin of ginger, wash and cut fine juliens in length. Wash, remove the stem of and split the green chili.
Wash & cut bell pepper and tomatoes into halves. Remove the seeds and cut into finger shape pieces. (You can use tomato seeds and juice for dal preparations.)
Cut paneer into finger shape pieces.
Scrap the outer skin , wash,  and cut the carrots  in length.
Heat oil in a skillet. Add cumin seeds. When seeds splutter, add red chili, fry for 4-5 seconds, and add ginger. Fry for 5 seconds, and add onions and green chili. Fry for one minute on high heat.
Now add carrots and bell pepper, fry for few seconds. Add red chili powder, turmeric powder and salt. Mix well and cover the lid and cook on medium low heat for 3-4 minutes.
Now add paneer, mix well gently, and cook for a minute. Add tomatoes, lemon juice, garam masala and vinegar, mix well. Turn off the heat.
Paneer Jhalfrezi is ready. Garnish with chopped coriander leaves.
Serve with Rotis/poori/ butter naan or with any Indian bread.
Tip: Do not overcook the vegetables. Crispy, stir-fired vegetables taste better in this dish.
Variations:
1. Sprinkle little bit of garam masala / tandoor masala on the paneer slices and leave for 15 minutes.
2. Paneer slices can be fried on a greased pan for a minute. This gives a crispy flavor.
---