Paneer Bhujiya
हिन्दी में पढ़ें
This is a quick paneer dish made with mashed paneer, chopped onions and tomatoes. It is a low fat, healthy delicacy of paneer. Paneer bhujiya can be served with dal and rice or Roti.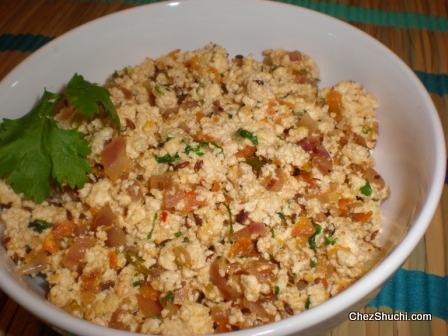 Method of preparation
Crumble/chop the paneer into very small pieces.
Peel off, wash and finely chop the onion.
Remove the stem of green chili and finely chop it.
Wash and chop the tomatoes into small pieces.
In a wok heat the ghee/ butter, add cumin seeds. When the seeds crackle, add onions, and fry for 3-4 minutes. Now add tomatoes, and chopped green chili. Fry for 4-5 minutes on medium flame.
Add crumbled paneer, salt , red chili powder, garam masala and mix well. Cook for 2-3 minutes. Now add lemon juice.
Garnish with chopped coriander leaves. 
Serve with Rotis.
Variations : Add chopped bell pepper (capsicum).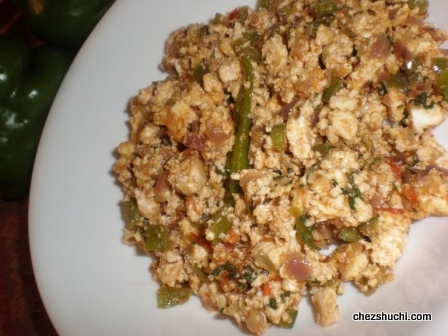 Ingredients

(serve 4)
Paneer 250 gms
Onion 1 big
Tomato    1 big
Green chili      1
Chopped coriander leaves   1  tbsp
Salt       1 tsp
Red chili     ½ tsp
Lemon juice 1 tsp
Garam masala ¼ tsp
Cumin seeds 1 tsp
Ghee/ butter 1 tbsp
---