Nylon Dhokla
हिन्दी में पढ़ें
Many of you have been asking for spongy dhokla recipe ! Dhokla's are steam cooked snacks from Gujarat (Western India); made with fermented batter of different flours. I grew up in North India seeing just one variety of Dhokla. Later on through Gujarati friends I came to know about white dhokla / Khatta dhokla (rice based), Semolina (sooji) dhokla, Khaman dhokla, lentil (dal) dhokla etc. The spongy dhokla we get in North Indian bakery's and restaurants is also known as nylon dhokla in Gujarat. This is a light, healthy, delicious and nutritious breakfast dish. So here we go... a long waited recipe of Nylon dhokla........ Try this spongy dhokla out and please do share your comments.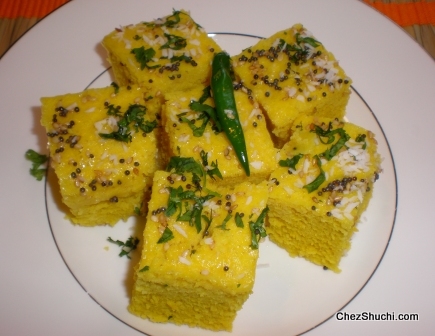 Ingredients

(serves 4/ makes about 14 pieces)
Besan 1 cup  
Semolina (sooji) 1 tbsp
Turmeric powder ¼ tsp
Sugar 1 tbsp
Asafoetida a pinch
Salt ¾ tsp
Citric acid ¼ tsp
Ginger chili paste 1 tsp
Oil 1 tbsp
Water little more than ½ Cup
Keep aside:
Fruit salt (Eno / Alka-Seltzer) 1 tsp
For Seasoning (tadka):
Oil 1 tbsp
Mustard seeds 1 tsp
Sesame seeds 1 tsp
Green chilies 2
Sugar ½ tsp
Water about 3 tbsp
For Garnishing:
Chopped coriander leaves 2 tbsp
Grated Coconut 1 tsp (optional)
To serve:
Method of preparation
Following picture shows the ingredients of Nylon Dhokla-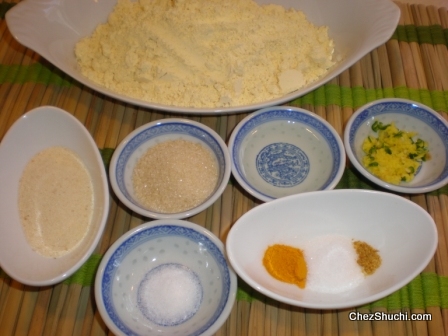 Grease a 6 inch baking dish. Keep aside .
Sieve the besan (gram flour).
In a bowl take besan, semolina, salt, turmeric powder, asafoetida powder, sugar, citric acid, ginger chili paste, and oil . Mix all the ingredients well. Now add water little by little, and mix well to make a smooth batter. Leave the batter for 2-4 minutes.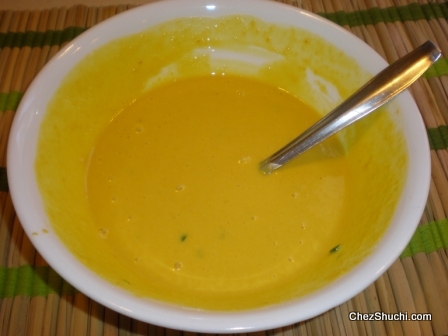 Boil 1¼ cup water in the pressure cooker/ steamer. Set a lid/ separator (separator is an accessory that comes with the cooker).
Now in the batter, add fruit salt and pour 1 tsp water on top of fruit salt (Eno/ Alka-Seltzer). Mix well gently for a minute.
Pour the batter in the greased baking dish. Place the dish in the pressure cooker, and cover the lid. Do not forget to take the whistle off.
Steam cook Dhokla for about 12-14 minutes on medium heat.
To check if the dhokla is cokked completely : Insert a knife in the side of the dhokla, if it comes out clean, then it means the dhokla is done. If the knife is not clean, we need to steam it for couple of minutes more.
Let it cool down for 2-5 minutes. Now cut the pieces of dhokla as shown in the picture below.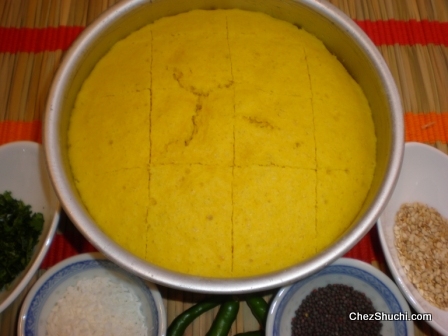 For Seasoning (tadka):
Remove the stem, wash and slit the green chilies.
Heat oil in a non stick skillet. Add mustard seeds, when seeds stop spluttering add sesame seeds, and slitted green chilies. Fry for a few seconds and turn off the heat. Add about 3 tbsp water and half tsp sugar. Mix well.
Pour the seasoning on the dhokla evenly.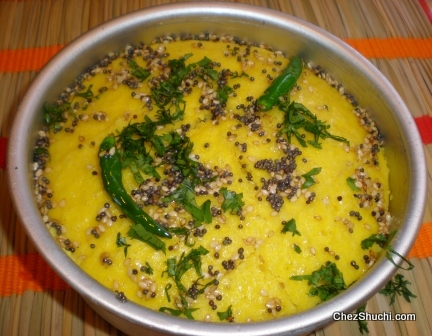 Now gently put the baking dish bottom side up on the skillet and tap it from back . Dhokla pieces will come out easily..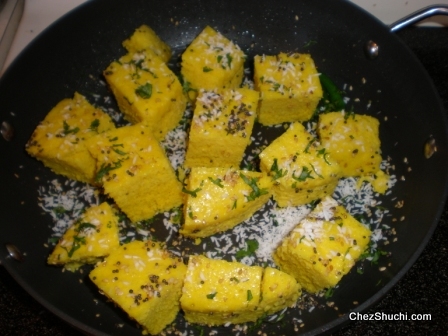 Garnish the dhokla with chopped coriander leaves and may be with grated coconut if you like the taste.....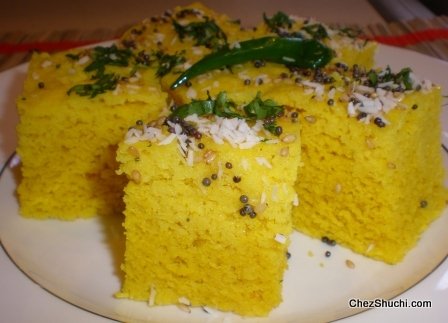 Serve delicious spongy dhokla with Green chutney .
Some Tips/ Suggestions:
My Gujarati friends make dhokla in a thali (shallow dish) . So if you are making dhokla in a thali; divide the batter into two portions.
Please be patient once the dhokla is steam cooked - Do let it cool for 2-4 minutes, and then it will be much easier to cut the pieces.
Suggestions For Lunch boxes:
Dhokla is my son's favorite lunch box meal. I usually mix semolina with gram flour to make dhokla for kids so it is lighter and healthier. With Dhokla I usually pack some fruits and a small piece of dessert. This picture shows Dhokla, red grapes, and a small piece of pound cake for dessert. You can pack some other fruits as per your kids taste.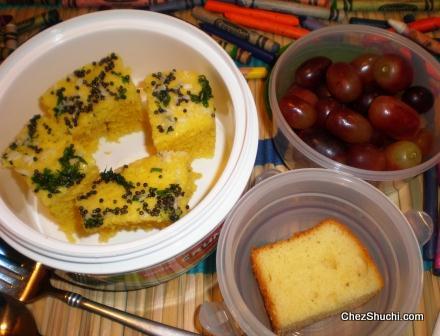 Some other Kid's Lunch box ideas
Some other Snacks and Starters
---