Mirchi Vada
हिन्दी में पढ़ें
Mirchi vada (chili cutlet) is a very popular deep fried snack from Rajasthan . Mirchi vada are stuffed with potato filling and then coated with gram flour (besan) paste before frying. It is also called as mirchi bhajii in Southern India. Mirchi bhajii has different filling of spices and sesame then mirchi vadas. Lets make mirchi vada.....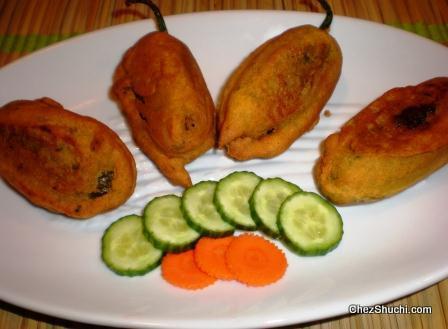 Ingredients

(makes 8 mirchi vadas)
For Filling :
Boiled potatoes 5 small/ 250 gms
Salt ½ tsp
Red chili powder ¼ tsp
Garam masala ¼ tsp
Chaat masala

¼

tsp
Chopped coriander leaves 1 tbsp
For Mirchi Vada:
Thick Green chilies 8/ 250 gms
Besan (Gram Flour)  ¾ cup
Chopped coriander leaves 2 tbsp
Chaat masala  ½ tsp
Red chili powder  ¼ tsp
Salt ½ tsp or to taste
Oil to deep fry

To serve:
Method of preparation to make Filling
Peel off the potatoes. Mash the potatoes thoroughly.
Mix the salt, red chili powder, chaat masala, garam masala, and chopped coriander leaves with the mashed potatoes.
Potato filling is ready.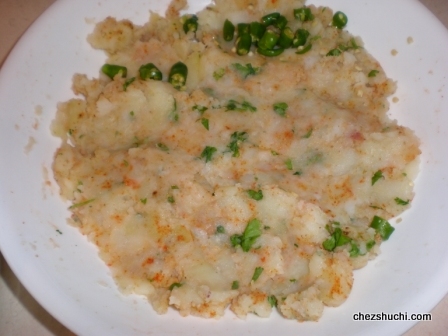 potato filling for Mirchi Vada
Method of preparation for Mirchi Vada
Wash the chilies. Pat them dry on the kitchen paper/ towel.
Cut a slit vertically in the middle of chili without cutting it into two parts. Remove the seeds and white rib from the chili. Repeat for all the chilies.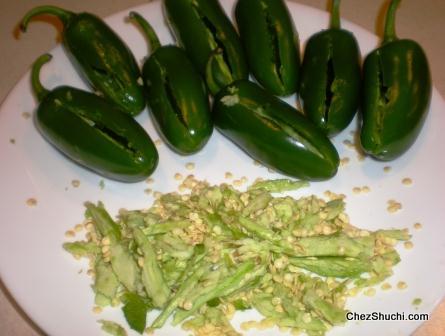 Open the slit of the chili and fill the potato stuffing. Repeat with all the chilies.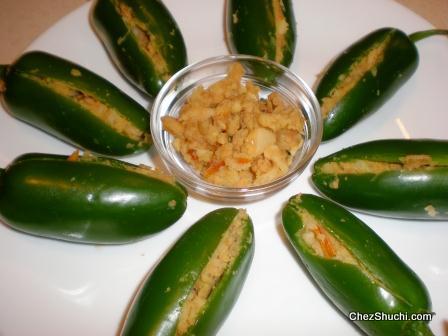 In a bowl take besan, chopped coriander leaves, salt, red chili powder and chaat masala. Mix well . Add very little water at a time to get the perfect batter.
In a wok heat oil on medium heat. Dip the stuffed chilies in the besan batter and pour them onto the hot oil. Pour 3-4 chilies in the same way.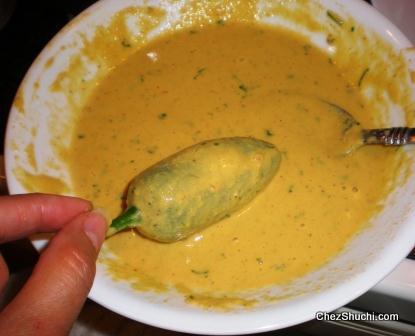 Deep fry the vadas on medium to high heat until redish brown . (takes about 8-9 minutes). Drain out the mirchi vadas on kitchen paper.
Repeat the process with the remaining stuffed chilies.
Serve hot chili vadas with tomato ketchup or coriander chutney .
Some Tips Tips/ Suggestions :
You need big, thick chilies for Mirchi vadas. I have used Jalapeño pepper.
Some other Snacks and Starters
---