हिन्दी में पढ़ें
Mango Strawberry Yogurt
Yogurt (In India it is known as Curd/Dahi) is a good source of Protein and calcium. It is also a very good digestive and is also considered as a coolant. This dessert is somewhat like parfait but it is much lighter… This light dessert is made with fresh fruits, yogurt, honey, and nuts. You can choose the fruits as per taste and availability. I use 2% milk to make fresh yogurt at home but you can use any yogurt to make it. Let's make a very tasty, soothing and light dessert for summers…...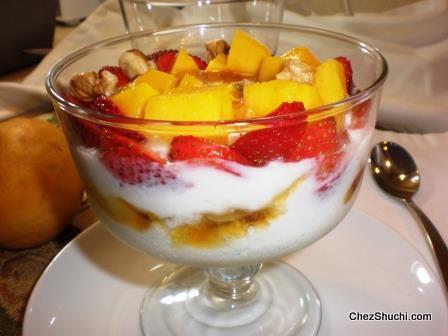 Ingredients
(serves 2 )
2 cups Plain yogurt / curd/ dahi
1 cup mango, diced
1 cup straberry,diced
3 tbsp honey
2 tbsp chopped walnuts
1tbsp raisins
Method of preparation:
In a glass bowl put half cup yogurt.
Arrange some mango and strawberry pieces on top of yogurt.
Add 1 tea spoon honey and add some nuts and raisins.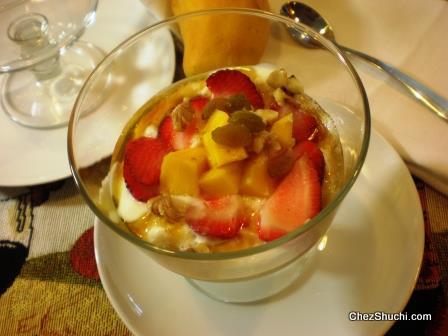 Add another layer of yogurt.
Top it with mango and straberry pieces. Add honey and garnish with chopped walnut or nut of your choice and raisins.
Delicious, fresh fruity yogurt is ready to serve.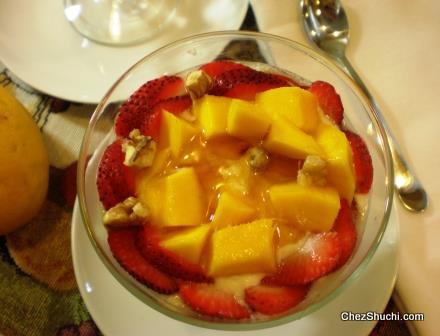 Some Tips/ Suggestions:
You can also add some other chopped nuts in this preparation..
---
---