Makai Dilbahar
हिन्दी में पढ़ें
Makai Dilbahar is a mildly flavored rich curry preparation, made with Methi (fenugreek) leaves, green peas, and corn kernels. This is an exotic preparation that can be served with Lachcha paratha, butter naan, or even with plain paratha /roti. Try out this curry and please do share your comments......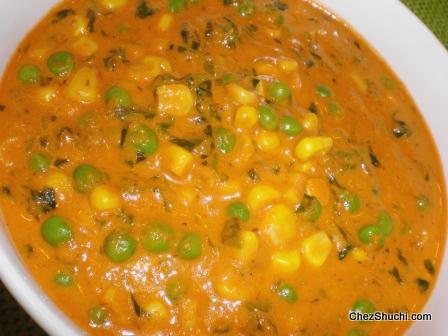 Ingredients

(serves 4)
2 Bay leaves
1 medium/125 gms onion
1-2 green chilies
1½ inch piece ginger
1 big/200gms tomato
1 cups fresh fenugreek leaves, finely chopped
1 cup corn kernels
½ cup green peas
2 tsp coriander powder
½ tsp red chili powder
¼ tsp turmeric  powder
3/4 tsp garam masala
1 tsp/ to taste salt
3 tbsp butter/ ghee
1 cups water
½ cup fresh cream
½ tsp sugar
Method of preparation
Boil the corn kernels and green peas till they get tender. It takes a couple of minutes to boil them. Drain out the water and keep corn kernels and green peas aside.
Peel off onion, remove the skin of ginger, remove the stem of the green chilies and wash them. Roughly chop the green chilies, onion and ginger. In a blender make a fine paste of green chilies, ginger, and onion.
Wash tomatoes and grind them into a fine paste.
In a non stick wok heat butter/ghee. Add bay leaves in the ghee/ butter and fry on low heat for a minute.
Now add onion paste and fry on medium heat till golden or until it leaves the sides of the pan. (takes about 5-8 minutes)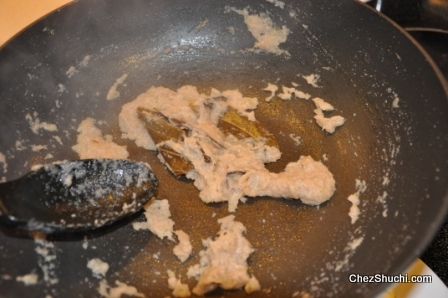 whole masala and onion frying

Now add chopped methi leaves, coriander powder, red chili powder, turmeric (optional), and garam masala powder. Mix well and fry for 2-3 minutes.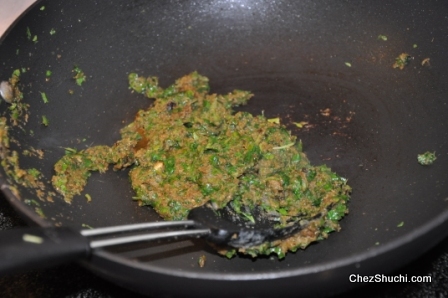 after adding fenugreek (methi) leaves and spices
Now add tomato puree and fry again until masala leaves the sides of the pan. (takes 3-5 minutes)
Add fresh cream, mix well. Now add 1 cup of water and salt. Boil the curry for 5 minutes.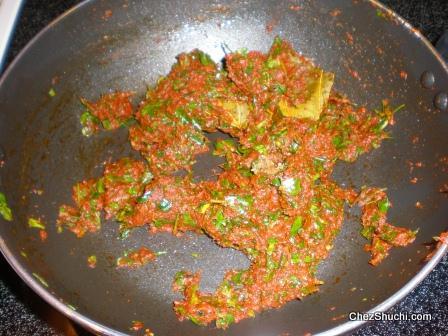 fried masala
Add boiled corn kernels, green peas and also add a hint of sugar. Cook for 3-4 minutes.
Makai Dilbahar is ready
Delicious makai dilbahar is now ready to serve.
Serve with Rotis/lachcha paratha/ butter naan or with other Indian breads.
Some Tips
You can also use kasoori methi in case if you do not find fresh methi leaves. Soak kasoori methi leaves in the water for 5 minutes.
Fresh Malai can also be used in place of fresh cream.
---