Hot and Sour Soup
This is a traditional Chinese recipe. The hot and sour soup is very delicious as well as nutritious. It has protein in form of Tofu and it has vitamin A, C etc. This is a vegan recipe. The white pepper gives the hot flavor to the soup, so you can add more or less of it as you like.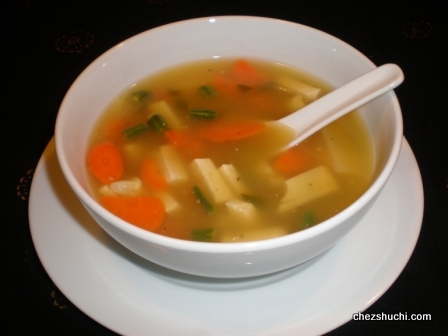 Ingredients

(serves 4)
Tofu about 150 gms

Green onions 2
Bamboo shoots 1/4 cups
Carrots 2 medium
French beans 5-6
Cauliflower, few florets
Vegetable stock about 3 cups

Corn flour 2 tbsp

Water 4 tbsp

Salt 1 1/4 tsp

Soy sauce 2tsp

Ground white pepper 3/4 tsp
White Vinegar 1 1/2 tbsp
Oil 1 1/2 tsp
Method of preparation
Cut the tofu into 1 x ½ inch rectangular pieces.
Wash and cut the spring onions.
Peel off, wash and slice the carrots.
Wash the bamboo shoots thoroughly .
Wash and cut the French beans.
Max in cornctarch in the warm water and stir in well , so the lumps will not get formed.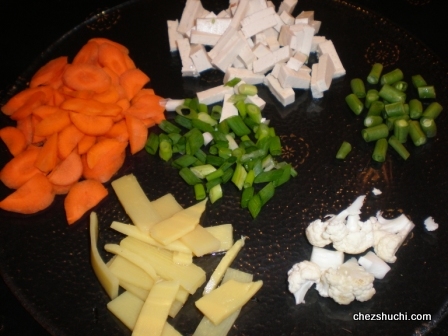 veggies for Hot and Sour Veg Soup
Heat oil in a wok/pan, fry carrots for a minute . Now add rest of the vegetables except the green onions and fry for another minutes.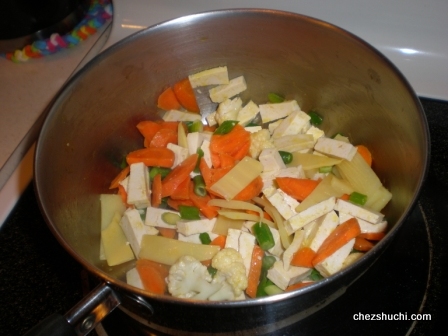 Veggies stir frying for hot and sour Veg Soup
Now pour in the vegetable stock, salt, white vinegar, soy sauce and white pepper. Stir well and take a boil.
Now slowly pour cornstarch mixed in water into the boiling soup. Gently stir the soup for few seconds as it thickens.
Turn off the heat, add green onions . Stir and serve hot .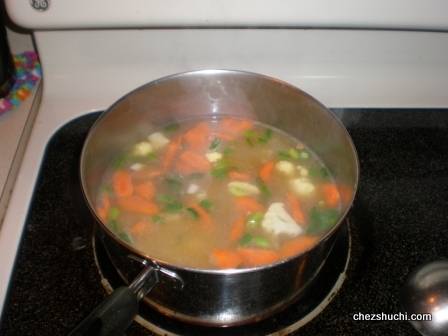 After adding veg Stock
Deliciuous hot and sour veg soup is ready to serve.
Tip:
Usually sesame oil is used to make this recipe, but you can always change the oil as per taste.
There are lot of other vegetables, like, sweet peas, snow peas, broccoli, water chestnut etc., that can also be used to make this soup.
Canned Bamboo shoots are available in most of the supermarkets.
---