Gulgule
हिन्दी में पढ़ें
Gulgule is a special traditional Indian dessert made for some specific occasions like Karwa chauth, Basauda (the day when people eat the food made on previous day) etc. Gulgule is a Hindi word meaning round and soft; it is deep fried sweet wheat flour batter dish. This is an easy to make dish. To make gulgule we need a few easily available ingredients, mostly present in all Indian home pantries. Traditionally pure ghee is used to deep fry the desserts in India however you can use vegetable oil to replace ghee if you have any dietary restriction. So this Karwa Chauth try out this delicious gulgule recipe and please do let me know your suggestions. Happy cooking, Shuchi….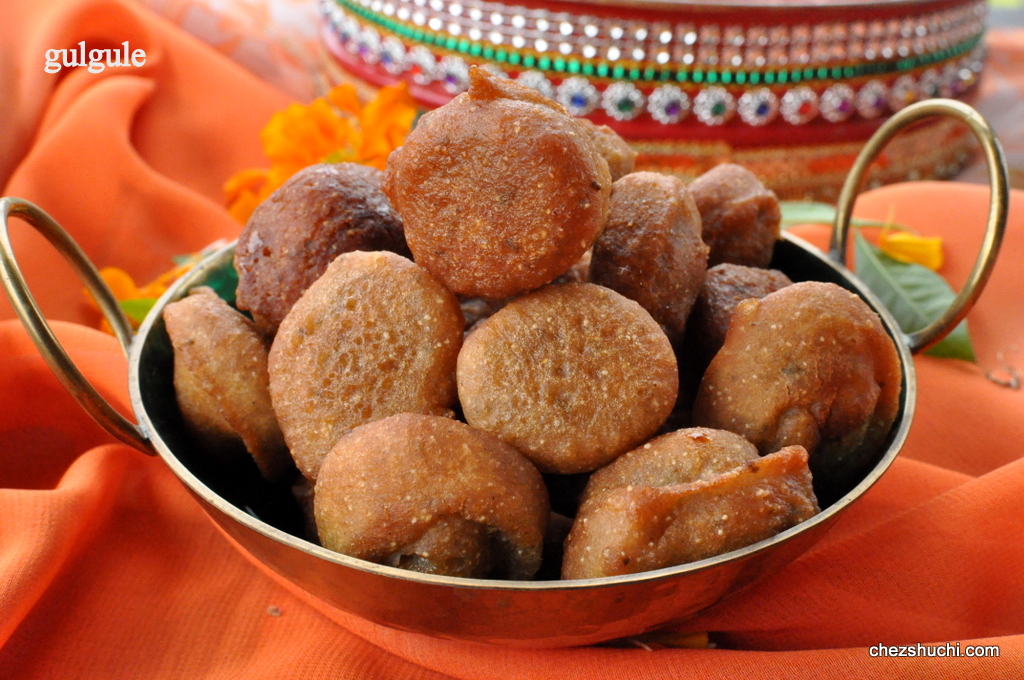 Preparation Time: 5 minutes
cooking time: 12 minutes
Approximately 75 calories in each gulgula
Ingredients (makes 16-20 gulgule)
Wheat flour 1 cup
Semolina 1 tbsp ( optional)
Sugar ½ cups
Green cardamoms 4-5
Yogurt (dahi) 2 tbsp
Water  ¾ cups
Ground fennel 1 tsp (optional)
Ghee/ oil to deep fry
Method of preparation
Remove the outer skin of the green cardamoms and grind them in the mortar.
In a bowl take wheat flour, sugar, yogurt, cardamoms, and (optionally) semolina and ground fennel. Mix well all the ingredients. Now add water little by little. Whisk the batter well. The batter should not be very thin and should be easy to pour as shown in the following picture..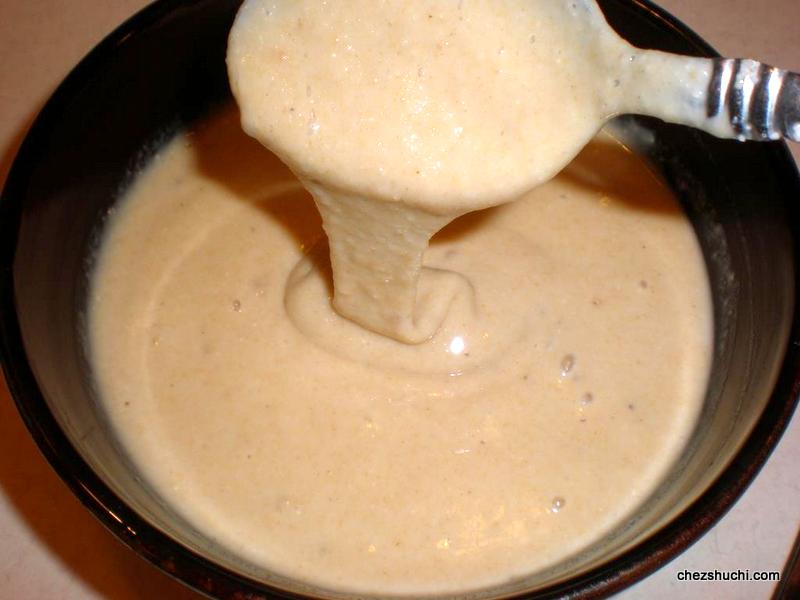 consistency of gulgule batter
In a wok heat ghee/ oil on medium-low heat. Pour 7-8 gulgule onto the hot ghee/oil.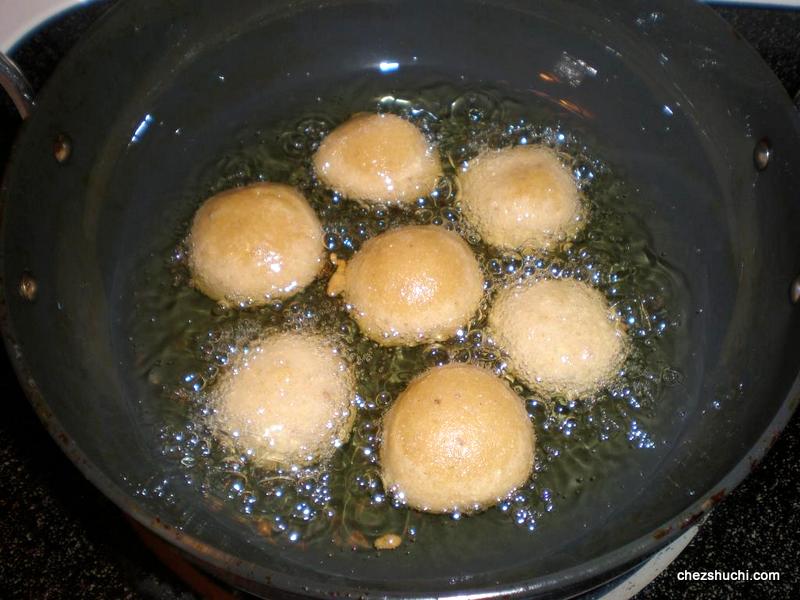 Gulgule frying
Deep fry the gulgule on medium to low heat until reddish brown. Drain out the gulgule on kitchen paper.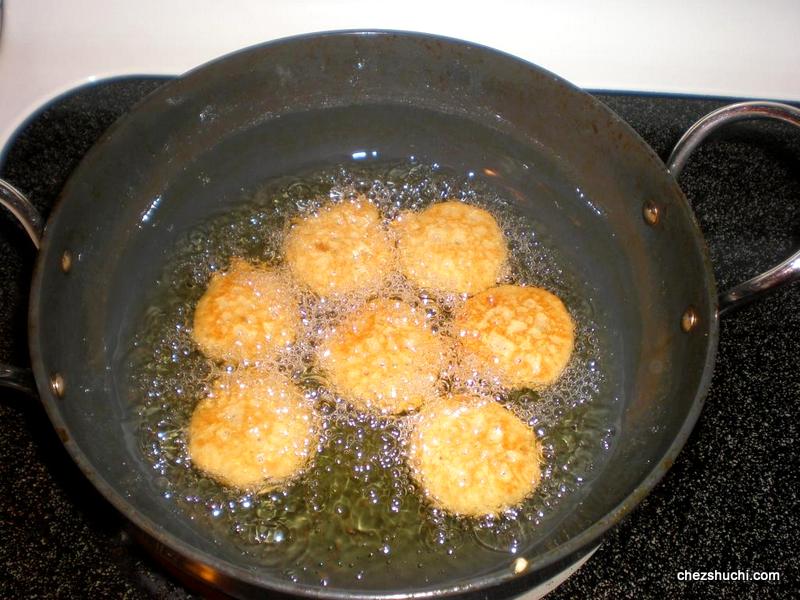 gulgule after turning the side
Delicious gulgule are ready. You can serve gulgule immediately or you can make gulgule before hand to serve later. Gulgule can be kept outside the refrigerator for a few days.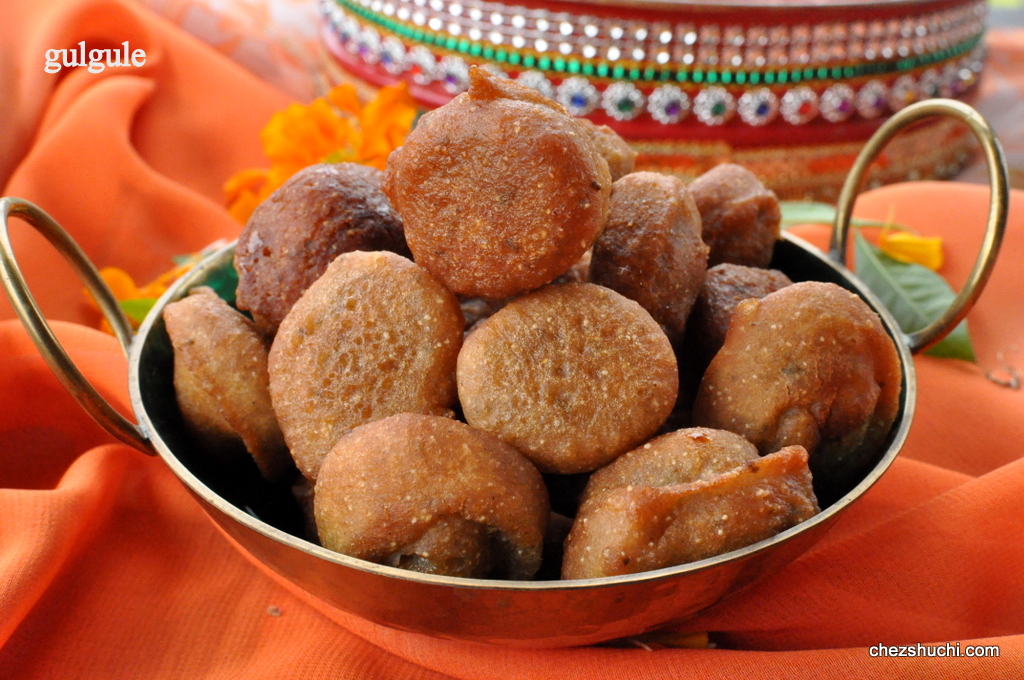 Tips / Suggestions:
Indian sweets are usually made in pure ghee but if you have any dietary restriction you can use vegetable oil in place of pure ghee for deep frying.
If you want soft gulgule fry them on high heat.
Semolina is optional in this recipe.
---