हिन्दी में पढ़ें
Garden Fresh Sandwich
Sandwiches are one of the easiest and quickest food to make. They are very popular for lunch box, picnics, tea parties, etc. One can use plain bread, whole grain, or flavored bread to make sandwiches as per taste. The selection of veggies can vary too. You can make two bread layers sandwich or add more layers if you want to. I have used mayonnaise and tomato sweet and chili sauce to coat the breads to enhance the taste of this sandwich.
For this recipe, I have just mentioned the ingredients but I haven't written the quantity of ingredients because it depends on individuals taste. You can just put few slices of veggies or more.... Also, I have used cherry tomatoes to make these sandwiches as they are in abundance in our kitchen garden this year. Feel free to use any other variety of tomatoes as per taste and availability. Try out this delicious sandwich recipe and please do share your comments. Shuchi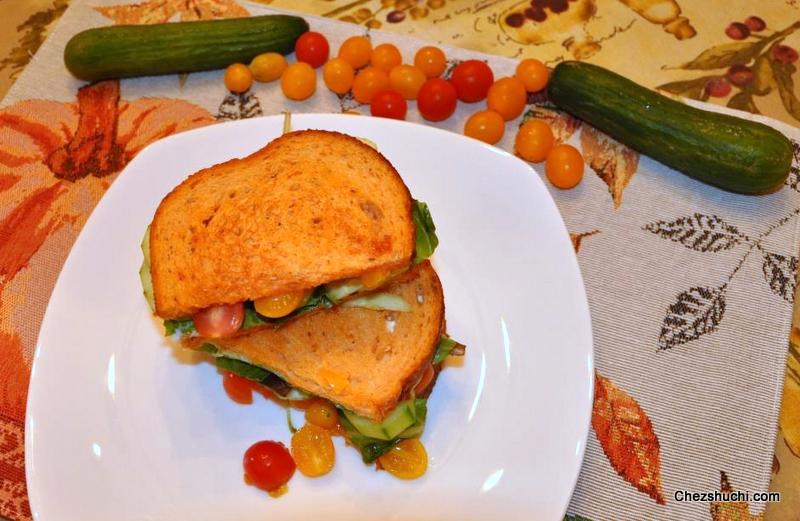 Ingredients
Bread Slices 2
Lettuce leaves/ spring mix or any green leaves of your taste
Cucumber, sliced 1
Tomatoes, sliced 1 medium
Mayonnaise as per taste
Tomato sweet and chili sauce as per taste
Ghee/ butter, to brush
Method of preparation:
Apply a generous layer of mayonnaise on one bread and totoato sweet chili sauce on another bread.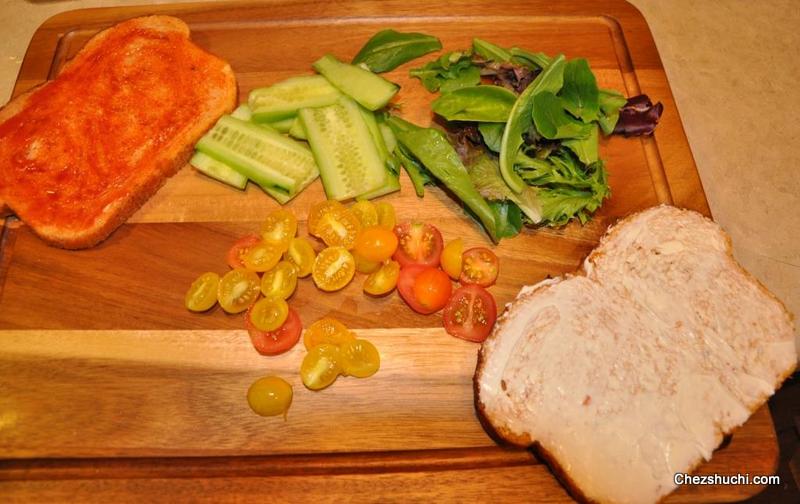 garden fresh sandwich ingredients
Arrange lettuce or salad leaves on top of a bread where tomato chili sauce was spreaded.
Arrange cucumber pieces on top of salad leaves.
Arrange tomato slices on top of cucumber slices.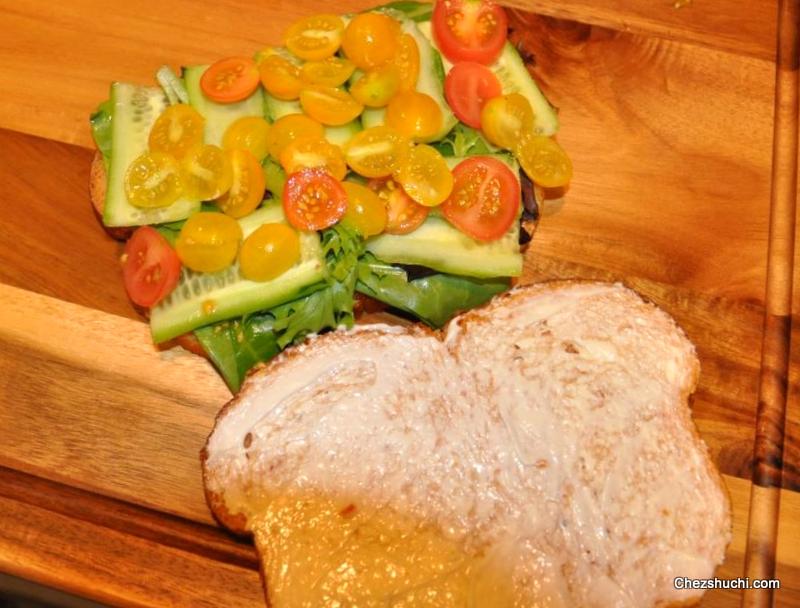 garden fresh sandwich ingredients
Cover with the other bread slice.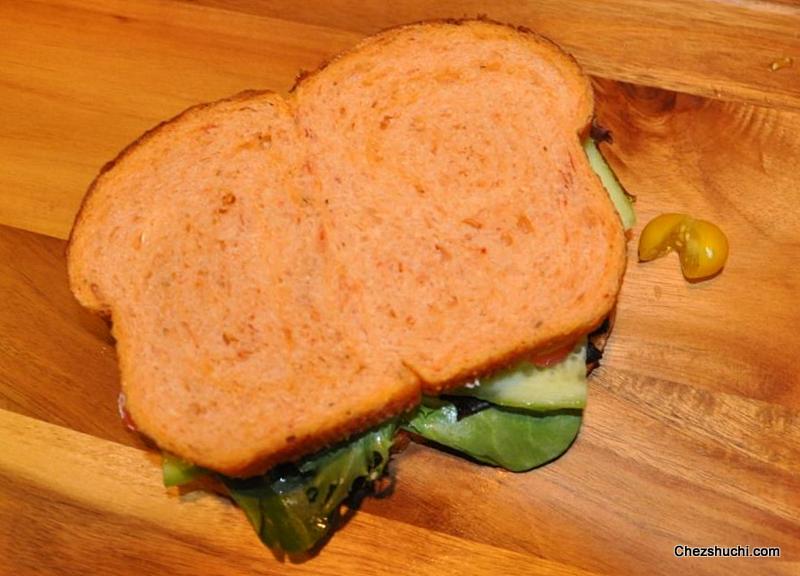 Heat the griddle or tawa, grease a little ghee/butter on tawa. Place the sandwich on tawa. Slight press the sandwich. Apply a liitle bit of ghee on the other sade and cook the sandwich. You can cook this sandwich in sandwich toaster as well.
Turn off the heat. Cut the sandwich in desired shape.
Delicious and nutrious garden fresh sandwich is ready to serve.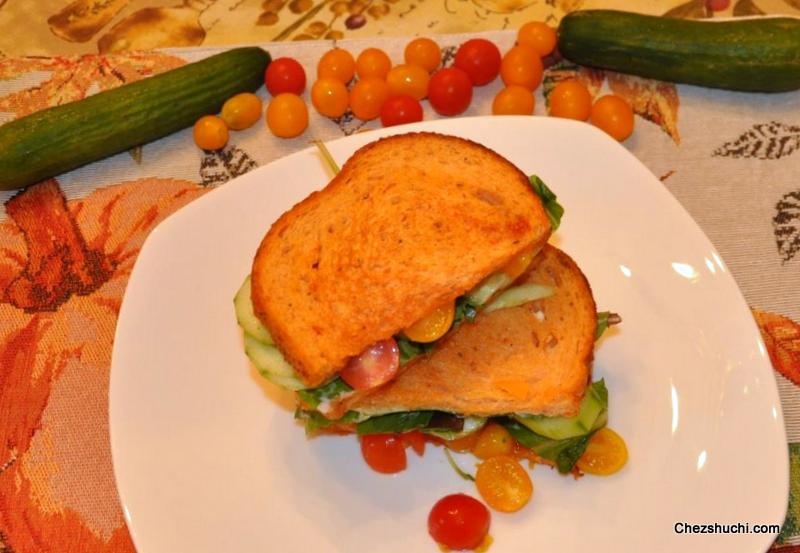 Some Tips/ Suggestions:
My garden is loaded with cherry tomatoes this year. I haven't bought any tomatoes in last 3 months. I have been using cherry tomatoes in everything, from salads to soup, sandwich to curries...Feel free to use any variety of tomatoes as per taste and availability.
Suggestions For Kid's Lunch box:
Sandwiches are ideal for lunch box. Make this sandwich with your favorite bread and fresh vegetables. With sandwich you can pack some fruits and dessert also. The following pics shows garden fresg vegetable sandwich with strawerries, aate ka laddu and almonds and figs.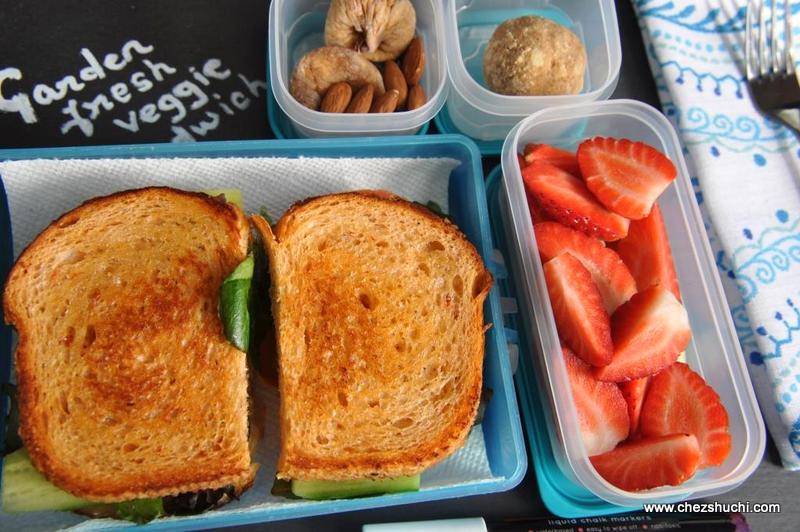 Some other Kid's Lunch box ideas
---