हिन्दी में पढ़ें
Cucumber Chaat
Cucumber Chaat is a road side chaat from Karnataka. I have learnt this recipe from my friend Ashwini who is from Mysore and often makes this delicious cucumber chaat. Ashwini says that this chaat goes by 'soutekayi' which means cucumber in Kannada. This chaat is very easy to make but superb in taste.I just love this cucumber chaat as it is full of flavors and also light and healthy. I have made this delicious chaat with fresh green cucumbers from my kitchen garden. You can use any cucumbers available in your part of world. So please try out this dish and do share your comments.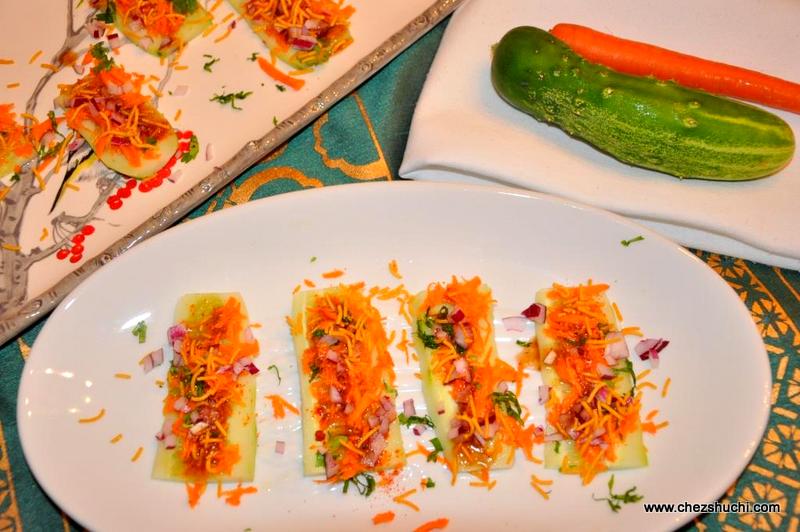 Preparation Time: 6 minutes
Cooking time: no cooking
Approximately 10 calories each
Ingredients:

(serves 4)
2-3 cucumbers
salt to taste
red chili powder to taste
lemon juice to taste
2 medium carrots, finely grated
1 medium onion, finely chopped
¼ cup tamarind chutney
2 tbsp finely chopped cilantro
sev/ crispies to serve to taste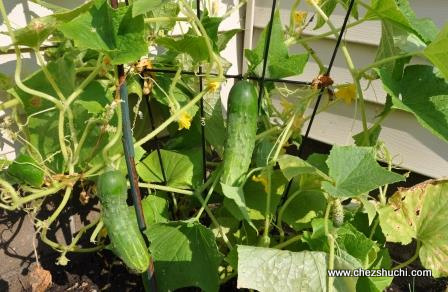 Method of preparation:
Wash and peel the cucumber skin. Cut the cucumber vertically in about 3 inches long pieces (make sure the slices are wide and flat).
Arrange the cucumber slices in the serving dish.
Spread salt, red chilli powder and lemon juice on cucumber slices as per taste.
Now spread some shredded carrots on top of cucumber slices.
Now spread some chopped onions on top of cucumber slices.
Spread some tamarind chutney on top.
Garnish with chopped coriander (cilantro) leaves.
Lastly, spread 'Sev' or any other crispies on top.
Delicious cucucumber chaat is ready to serve. Serve immediately for best taste.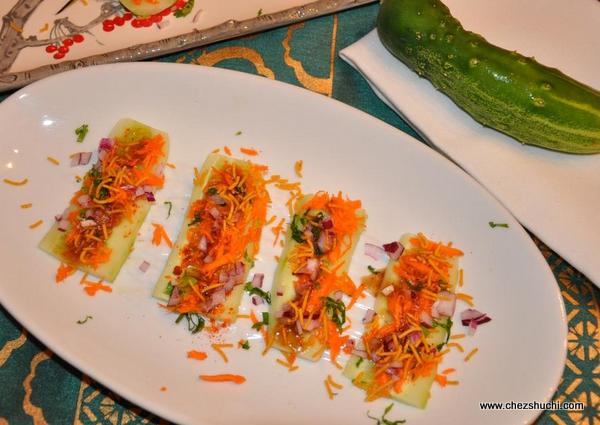 Some Tips/ Suggestions:
You can also put a layer of some dry roasted puffed rice (laiya/ murmura) in this cucumber chaat.
Mint chutney can also be sprinkled as per taste to give a tangy hint to cucumber chaat.
---
---