Bread ka Dhokla
Bread ka dhokla is made out of ready made regular English breads. I am calling it Dhokla because bread is made out of fermented flour and we make the seasoning like we do in regular Dhokla. This is a easy to make breakfast for the weekends. (Dhokla is a steam cooked Gujarati snack made out of fermented flour.)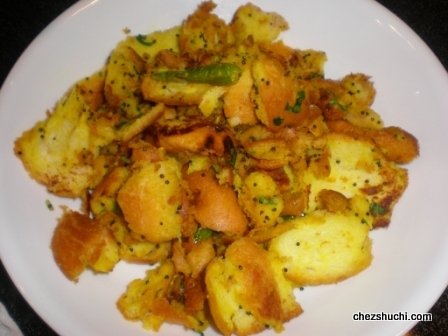 Ingredients

(serves 4)
Bread  12 pcs
Green chili       2
Chopped coriander leaves  2 tbsp
Oil/ghee   1 ½ tbsp
Mustard seeds 1 tsp
Turmeric powder ½ tsp
Salt       ½ tsp
Sugar      ½ tsp
Lemon juice 1 ½ tsp
Water 2 tbsp
Method of preparation
Remove the stem, wash, and finely chop the green chilies.

Cut the bread pieces roughly. Sprinkle some water on the bread pieces evenly( around 2 table spoon).

Heat oil in a non stick wok, add mustard seeds ,when seeds stop crackling add chopped green chilies and turmeric powder , now add cut bread pieces mix very well so that all the bread pieces will get the tharka(seasoning).

Now add salt, sugar , lemon juice and mix well. fry for 5-7 minutes on medium heat. Bread pieces should be little crispy . Garnish with coriander leaves.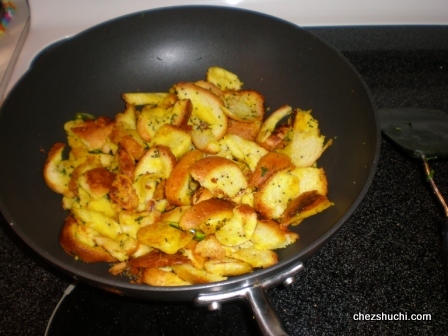 Serve hot dhokla with coriander chutney. My kids like it with tomato ketchup.
---