Black-Eye Beans Salad
हिन्दी में पढ़ें
This salad is a good source of Vitamins and Proteins and also dietary fibers. This salad has beans, veggies and the dressing of olive oil and hint of basil leaves.This is an easy to make salad. If you are tired of eating fried food in this festive season ; make this healthy and delicious salad.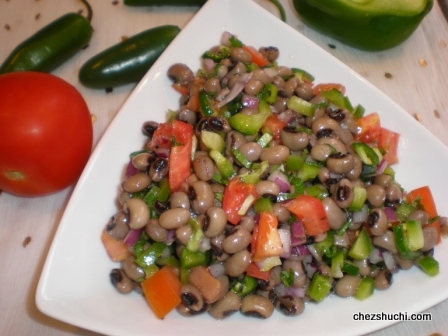 Ingredients

(serves 4)
Black eye beans ¾ cups
Salt ½ tsp
Tomato 1 small
Jalapeño pepper 1
Bell pepper 1 small
Red onion 1 small
Chopped coriander leaves 1 tbsp
For Dressing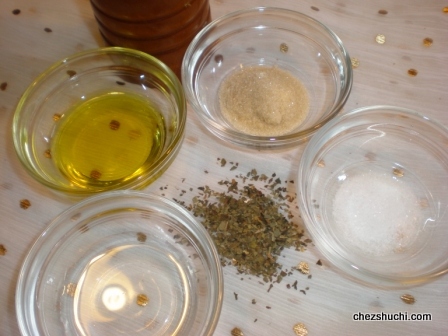 Olive oil 2 tbsp
White vinegar 1 tbsp
Sugar 1 tsp
Salt ¼ tsp
Freshly grounded black pepper ¼- ½ tsp
Basil leaves 2 tsp
Method of preparation
Clean, wash, soak the black eye beans (lobiya) in about 3 cups of water for overnight.
Boil Black eye beans with half tsp of salt till they get tender. Take one whistle in the pressure cooker.
Peel off, wash, and finely chop the red onions.
Wash and finely chop the tomatoes, green bell pepper and jalapeño pepper .
soaked beans salad ingredients
In a bowl take all the ingredients of dressing and mix them well. Prefer using fresh leaves of basil if available.
dressing ingredients in a bowl veggies and beans mixed in the dressing
Now add boiled black eye beans, and all the chopped vegetables in the olive oil dressing . Mix them well.
Delicious and healthy beans salad is ready to serve.
Tips
Use fresh basil leaves (if available) for the salad dressing.
Canned beans can also be used in place of fresh. Do not forget to wash the beans off, if you are using the canned one.
---