Badam Deep
हिन्दी में पढ़ें
Deep/Diya is a hindi word meaning a small clay lamp. Here we are making mind blowing edible diyas with almonds. These diyas are very beautiful to look at and delicious to savour. And ... these diyas are a healthy option for the festive season! ....The idea of making edible diyas was shared by Ms Poornima Varman, the editor of weekely Hindi magazine "ABHIVYAKTI" http://www.abhivyakti-hindi.org/. I am the food editor of Abhivyakti. So thanks a lot to Poornima ji for this wonderful idea and a very happy Diwali to you all... please keep sharing your comments......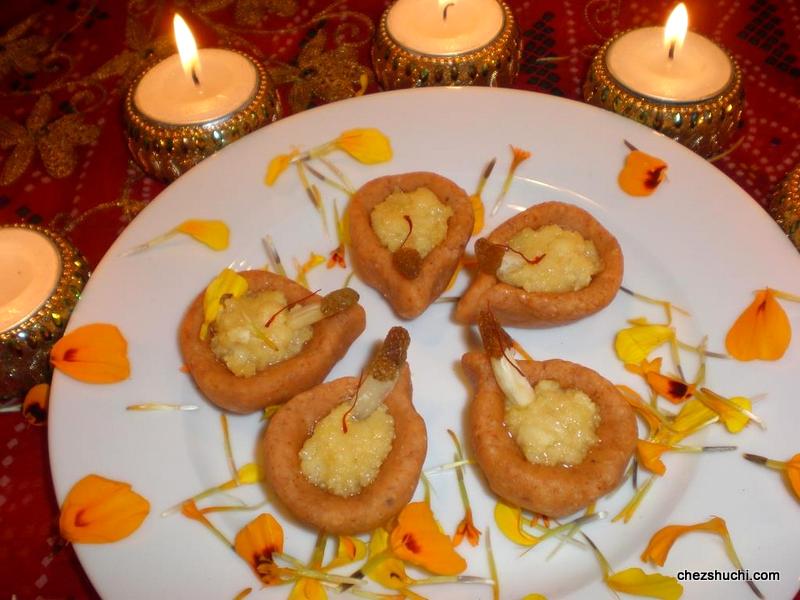 Ingredients

(makes about 11 diye)
Almonds (Badam) 1 cup / 150 gms
Brown sugar ½ cup/ 100 gms
Water 3 tbsp
Orange food color 2-4 drops
Ingredients to decorate the diyas
Khoya (thickened milk) 2 tbsp
Ground sugar 1 tsp
Almonds cut into long strips
Raisins 11
Saffron threads 11
Method of preparation
Clean and grind the almonds (with outer skin intact) in a grinder. Keep aside.
In a non stick wok/pan boil sugar and water. After the first boil reduce the heat and boil the sugar syrup till it gets thickened and makes two string syrup. A two string syrup means that you take a drop of syrup between your two fingers and then stretch the fingers - if the syrup that sticks between the two fingers is making two threads (or strings) then the thickness of syrup is appropriate. Takes about 3-4 mins.
Add 2-4 drops of orange food color in the sugar syrup and mix well.
sugar syrup after adding 4 drops of orange food color
Now remove the wok from heat and add almond powder in the sugar syrup. Stir well. Put the wok back on the heat and cook the mixture on very low heat until the almond paste starts leaving the sides. (Takes about 2 minutes)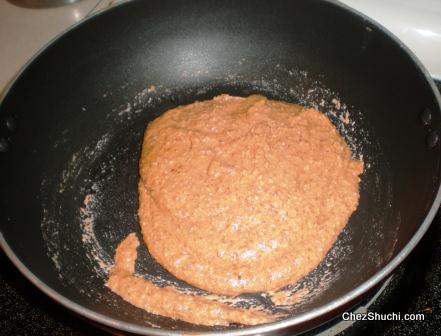 After about 2 minutes of cooking of almond powder in sugar syrup.
Let the almond mixture cool a bit and then divide the mixture into 11 portions.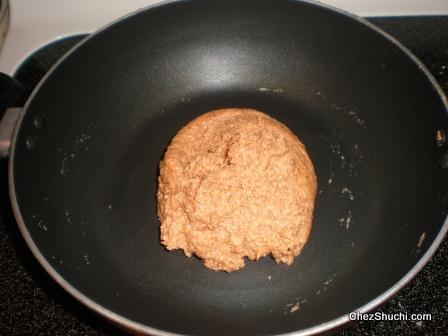 Mixture is ready to shape
Grease your hand and take a portion and shape it to diya.
Shape all the portions into diyas.
To decorate the diyas
Grate the khoya (thickened milk). Add ground sugar. Mix well.
Fill a little bit of khoya sugar mixture in the diya.
Put a long almond strip at the end point of the diya.
Cut a slit on the raisin and stick it on the almond.
Put a saffron thread on top of the almond to give an appearance of heat.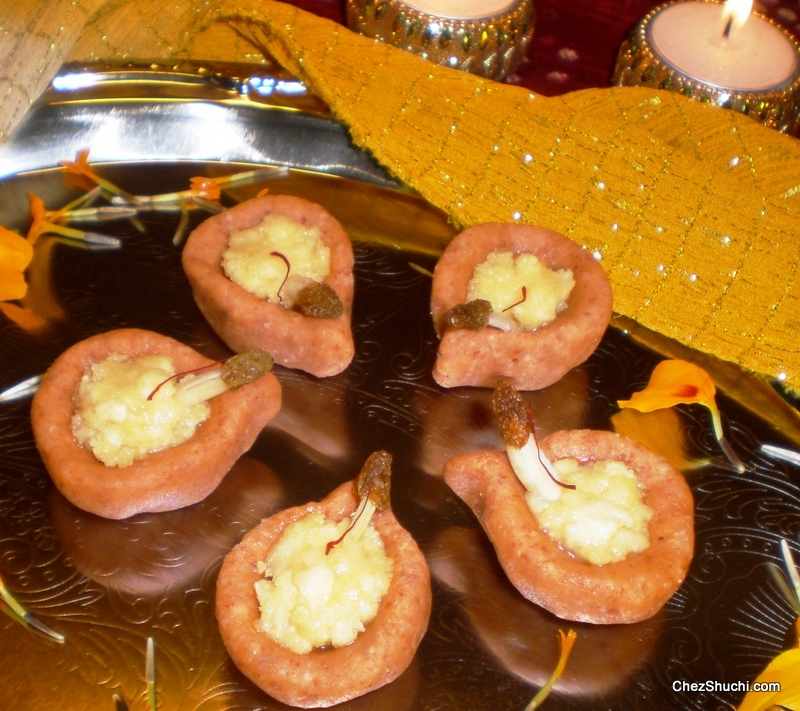 Some Tips/ Suggestions
When sugar melts in the khoya it gives a look of natural diya (seems like ghee is melting).
Raisins give the feel of flame and saffron gives the feel of heat.
In case if the almond mix gets cold and it is hard to shape diyas, warm the almond mix for few seconds and reshape.
You can also make green diyas from pistachios, walnut diyas, chocolate diyas, coconut diyas etc....
---