Aloo Paneer Kulcha
हिन्दी में पढ़ें
Kulchas are delicious oven baked breads, similar to Naan. Both are made out of leavened all purpose flour. Traditionally Kulcha is made in a clay ovens - Tandoor. Well, since tandoor is not available everywhere, so we can use electric oven, barbeque or even regular gas stove to make Kulcha. This is an easy to follow recipe for potato and paneer kulcha..On readers special request I Have made the Kulchas on the griddle (tava) ..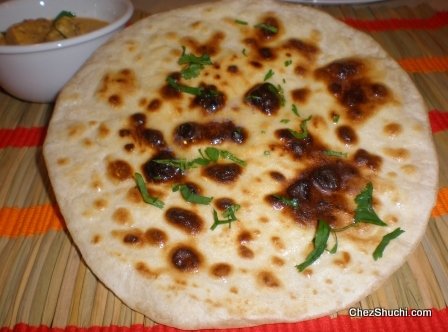 Ingredients

(makes 6 Kulchas)
All purpose flour (maida) 1½ cup
Yogurt   4 tbsp
Milk, 2 tbsp
Salt    ½ tsp
Sugar 1 tsp
Oil  2 tbsp
Sodium bicarbonate ¼ tsp
Water about ¼ cup   to make dough
Butter for brushing the Kulcha
For stuffing
Potatoes 3 medium boiled and mashed
Paneer ¾ cup mashed
Green chilies 1
Salt ½ tsp to taste
Red chili powder ¼ tsp
Chaat masala ½ tsp
Coriander leaves 1 tbsp finely chopped
Others:
¼ cup flour to roll the kulchas
Method of preparation
Sift flour, salt, sugar, and baking doda thoroughly.
Now add 1 tbsp oil, mix them well in the flour. Add yogurt and milk and mix well again. Now add little by little water at a time and make a medium soft dough.
By using little oil rub the dough back and forth to make it soft. Cover the dough and leave it for 2-3 hours in a warm place for fermentation.
After 2-3 hours, the dough will be softer and lighter. Knead the dough again and make 6  round balls of the dough .
Peel off the potatoes. Mash the potatoes thoroughly.
Wash, remove the stem and finely chop the green chilies.
In a bowl take mashed potatoes, and paneer. Add all the spices, chopped green chilies and chopped coriander leaves in the mashed potatoes. Mix well. Divide the mixture into 6 portions and keep aside.
Flatten the ball and roll it gently by dusting a little dry flour into about three inch diameter. Put 1 portion of potato paneer stuffing in the center. Now bring the sides together as shown in the picture to close the circle.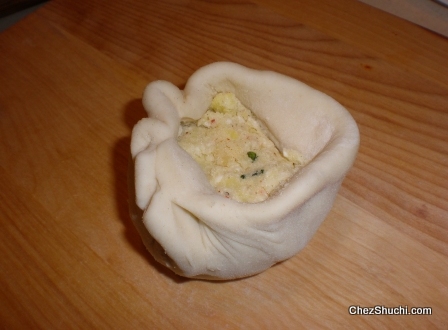 We have to remove the extra dough from the top of the ball . This will help in spreading the filling evenly.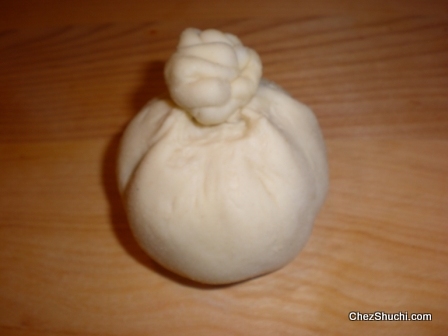 Now flatten the ball and roll it by dusting little dry flour into a 5-6 inch circle.
Heat the griddle (tawa) over medium heat. When griddle is warm place the rolled circle (stuffed kulcha) on the hot griddle .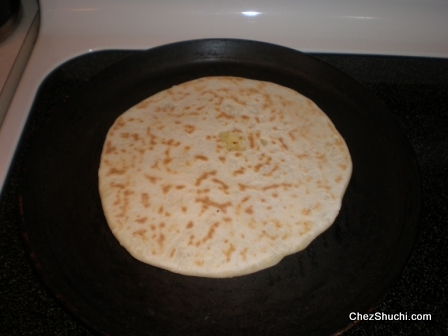 Cook Until you see golden red spots. Flip it over and cook from the other side until it has golden spots. Note- If you have gas stove you can cook the kulcha directly on flame like we do for roti.
Repeat the process with all the balls.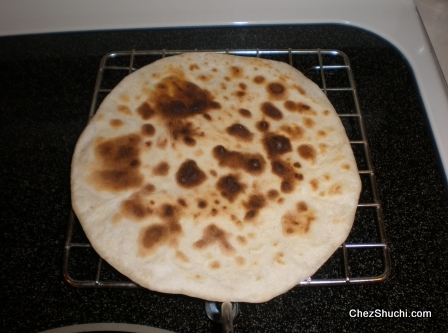 Brush the top of Aloo paneer Kulcha with butter. These Kulchas can be served with pickle/ dahi (yogurt). You can also serve them with Dal or curry of your taste.
Some Suggestions/ Tips :
On readers' special request, I have made the Kulchas on the griddle (tava). If you have tandoor or oven you can also make the kulchas on them too. Please click on butter naan to see the details for making kulcha on oven.
---