Aloo Tamatar ka Rasa
हिन्दी में पढ़ें
Aloo tamatar ka rasa is a very popular gravy preparation. In North India, especially in UP it is made on daily basis with Plain Paratha. It can also be served with poori, roti, or even rice.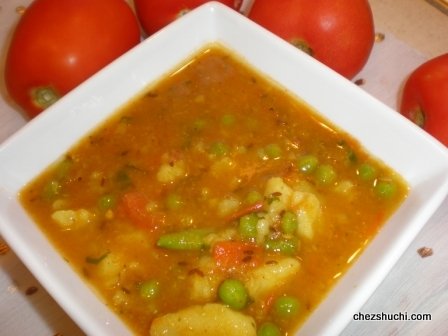 Ingredients

(serves 4)
Boiled Potatoes   5 medium
Green peas  ¾ cups
Grated Ginger 1 tsp
Green chili    1
Tomatoes 2 medium
Cumin seeds  1 tsp
Asafoetida  a pinch
Turmeric powder  ½ tsp
Coriander powder 1½ tsp
Garam masala 1 tsp
Red chili powder    ½ tsp
Salt   1½ tsp
Oil/Ghee  1 tbsp
Water    2 cups 
Chopped coriander leaves 2 tbsp     
Method of preparation
Wash and finely chop the tomatoes.Wash, remove the stem and split the green chili into 2 pieces.
Peel the boiled potatoes and cut them or mash them roughly.

Heat oil in a pan add cumin seeds when seeds crackle add asfoetida and grated ginger, fry for few seconds.Now add chopped tomatoes, split green chilies and all other spices except garam masala and fry  till tomatoes leave the sides of the pan.
Now add mashed potatoes and green peas and fry for 2 minutes. Add 2 cups water and cook for 10 minutes on medium-high flame add garam masala. Mix well and turn off the stove.

Garnish with chopped coriander leaves.

Serve this delicious potato curry with paratha, poori, or with Rice .
---