Almond Biscotti
हिन्दी में पढ़ें
Grilled fruits, ice creams, cakes, Biscotti's, etc., are some of the very popular Italian desserts. This is an eggless recipe for almond biscotti. Biscotti's are light desserts, and can easily be made at home. Follow the recipes below and please do not hesitate to write to me if you have any questions….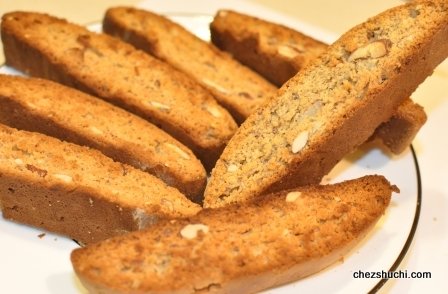 Ingredients

(Makes 16 biscottis)
All purpose flour ½ cup
Wheat flour ½ cup
Butter 2 tbsp
Sugar ¾ cup
Baking powder ½ tsp
Vanilla essence ½ tsp
Unsweetened condensed milk 1/3 cup
Ground almond ¼ cup
Slivered almonds ¾ cup
Water about 2 tbsp
Almond extract ½ tsp (optional)
Dry flour to give the shape to dough- little bit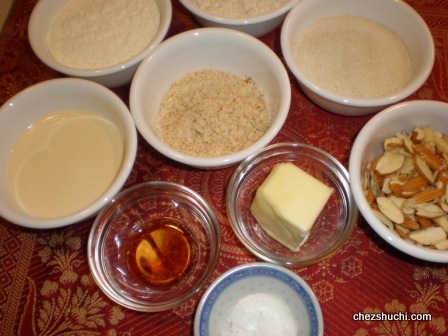 Method of preparation
Set the parchment paper on the baking tray. Keep aside.
Preheat oven at 350°F .
In a mixing bowl take butter and sugar. Make a cream of butter and sugar by using hand blender till the mixture becomes light and fluffy. (You can also do this step by a whisker in  traditional way. In that case please be patient and whisk in one direction.)
Now add vanilla essence, unsweetened condensed milk, and also almond extract (in case if you are adding some) and blend again for few seconds.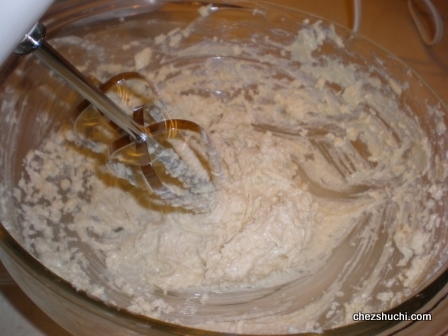 In a separate bowl sift all purpose flour, wheat flour, grounded alomonds, and baking powder.
Now add the flour mix in creamy butter little by little and mix well.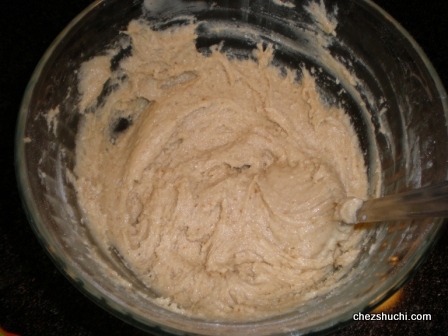 Mix in slivered almonds in the dough. Mix well. Add very little water (about 2 tbsp) if required.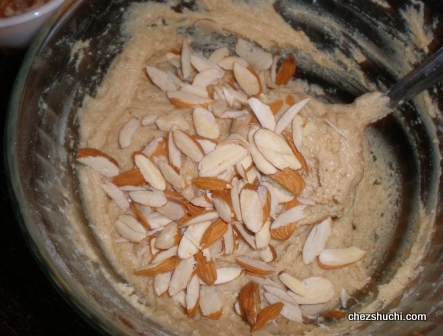 Divide the dough into 2 portions.
With the help of dry flour make a flat shape of about 3 inch wide and 1/2 inch thick .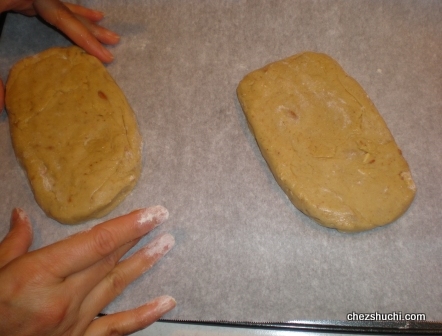 Now place the baking tray on the preheated oven. Bake for about 22-26 minutes or till the upper side is hard to touch.
Remove the tray out of the oven and let the biscotti cool down for about 10 minutes.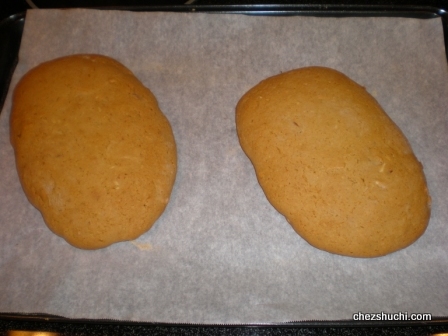 Now cut them in about an inch wide slices.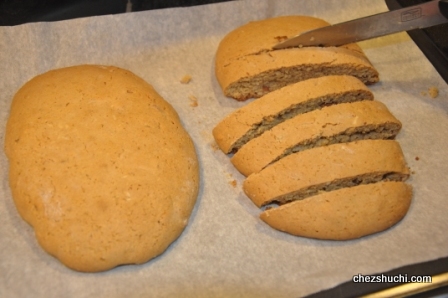 Turn the side and place the biscotti tray back to the oven. and bake for 4-5 minutes. You can bake the sides as well for 2-3 minutes.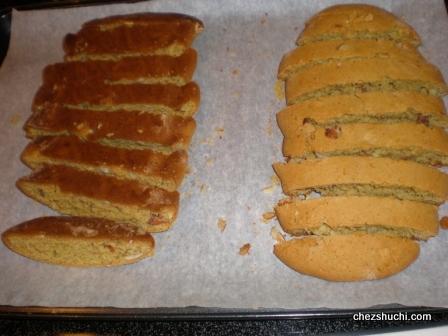 the two sides of the biscotti
All time favorite almond biscotti is ready to serve. The biscottis can be stored in airtight containers.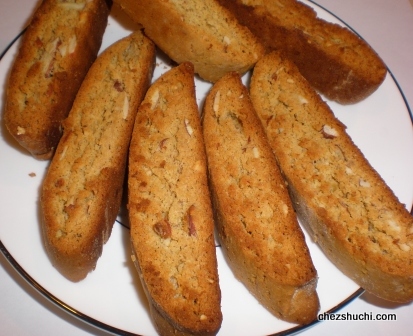 Some Tips/ Suggestions:
You can increase the amount of sugar in case if you prefer !
I have kept the skin of the almonds as it is nutritious.
This is indeed a very easy to make biscotti recipe. My kids enjoyed making this with me.
---
---