Corn Rice
हिन्दी में पढ़ें
As the name shows it is a delicious rice and corn preparation. Sweet corns are good source of vitamins, proteins and dietary fibers It is an easy to make dish and can be served as a complete meal with raita.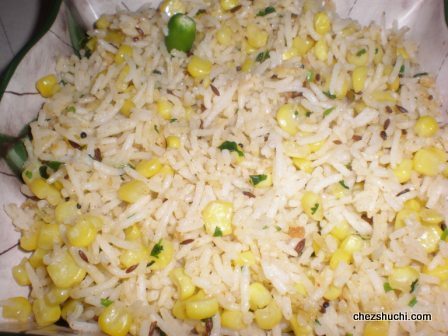 Ingredients

(serves 4)
Boiled Rice 4 cups
Corn   kernels 2 cups

Green chilies      2
Cumin seeds  1¼ tsp
Asafoetida     a pinch
Salt 1 tsp or to taste 
Red chili powder ½ tsp 
Lemon juice 2 tsp
coriander powder      1 tsp
Chopped coriander leaves  1 tbsp

Ghee/oil 1 tbsp
Method of preparation
Remove the stem, wash and split the green chilies.

Heat oil in a pan, add cumin seeds when seeds crackle add asafoetida, green chili and corn kernels.Cook for 2-4 minutes.( cook longer if corn kernels are hard).

Now add boiled rice, salt, red chili powder,coriander power, and lemon juice and mix well. Sauté for 2-4 minutes.  
Garnish with coriander leaves.




Serve with the Raita of your taste. My children like corn rice with pineapple raita.
Some Tips/ Suggestions:
This is a an easy to make healthy dish for your kid's lunch box.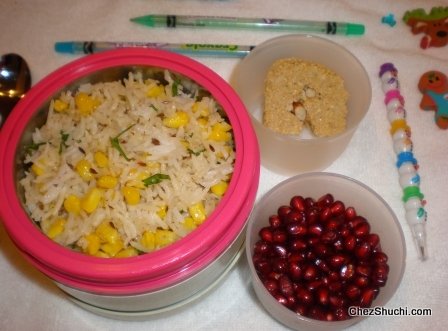 I have used frozen corn kernels for this recipe. Fresh kernels would be better if they are available.
Some other Kid's Lunch box ideas
---