Vegetables in Green Curry
This is a very delicious and healthy Thai green curry delicacy, with broccoli, red, green and yellow bell peppers, and carrots. There are a lot of other vegetables that can be used for this recipe.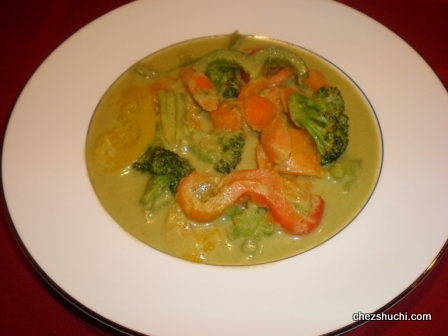 Ingredients

(serves 4)
Green curry paste 1/3 cups
Coconut milk 1½ cups
Carrots, about 2 small
Broccoli florets 1 cup
Mixed bell pepper 1 cups
Oil 1½ tbsp
Salt 1 tsp

Method of preparation
Wash the carrots . Cut them into oval thin slices.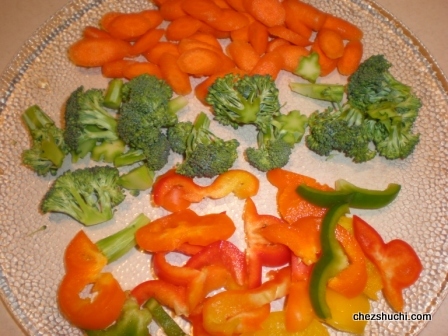 vegetablkes for Thai gren curry
Heat the wok on high heat,, and put in the oil. Fry broccoli florets for a minute on high heat. Stir continuosly. Add the carrots and fry for 30 seconds. Add bell peppers and stir continuosly for another 30 seconds. Keep the vegetables aside.

In the same wok, fry green curry paste for 30 seconds, add in coconut milk and stir for a minute. Add all the stir fried vegetables and cook for 3-4 minutes.

Vegetables in green curry is ready to serve.

Serve with boiled Thai Jasmine rice.
Variation :Other vegetables like french beans, cauliflower, baby corn, mushrooms, tofu etc can also be used in this recipe.
I have used green, red and yellow bell peppers for this recipe.
---