Tomato salad
हिन्दी में पढ़ें
Italians like to include a lot of fresh veggies in their meals, and salad is a best way to do that. This is a traditional Italian salad. Make this salad with freshest tomatoes, basil leaves, and with Italian dressings. This salad can be served with any crusty bread and also with pasta in alfredo sauce….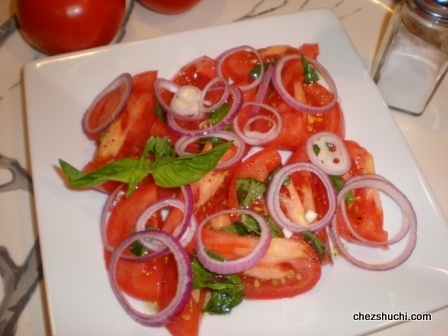 Ingredients

Red tomatoes 2-3 medium
Fresh basil chopped 5-6
Red onion 1 small
Salt to taste
Black pepper, freshly ground to taste
Extra virgin olive oil 2 tbsp

Method of preparation
Wash the tomatoes. Now cut the tomatoes into wedges.
Peel off, wash, and cut the onions into fine slices (circles).
Wash the basil leaves and tear them into small pieces.
In a bowl take olive oil, basil leaves, salt, and black pepper. Mix well.
Now pour this dressing on the tomatoes and onions evenly.
Toss Well. Salad is ready. Transfer the salad in a serving bowl.
Serve this flavorful, delicious salad immediately. Serve with your favorite bread or with pasta of your taste.
Tip :
Use dried basil leaves in case if you do not find the fresh ones.
---