Til Khoye ke Laddoo
हिन्दी में पढ़ें
Sesame seeds are extremely nutritious. They are very rich in calcium, phosphorus, potassium, a variety of vitamins etc. There is a variety of cuisine made in with sesame. This is a very delicious laddoo preparation with sesame and khoya/ mawa (evaporated milk). Try this recipe out and please do let me know your suggestions…..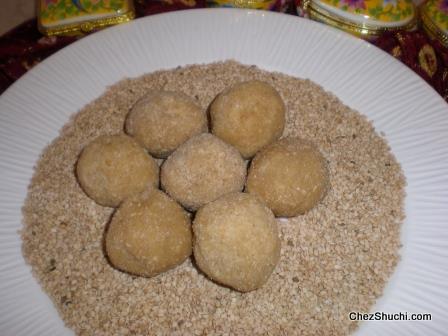 Ingredients

(makes 14)
White sesame (til) 1 cup
khoya/mawa 1 cup
Almonds 2 tbsp
Sugar ½ cup
Green cardamom 2
Method of preparation
Dry roast the white sesame (takes about 5 minutes). Set aside to cool down.

Ground the sesame seeds in the mortar or grinder. We need absolutely coarse sesame)

Remove the green skin of the cardamoms and ground the seeds.

Soak the almonds in warm water for 15 minutes. Remove the skin of the almonds and gring them.
In a pan, fry khoya for 2 minutes. Turn off the stove.

Mix the grounded sesame and almonds in the khoya. Mix them very well.

Now add sugar and grounded cardamon in the khoya mixture. Mix well . Make 14 laddoos.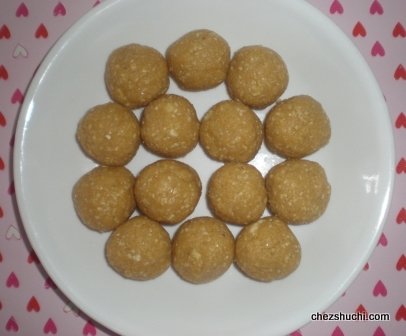 Yummy sesame laddoo is ready to serve. These Laddoos can be stored in the refrigerator for about 2-3 weeks.
---