Til ki Chutney
This is a delicious and traditional recipe for til ki chutney. This is a Maharashtrian delicacy, served with plain rice and always topped with pure ghee. This is a verrry.. spicy preparation.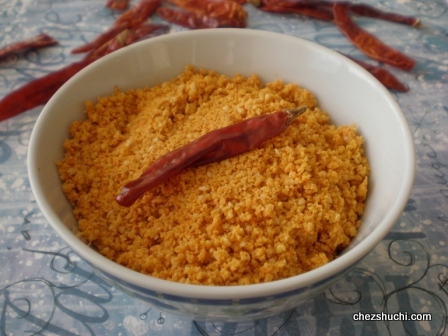 Ingredients

(makes about one and a half-2 cup)
White Sesame (white til)    1 cup
Peanuts       ½ cup
Red chilies     10-14

Salt             ½ tsp
Garlic cloves   4-5    (optional)
Method of preparation
Dry roast the sesame seeds (white til) for 1-2 minutes on medium heat. Dry roast the peanuts for 5 minutes. Allow them to cool.

Grind the sesame seeds in the grinder. Now add peanuts, garlic cloves, salt, and red chilies and grind again to make the coarse powder (Do not over grind otherwise peanuts may leave the oil).
Pour pure ghee at the time of serving. Serve with plain rice.
I do not use garlic in my cooking but I have written this recipe with garlic as the traditional recipe has garlic in it. I make til ki chutney without garlic and it tastes equally good even without garlic.
---