Sweet and sour bitter gourd (karela)
हिन्दी में पढ़ें
Karela is one of the most bitter vegetables, yet it is very popular in India because of its medicinal values. In English karela is known as bitter gourd/bitter melon/ bitter squash. If you live outside India, Karela can be easily found in Indian store, Asian stores and sometimes in regular supermarkets too. You can even grow karela in your kitchen garden. Throughout India different delicacies are made out of this vegetable. Today we will be making sweet and sour bitter gourd. It is an easy to make, quick, and healthy dish. You can serve khatta meetha karela with paratha or with dal chawal, it always taste good. Try this karela recipe and please do share your valuable comments. Happy cooking, Shuchi .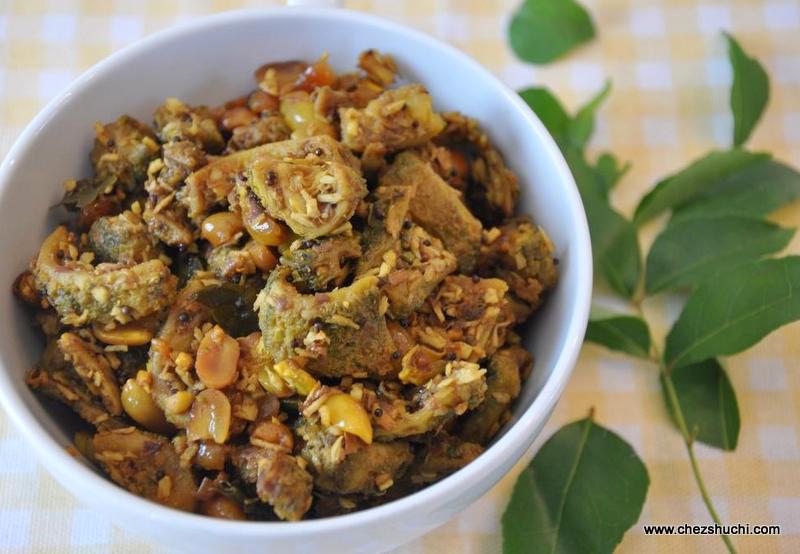 Ingredients

(serves 4)

Home grown karela hanging on the vine
Bitter gourd (Karela) 250 gms /½ pounds
Onion 1 medium
Mustard seeds ½ tsp

Peanuts 2 tbsp
Udad dal 1 tsp
Curry leaves 5-6
Asafoetida 2 pinces
Salt 1 tsp/ to taste
Coriander powder   1 tsp
Turmeric powder ½ tsp
Red chili powder     ¼ tsp
Desiccated coconut 2 tbsp
Tamarind paste 1½ tbsp  

Jaggery 2-3 tsp

Oil 3 tbsp
Method of preparation
Wash, remove the thick sides, and cut the bitter gourd into thin slices or pieces. Remove the hard seeds if any. (If you want to reduce the bitterness of bitter gourd, rub some salt on the bitter gourd slices, keep aside for 30 minutes, and then wash thoroughly before cooking)
Peel, wash and finely chop the onion.
In a pan heat the oil. Add mustard seeds; when seeds stop spluttering, add peanuts. Fry until peanuts are aromatic and golden red. Now add curry leaves, onions, udad dal, and asafoetida. Fry until onions are translucent. (Takes 2-3 minutes).
Add turmeric powder and bitter gourd slices. Mix well and fry for 2-3 minutes on medium heat.
Add red chili powder, salt, and coriander powder. Mix well and cook till the bitter gourds are tender. (takes about 15 minutes)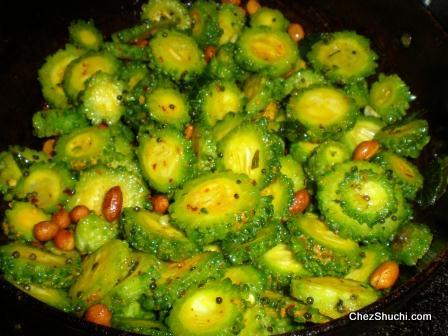 Add coconut and mix well.
Now add tamarind paste and jagerry and mix well with cooked bitter gourd. Cook for another 2 minutes.

Sweet and sour karela is ready to serve. Serve with plain paratha or your choice of Indian bread.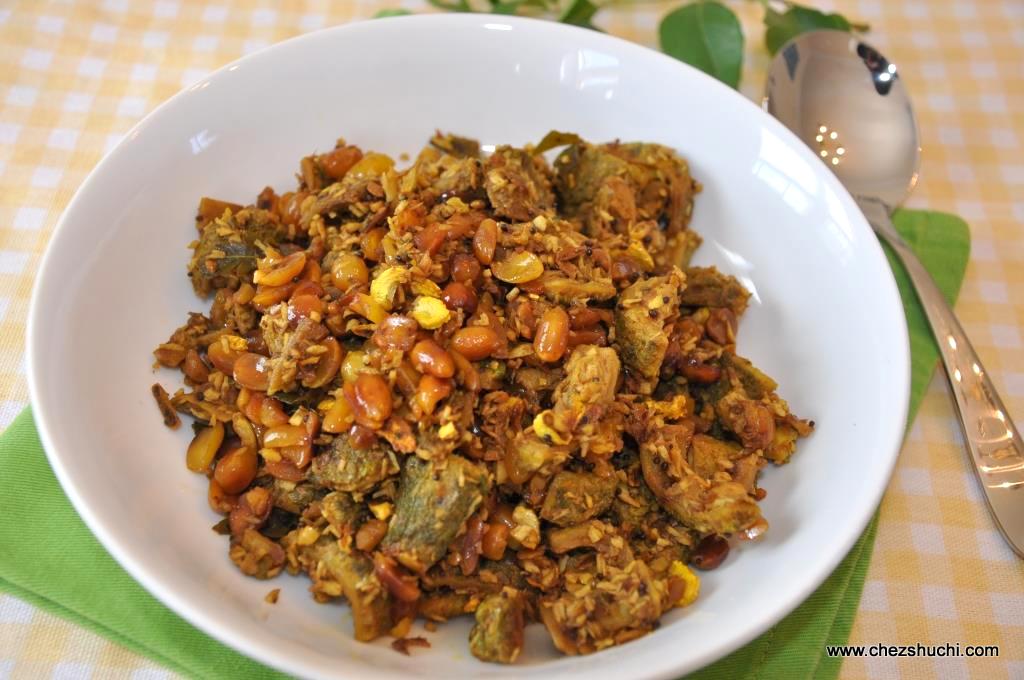 Some Tips/ Suggestions:
Raw and young karele would be ideal for this preparation.
Sweet and sour Karela veggie is a good option to carry with poori if you are traveling, as it can be kept out side the refrigerator for 5-6 days if weather is not very hot.

Some other dry vegetables recipe
---
---