Strawberry Lemonade
हिन्दी में पढ़ें
This is a new twist to an old fashioned plain lemonade with a shiny pink look. Yes, there is no artificial coloring in it- it is made with fresh Strawberries. Pink lemonade or Strawberry lemonade with bubbling sparkling water/soda could be an attractive mocktail for a new year party......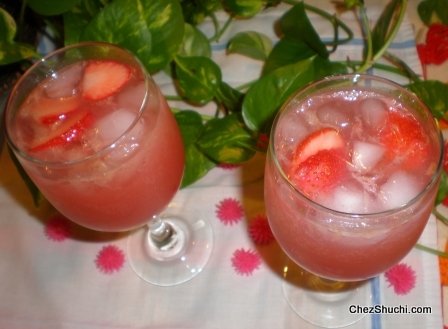 Ingredients

(makes 4 serving)
Strawberries 500 gms/ about 1 pound
Lemon juice ¾ cup    
Sugar ½ cup
Water ½ cup
Soda 3 cup

Ice 1 cups

For serving
Sliced strawberryies
Straw
Paper umbrella
Method of preparation
Hull, wash and then cut the strawberies into quarters.
In the blender puree the strawberries. Strain the puree through a fine sieve.
Dissolve sugar in water.
Transfer the strawberry juice in a jug. Add lemon juice, and sugar syrup. Mix well.
At the time of serving- Put some crushed ice in the glass and pour the strawerry juice mixture mixture. Now pour soda .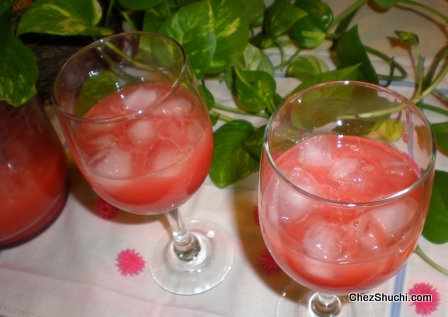 pink lemonade is ready to pour soda
Decorate with a strawberry slices, and paper umbrella.
Strawberry lemonade is ready to serve.
Some Tips/ Suggestions :
For a big gathering it would be better to pour soda in the jug/ pitcher.
strawberry lemonade before adding soda water for a kids party
---