Spring Rolls with Sweet Chili Dip
हिन्दी में पढ़ें
Spring rolls are very delicious and all time favorite Chinese appetizers. This is a deep fried dish, should be served hot when it is crispy, though spring rolls can be prepared ahead of time and can be deep fried when needed. To make the healthier version of spring rolls you can bake them insted of deep frying...Spring rolls can be perfect finger food for the parties. It is not at all hard to make spring rolls at home and it is not very time taking also. I have tried to explain this recipe in detailed steps. Another vegan recipe....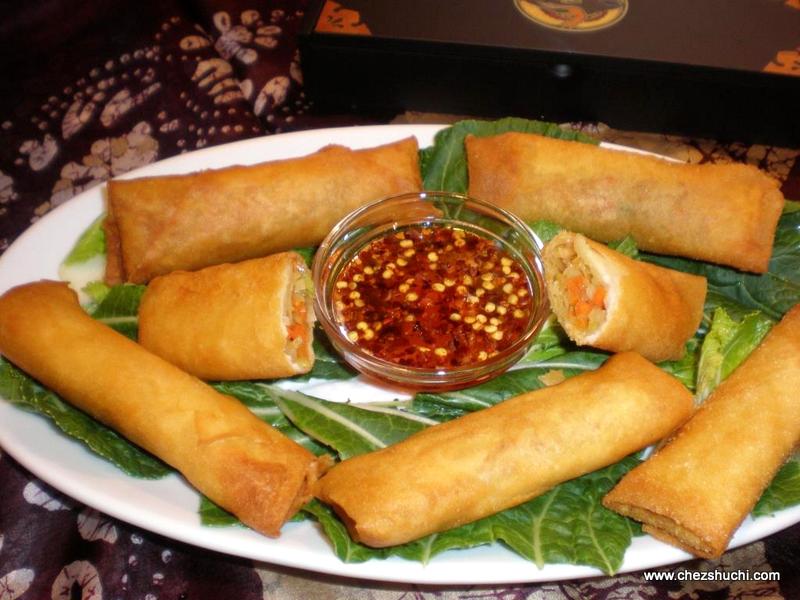 Method of preparation
For sweet chili dip
In a pan, boil sugar with water, until sugar crystals are completely dissolved. Takes about 1-2 minutes. Now add vinegar and chili flakes. Add a pinch of salt. Mix well and turn off the heat. Let the dip cool down.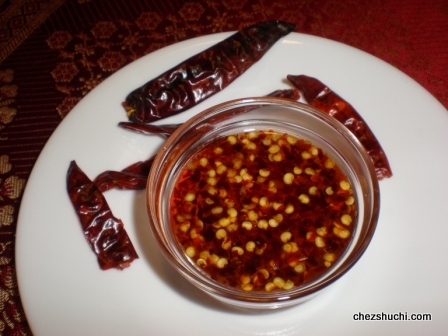 Ingredients


For sweet chili dip
Sugar ¼ cups
White Vinegar 1 ½ tbs
Water 2 tbsp
Red chili flakes 1 tbsp / 2 freshly grind red chilies
Salt a hint
For the filling
(For 8 rolls)
Cabbage, shredded 1 cup
Carrot 1 medium
Spring onion 1
Instant wheat noodles 1 ounce (about 30 gms)
Salt ¼ tsp
White pepper, freshly grind ¼ tsp
Soy sauce 1 tbsp
Sugar ¼ tsp (optional)
Oil 1 tbsp+ to deep fry the spring rolls
Spring roll wrappers 8 sheets (I have used frozen wheat wrappers)
To seal the edges of the spring rolls
Corn Starch 1 tbsp
All purpose flour 1 tbsp
Water 2½ tbsp
Oil to deep fry spring rolls
For spring rolls filling
Break the noodles into about 3 inch pieces. Boil the noodles as suggested on the package.
Wash and chop the spring onions.
Peel off, wash, and finely cut the juliennes of carrots.
Heat a wok, add oil. Now stir fry carrots for a minute. Add cabbage and fry for another minute.
Now add spring onions, boiled noodles, soy sauce, salt, sugar and freshly grond white pepper. Stir well for a minute. Filling is ready. Let it cool down.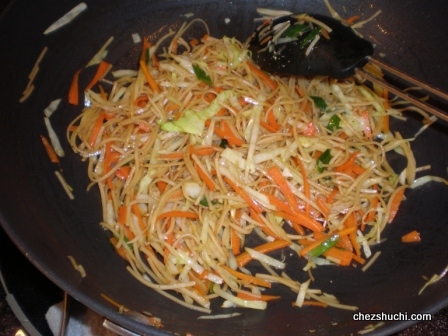 filling for spring rolls
To make the paste for sealing the edges
Take corn starch, all purpose flour in a bowl. Mix in water little by little to make a paste. Keep aside.
To make spring rolls
Prepare the spring roll skins for filling as explained on the package. I have used frozen wheat wrappers ; size 8.5 inch square.
Place a spring roll wrapper on the kitchen platform.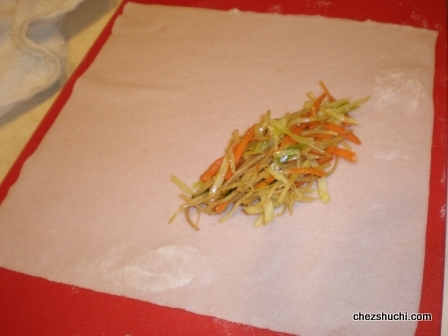 spring roll wrapper with filling
Now place 2 tablespoon of the filling on the wrapper - Not exactly in the centre, but slightly offset. Roll the side to cover the filling as shown.
a side folded spring roll wrapper tightly rolled
Roll up tightly and apply the sealing paste to close the edges.  Fold the wrapper as shown in the pictures.
one corner of the wrapper folded other corner of the wrapper folded
other round of folding other round of folding
Repeat the process with all the spring roll wrappers or until the filling is finished. Do not forget to cover the spring rolls with damp cloth.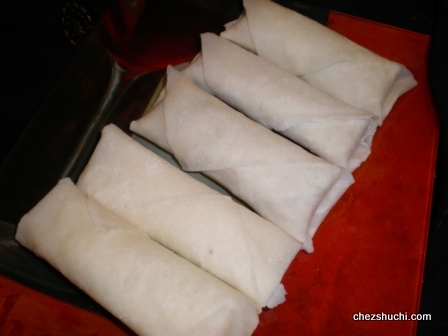 Heat oil in a wok. Deep fry the spring rolls on medium to high heat until golden brown. It takes about 2-3 minutes to deep fry the spring rolls. Drain onto kitchen paper.
spring rolls frying after 2 mins ; almost ready
Delicious and crispy Spring Rolls are ready to serve. Serve hot Spring rolls with sweet and chili dipping sauce.
Tip:
Veggies of the filling can be changed as per taste.
Make sure that the oil is perfectly hot otherwise spring rolls will absorb too much oil and will get soggy.
Spring rolls can be made in advance and fried later when needed.
---