Soy Patties
हिन्दी में पढ़ें
Nutritious , mouth watering soy patties are made with soy granules and veggies. Soy granules are made from soy flour and are high in protein. Soy is a good source of protein for vegans. Textured soy granules can be easily found in Organic/ Natural food stores.Try out this delicious and very healthy snack...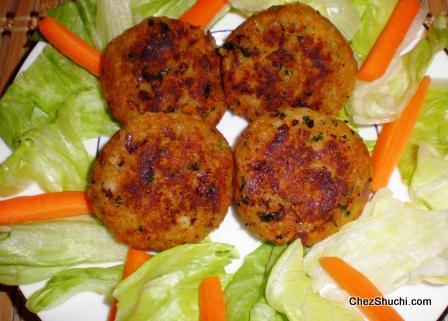 Ingredients

(makes 16)
Soy granules ½ cup
Boiled Potatoes 2-3 medium
Onion 1 medium
Green chilies 2
Grated ginger 1 tsp
Carrot 1 medium
Red chili powder ½ tsp
Chaat masala ½ tsp
Garam masala ¼ tsp
Salt 1 tsp or to taste
Lemon juice 1 tsp
Chopped coriander leaves 2 tbsp
Bread slices 3
Oil 2 tsp + to shallow frying

To serve
Method of preparation
Peel, wash, and finely chop the onions. Remove the thick stem, wash, and finely chop the green chilies. Pell, wash, and finely grate the carrot.
Peel, and mash the boiled potatoes.
In a bowl take 2 cups hot water. Add a half cup of soy granules and a little bit of salt. Mix well and soak the granules in the water for 15 minutes.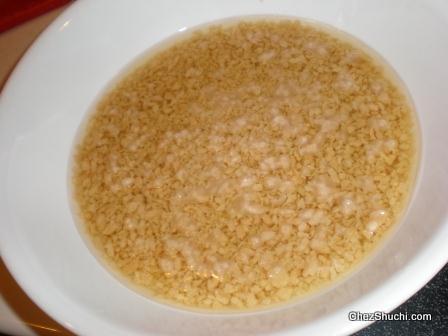 soy granules soaked in the water
Squeeze off the water and keep the granules aside.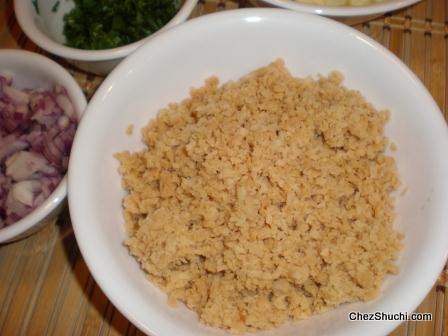 soaked soy granules
Heat oil in a non stick wok. Add chopped onions, and green chilies. Fry the onions until translucent. Takes 2 minutes.
Add grated ginger and carrots and fry for 1-2 minutes. Add soaked soy granules.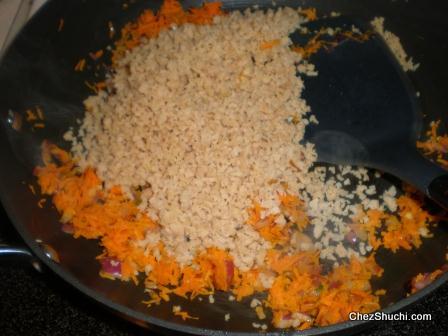 after adding soy granules to the fried mix
Add red chili powder, chaat masala, garam masala, and salt and mix well. Fry the mix for a minute.
Add mashed potatoes in the above mixture. Mix well and chopped coriander leaves. Turn off the heat. Let the mixture cool down.
Soak the breads in the water for few seconds. Squeeze off the water and mix the soaked bread in the soy mixture. Mix well . Add lemon juice.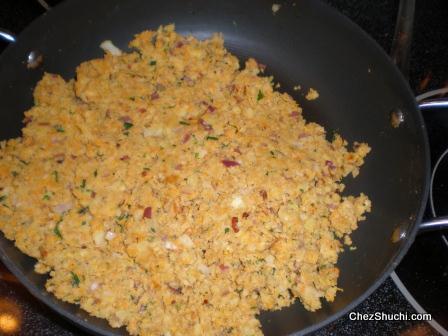 mixture for patties
Make 16 patties of the soy mixture.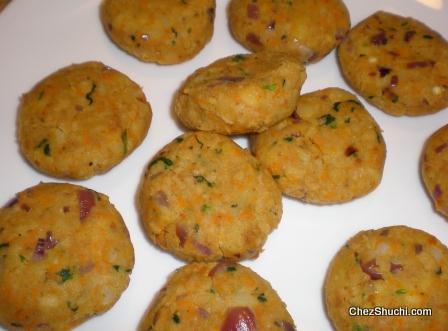 soy patties are ready for frying
Heat a flat griddle on medium heat . Pour a little oil and fry the patties from both sides until they are reddish brown.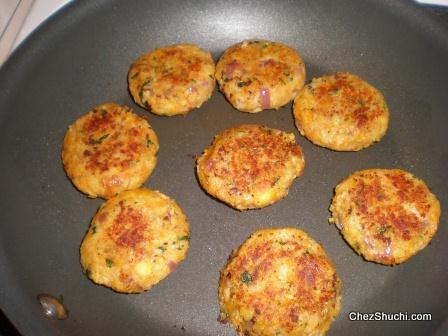 soy patties frying
Delicious, and healthy patties are ready to serve. Serve with mint chutney. You can also serve them with ketchup...
Some Tips/Suggestions:
You can also add some other veggies like, grated cabbage, bell pepper, beans etc to this healthy snack.
These patties can also be grilled.
You can also put Soy patties in your kids lunch box.
---