Sookhi Moong Dal
हिन्दी में पढ़ें
Moong (in English spelled as Mung) dal is a good source of protein, yet it is easy to digest. This is a low fat, low spice, healthy preparation for breakfast.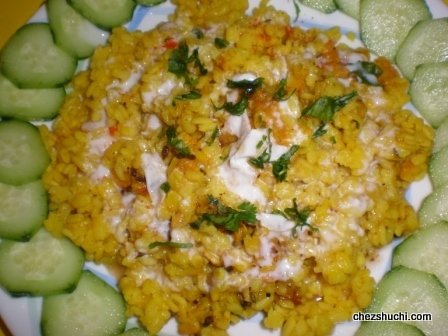 Ingredients

(serves 4)
Moong dal 1½ cup
Cumin seeds 1 tsp
Asafoetida 2-3 pinches
Turmeric powder   ½ tsp
Red chili powder/ Black pepper ½ tsp
Salt 1½ tsp

Ghee   2 tsp
To serve:
Method of preparation
Clean ,wash and soak the moong dal in 1½ cup water for 15 minutes.
In the wok, heat ghee on medium heat. Add cumin seeds. When seeds stop crackling, add asafoetida. After 5 seconds, add turmeric and soaked dal, fry for a minute.
Now dd red chili powder, and salt, and also add a cup of water. Mix well and cook until the lentils get tender. You can also take one whistle in pressure cooker. (Do not overcook the dal as we want it dry).
Serve dal with meethi chutney, yogurt, red chili powder, roasted and groung cumin and chopped coriander leaves. Serve hot...
Some Suggestions/Tips
Top-up with your kids favorite chips they will love it.
Some other snacks and starters
---