Sooji Halwa
हिन्दी में पढ़ें
Halwa's are special kind of desserts, which are usually ghee (clarified butter) based . The word, Halwa has come from Arab culture. In India, there are a large variety of halwas - Gajar ka halwa, Moong dal halwa, Aate ka halwa etc...This is a delicious preparation for semolina (sooji) ka halwa.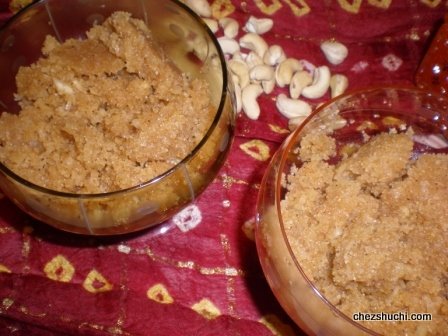 Ingredients

(serves 4)
Semolina (sooji)  ½ cup
Ghee   ¼ cup
Sugar  ½ cup
Water little more than 1 cup
Cashew  nuts ¼ cup
Raisins   1 tbsp
Chiraunji   1 tbsp
Green cardamoms     4  crushed
Method of preparation
Dice the cashew nuts. Wash raisins and keep aside.
Heat the ghee in a wok. Roast the  semolina on high heat for two-four minutes.
First look of Semolina After 4 minutes of frying
Reduce the heat and fry semolina until you smell a nice aroma or see ghee come up. Stir continuously. (takes around 15 minutes). Keep the semolina aside.

After 10 minutes of frying After 20 minutes of frying
In the same wok boil the water with sugar. After the first boil add semolina, cashew nuts, chiraunji and raisins. Mix well . Reduce the heat and cook until semolina is done. Takes about 5-7 minutes.
Boiling Sugar syrup Semolina in the sugar syrup
Garnish with Ground cardamoms.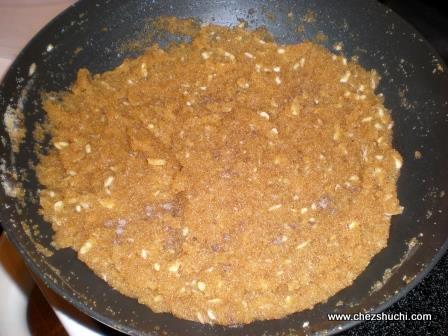 Delicious sooji halwa is ready to serve!
Some Tips
I have used organic sugar for this preparation.
---