Sizzling Vegetables
हिन्दी में पढ़ें
Sizzlers are very popular and usually served sizzling hot and smoking in restaurants. Many of our readers have been asking about the ideas to make sizzlers at home. In order to make sizzler at home you need a cast iron pan with a wooden base (This is also known as Mexican Fajita set). These come in different sizes and shapes. Please check with your local stores for detail.
Now let's talk about making sizzlers. You can serve anything you want to serve sizzling hot.. Just be innovative and make your own sizzler, for example - paneer tikka, veggies, fajita, burger, paneer jhalfrezi, pasta, stuffed pepper with fried rice etc......
I have got the basic idea of this dish from master chef Sanjeev Kapoor's 'Sizzling chicken' dish and well known Indian cookery expert Mrs Tarla Dalal's tips about sizzlers. Let's make sizzling vegetables....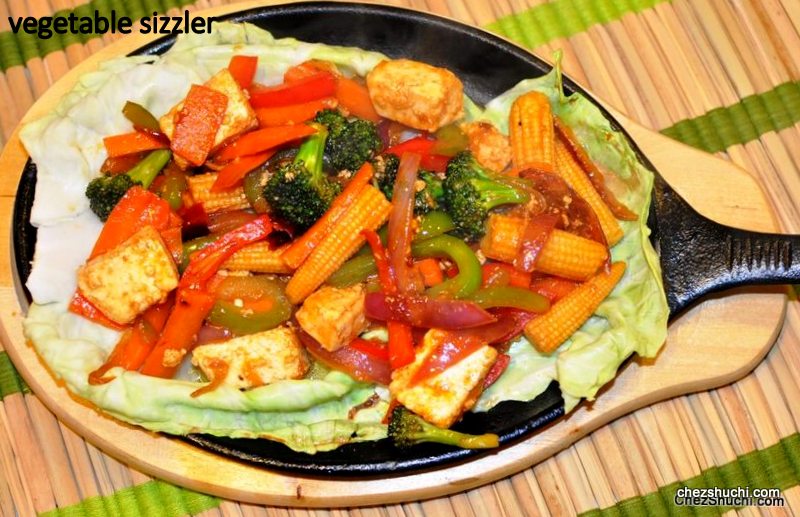 Ingredients

(serves 4)
Red onion 1 medium
Red bell pepper 1 medium
Green bell pepper 1 medium
Carrots 1 big
Baby corn 1 cup
Broccoli florets 1 cup
Paneer cut into pieces 1 cup
Oil 3 tbsp

For Sauce/seasonig:
Whole red chilies 2
Ginger juliennes 1 tbsp
Tomato ketchup 2½ tbsp
Light soya sauce 1½ tbsp
White vinegar 1 tbsp
Brown Sugar ¼ tsp
Freshly ground black pepper to taste
Salt ½ tsp/ to taste

To serve:
Cast iron pan with wodden base
Butter 1 tsp
Cabbage/ Lettuce leaves 2
Water 1 tsp
Vegetable oil 1 tsp

Method of preparation
Following picture shows the Mexican fajita cast iron sizzler pan with wooden base.
Keep the pan on the low heat to the cooking range to heat it up.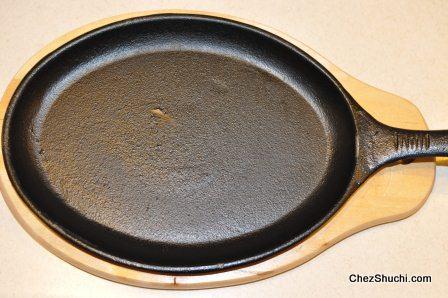 Peel off, wash, and cut the onions into long strips. Wash and cut red and green bell pepper into halves. Now deseed and cut into thin strips. Peel off, wash and cut carrots into 2 inches long thin strips.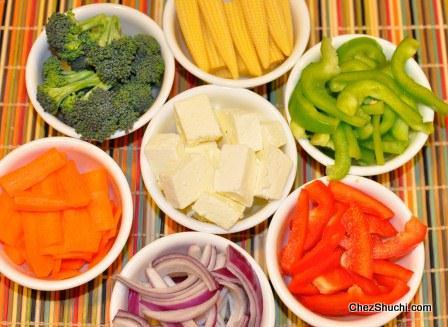 Vegetables and paneer
Following picture shows tomato ketchup, soy sauce, vinegar, ginger juliennes, red chili, and seasoning ingredients.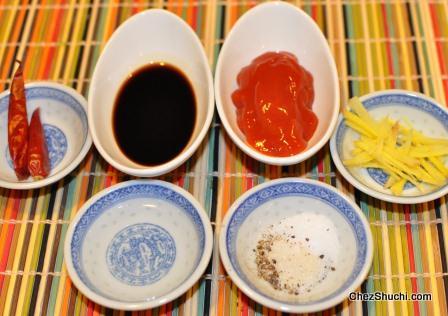 ingredients for flavoring
Heat oil in a wok on high heat. Break the red chilies into two pieces and add them to the oil. Fry for a few seconds and add ginger juliennes. Fry for 15 seconds. Now add onions and fry for a minute. Add carrots and stir for a minute. Now add red and green bell pepper pieces, and broccoli florets. Fry for a couple of minutes, while constantly stirring the veggies.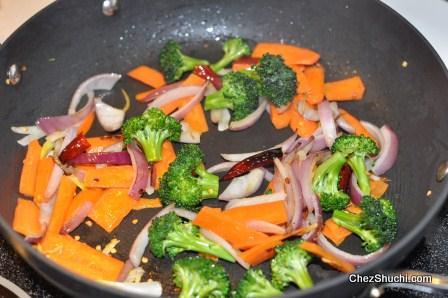 veggie frying
Now add baby corn. Fry for a minute and add paneer pieces. Mix well.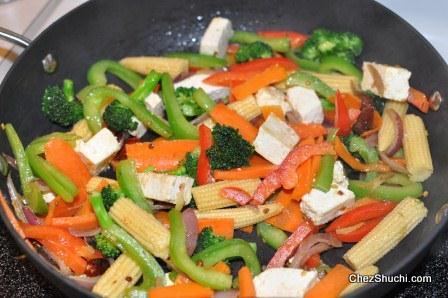 Stir Frying of vegetables
Now add tomato sauce, soy sauce, white vinegar, sugar, and freshly ground black pepper. Toss it well until vegetables are well coated with the sauces. Now check the taste and add salt. Mix it well and turn off the heat.
To serve the sizzler:
Mix 1 tsp water and 1 tsp oil in a bowl.
Set the hot cast iron pan on the wodden base. Rub a little bit of butter and put the cabbage leaves on the hot pan. Now put the stir fried vegetables on the cabbage leaves. Sprinkle the oil-water mixture from the side of the pan. Sizzling will start. Serve immediately.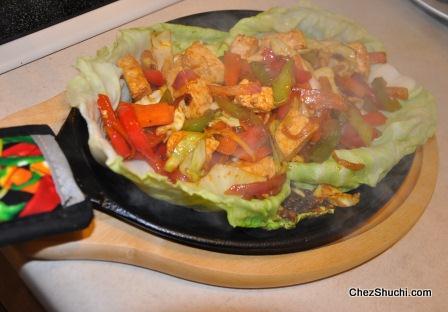 Some Tips/ Suggestions:
There are some tips to follow while making sizzlers.......We need to keep all the vegetables ready for frying. All cutting, chopping, and measurement of the ingredients needs to be completed beforehand. Since frying is done on a high heat, we need to stir continuously or else vegetables may burn!
Other vegetables like french beans, mushrooms, cabbage, spring onions, etc can also be used in this recipe.
You can use tofu instead of paneer if you have any dietary restrictions or for a Vegan alternative.
---