Pudina (Mint) Chutney
हिन्दी में पढ़ें
Mint is an exotic perennial herb. The chutney made with Mint(pudina) and raw mango (kachcha aam) is not only delicious but also healthy - Mint is a very good digestive and raw mangoes are a good source of vitamins A & C. This is a very popular accompaniment with many starters.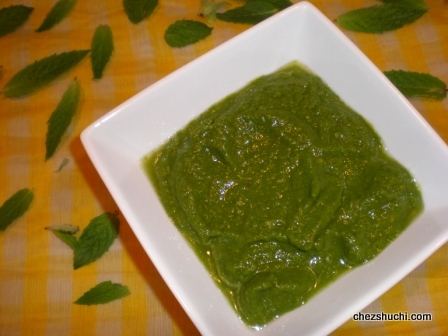 Ingredients

(makes 1 ½ cup)



Mint leaves 50 gms about 2 cups leaves
Coriander leaves about 1 cups
Raw mangoes chopped, 1 cups
Green chilles 2-3
Salt        ½ tsp
Method of preparation
Remove the tick stems of mint and coriander. Wash the mint and coriander leaves thoroughly. Remove the stem, and wash the green chilies.
In the blender make a fine paste of mint leaves, coriander leaves, green chilies, and mango pieces.
Mix salt and blend again for few seconds.
Pudine ki chutney is ready to serve.
Tip : This Chutney can be stored in the refrigerator for 5-6 days.
Always keep chutney in a glass container. Avoid leaving steel spoon in the chutney bowl when keeping in the refrigerator.
You can cut down the chilies if you would like to, it will not affect the flavor of chutney.
---