Penne with Pesto
हिन्दी में पढ़ें
Pesto is a very popular Italian sauce made with fresh basil, pine nuts, garlic, parmesan cheese and olive oil. Pesto is traditionally prepared in a marble mortar and pestle. Penne is a very famous variety of pasta that can be easily found in most supermarkets. So try delicious Penne with Pesto sauce.........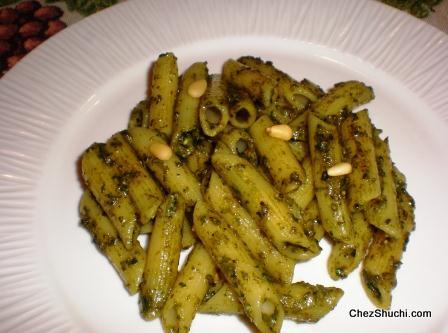 Ingredients

(serves 4)
For Pasta:
Penne pasta 250gms/ about ½ pound
Water about 7-8 cups to boil the pasta
Salt 2 tsp
For Pesto Sauce:
Fresh Basil Leaves ¾ cup
Pine nuts 2 tbsp
Parmesan cheese 3 tbsp, grated
* Garlic 1 clove
Salt to taste
Black pepper, Freshly ground to taste
Olive oil 1½ tbsp
*Traditional Italian recipe calls for 1 garlic clove. Please add garlic as per taste.
Method of preparation
Boil about 7 cups of water in a big pan. Add 2 tsp salt and penne pasta in the boiling water.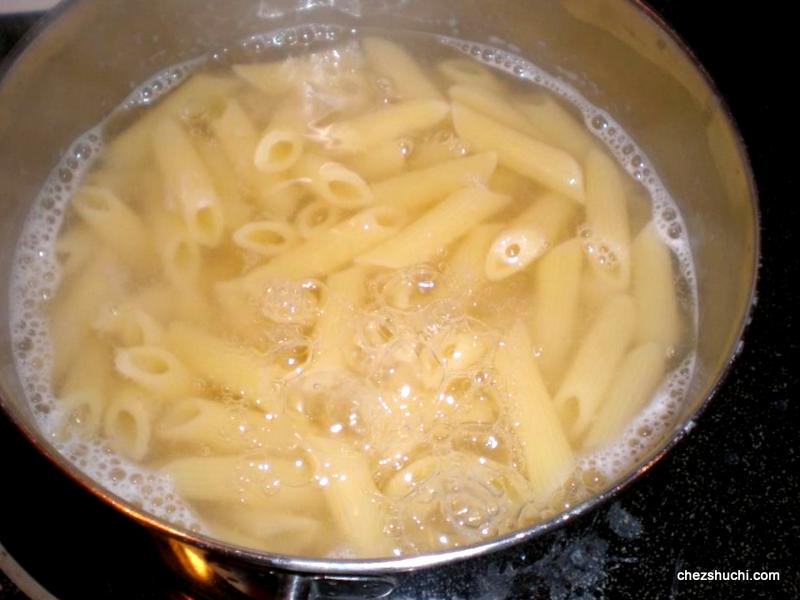 penne boiling
Boil until Penne are soft but firm. Usually it takes about 10 minutes to boil penne. Drain lightly, Penne should remain soft.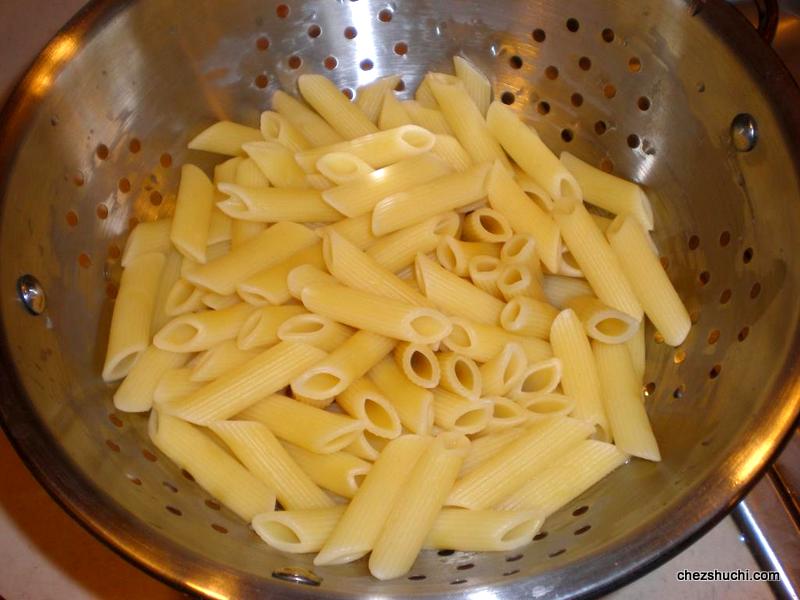 boiled Penne
Pesto Sauce preparation:
Wash and pat dry basil leaves.
In the blender take basil leaves, pine nuts, and garlic (if using). Blend until coarse. Add grated parmesan cheese and blend again.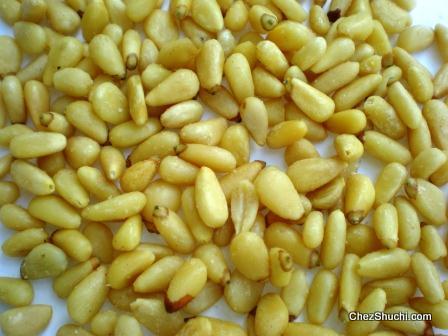 Pine Nuts
Now add drop by drop olive oil to the sauce while motor is running. Use about 1½ tbsp olive oil.
Add seasoning as per taste.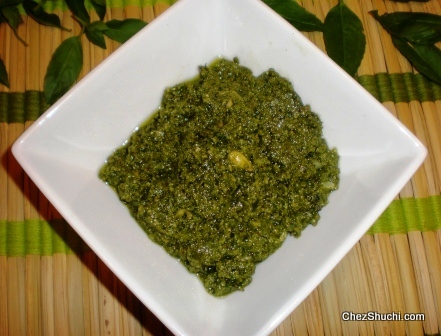 Pesto Sauce
Pasta in Pesto:
Heat a wok/ skillet. Add boiled penne, and pesto sauce. Toss well until penne are well coated with the sauce. Adjust the amount of salt, and pepper to taste.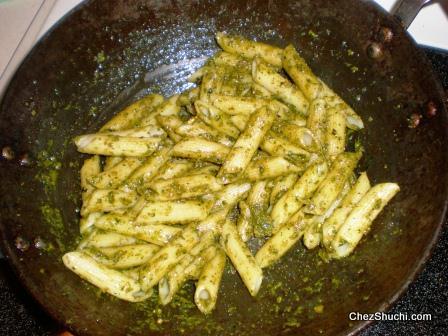 penne in pesto sauce
Delicious Penne with Pesto sauce is ready to serve. Add some grated Parmesan cheese on top if you wish.
Tips/ Suggestions:
In traditional Italian cooking garlic cloves are used in pesto sauce making. I have not added garlic in my pesto suce as I do not use garlic in my cooking.
Parmesan is known as Parmigiano-Reggiano cheese in Italy.
You can also use some other variety of pasta if you do not find Penne.
---