Parwal Aloo ki Sabji
हिन्दी में पढ़ें
Parwal/ Parval is sometimes called as pointed gourd in English. It is a green vegetable from Cucurbitaceae family like cucumber. Parwal is a climber(vine) plant. It is a good source of Vitamin A and C, and is also rich in minerals like, Mg, Pt, Cl, and sulphates. There is a variety of dishes made with parwal. Here we are making a dry vegetable preparation with parwal and aloo (potatoes).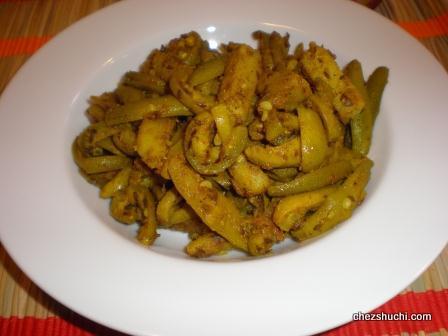 Ingredients

(serves 4)
Parwal about 300 gms
Potato 1 medium
Cumin seeds 1 tsp
Asafoetida 2 pinch
Turmeric powder ½ tsp
Red chili powder ½ tsp
Coriander powder 2 tsp
Salt 1 ¼ tsp or to taste
Dry mango powder (Amchoor powder) ½ tsp
Oil 1½-2 tbsp
Method of preparation
Remove the pointed sides of the parwal and scrap the outer skin gently.
Now wash them thoroughly.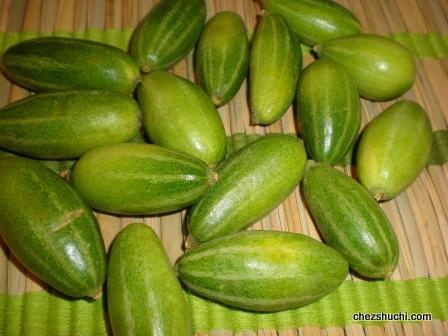 Now cut the parwal vertically into two half pieces. Remove the hard seeds if they have any. ( If the seeds are raw and tender do not remove them as they taste good). Now cut the parwal into thin, long slices as shown below.
Peel off, wash and cut the poatoes into thin slices like parwal.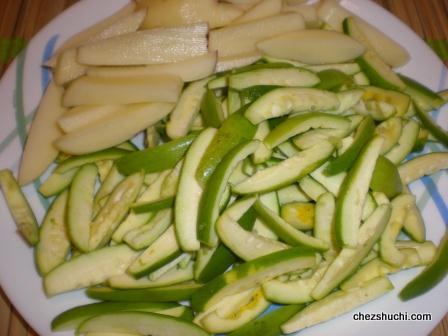 In the wok heat oil on medium heat. Add cumin seeds. When seeds change the color, add asafoetida.
Now add turmeric powder, and parwal and potato pieces. Mix well and fry for one minute. Add salt, red chili powder, and half of the coriander powder, mix well and fry for another minute. Cover the lid and cook the vegetables on low heat until parwal and potatoes are tender. (Takes about 12-15 minutes)
Now add rest of the coriander powder, and dry mango powder (amchoor powder). Fry the vegetable for a couple of minutes.
Parwal aloo (pointed gourd and potato veggie) is ready to serve.
Serve with Roti or Plain Paratha and with raita of your taste
Some Tips/ Suggestions :
You can also add a hint of garam masala as per your taste.
Some other dry vegetables recipe
---