The Healthy Bagel Burger a.k.a. The Monster Bagurer (created by my daughter Aana)
From Shuchi- Following dish is my daughter's own creation, (the title of the dish, the recipe, the photo, everything) for a school assignment. Time to time her class teacher asks the students to create a new recipe and to teach it to the class and to the teacher in the best way that they can.... Her teacher really liked this creation and she got good grades on this assignment... By posting her recipe on my website, I thought it would be a good way to encourage her to promote healthy eating.... Following recipe is in her words!!!!!
From Aana- Ever thought of an awesome lunch sandwich /burger with lettuce, tomatoes, cucumbers, mayonnaise, ketchup, a vegetarian bean patty, corn, pineapples, and some assorted nuts? Oh you haven't. Well I will show you how to make one. It's relatively simple. By the way if you were wondering about the name, bagurer is a mix of burger and bagel. This healthy, colorful, and attractive dish is as tasty as it looks. Now where did I put the ingredients list? Ah! Here it is.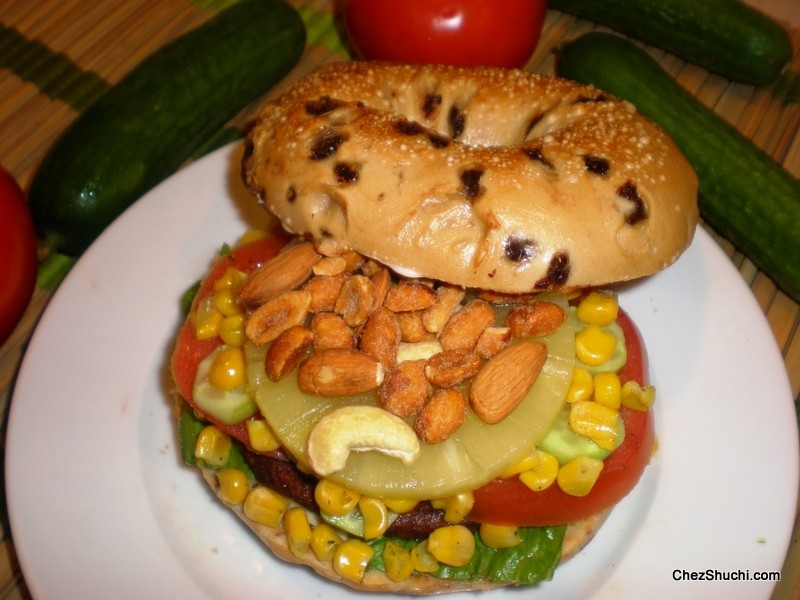 Ingredients
(to make 1)
1 bagel
1 big lettuce leaf
ketchup
mayonnaise
1 slice of Laughing Cow cheese
2 tomato slices
1-2 cucumber slice(s)
¼ cup of corn kernels
1 spicy black bean burger patty
1 slice of canned pineapple
Assorted nuts as per taste. (Optional)
Method of preparation:
Slice the bagel in half. The flavor is optional but I chose chocolate chip :). Toast the bagel in a toaster.
Apply the laughing cow cheese onto the bagel.
Tear lettuce and put it on the cheese.
The patties are from a brand called Morning star and there are 4 patties in each box. Warm up 1 of the patties as said on the directions on the side of the box. Carefully set it on top of the lettuce.
Put 2 tomato slices on the patty.
Arrange the cucumber slices on the tomato slices.
Sauté the corn kernels with a little butter. Sprinkle some salt to taste. Put an even amount of corn throughout the cucumber slices.
Put a slice of pineapple on top of the corn kernels.
Now it is time to sprinkle the nuts. Make sure that there aren't too many on each side. (Optional)
Toast the other half of the bagel. Spread mayonnaise on one half and ketchup on the other.
Put it on top.
You are done. Tun-tun-tun.
Yummy and healthy Bagurer is ready to eat!
I hope you liked this recipe and might try it out some time. This is my original awesome bagurer recipe. The nuts are optional, so if somebody that you know is allergic then I do not recommend using nuts. Thank you for reading this recipe.
---